Marathon Petroleum Corporation (NYSE:MPC) continues to rapidly increase its dividend. This is great news for dividend growth investors. Marathon Petroleum actively buys back their stock. I own Marathon Petroleum due to the increasing dividend and aggressive share buyback strategy.

Marathon Petroleum Dividend Growth Strategy
Marathon Petroleum has consistently paid and raised dividends since its formation in 2011 and has consistently bought back stock in 2012, with $1.9 billion returned to shareholders.
For 4th quarter 2012, Marathon Petroleum announced a 40% increase in dividends from $0.25 per share for 4th quarter, 2011 to $0.35 per share. This was paid on March 11, 2013 ($1.40 annualized). With shares trading at $87.93, Marathon Petroleum offers a dividend yield of 1.6%, low partly because of the sharp run-up in shares in 2012 and through March 15, 2013.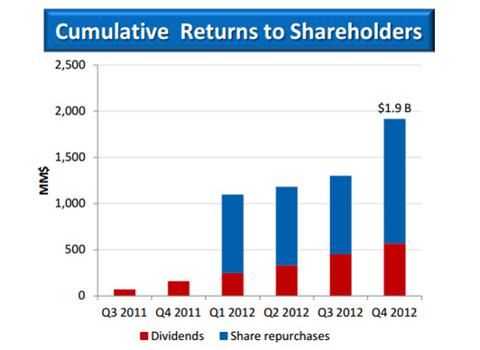 At $87.93, shares are near the top of their 52-week range of $33.65 to $90.47 and are up 86% over the past 12 months. Shares appear to be reasonably priced with a price-to-earnings ratio of 8x. Despite the stock price increase, the shares appear to be a compelling buy for the long run for dividend and price appreciation.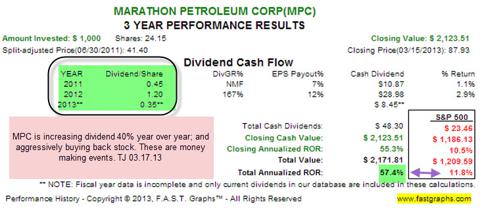 In 2012, Marathon Petroleum delivered a 93% return to shareholders including dividends and buybacks. Marathon Petroleum generates solid and dependable cash flow and will likely raise dividends and share buybacks over time and reward long term investors. On January 30, 2013, the company extended the buyback timeframe for $650 million previously authorized and added another $2 billion, raising the total to $2.65 billion for buybacks through December 2014. This combination of dividends and sizable buybacks offers compelling value to investors.
Background
Marathon Petroleum Corporation was spun off from Marathon Oil Corporation (NYSE:MRO) in July 2011. The company has annual sales of over $82 billion and a market capitalization of about $27 billion. Marathon Petroleum has three lines of business: Refining and Marketing, Transportation, and Speedway gasoline and convenience stores.
Marathon Business Segments
Refining and Marketing
As of December 2012, Marathon Petroleum's Refining and Marketing business included six refineries in the Midwest and Southeast with total refining capacity of 1.2 million barrels per day (bpd) making Marathon Petroleum the largest refiner in the Midwest and the fifth largest in the U.S. Marathon Petroleum sells about 4.1 billion gallons of fuel annually through 5,100 Marathon Petroleum branded gas stations owned by individual entrepreneurs in 18 states. Marathon Petroleum is one of the largest domestic producers of asphalt with aggregate production capacity of 92,000 barrels per day.
On February 1, 2013, Marathon Petroleum acquired a high complexity refinery (Nelson rating 15.3), strategically located in Galveston Bay, Texas. The plant has a capacity of 451,000 bpd (Marathon Petroleum's largest plant), is expected to deliver $700 million in earnings over the first six years with EBITDA of about $1.2 billion, and should be immediately accretive to earnings. The map below shows refineries and added capacity with Galveston Bay.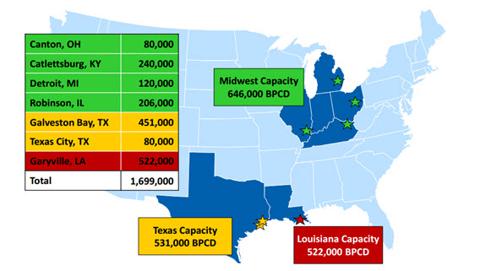 In November 2012, the company completed upgrades at its Detroit refinery and increased capacity to 100,000 bpd of heavy oil from 20,000 bpd earlier. Additions included a 28,000 bpd delayed coker, a 35,000 bpd distillate hydrotreater and 15,000 bpd more of crude capacity. Upgrades will allow the Detroit plant to handle higher volumes of lower-priced Canadian crude from oil sands, reduce transportation costs with proximity to Canadian crude sources and boost profit margins. Detroit heavy oil pgrades cost $2.2 billion and are expected to generate incremental EBITDA of about $350 million annually.
The company's distillate sales have steadily increased over the years and exports averaged 1,000,000 barrels per day in 2012, up from 138,000 bpd in 2005.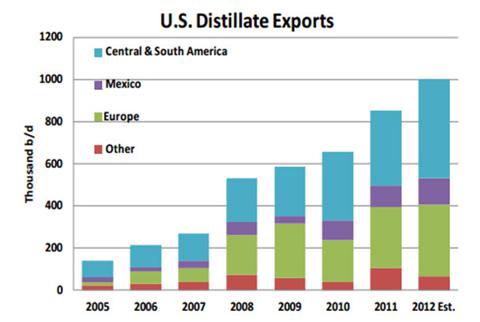 60% of the company's distillate exports were absorbed by growing demand in Latin America where supplies have been adversely impacted by the closing of refineries in Aruba and St. Croix, Virgin Islands, volatility in Venezuelan output and a drop of 1,000,000 bpd in Europe tied to ongoing refinery closures since 2008.
Transportation
Its Transportation business includes 9,600 miles of pipelines that transport 121 million gallons per day, 122 trucks that transport 149,000 bpd of light refined products, 83 asphalt and refined product storage terminals and a large inland water fleet with 14 towboats and 168 barges.
Speedway
Speedway is a regionally recognized brand with 1,460 gasoline and convenience stores in seven states in the Midwest and Southeast. Speedway stores collectively sell over 3 billion gallons of fuel and $3 billion of merchandise annually, making Speedway the fourth-largest such chain in the U.S. In addition, on February 1, 2013, the company acquired 1,200 BP branded outlets across three Southeast states, which the company will re-brand as Speedway. And under its Marathon Petroleum brand, independent entrepreneurs operate about 5,000 gas stations and convenience stores in 17 states (see map below).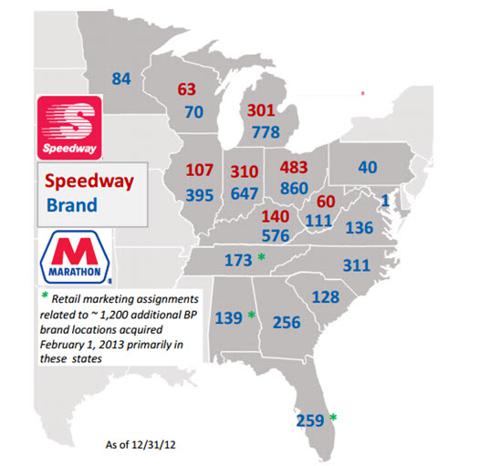 At Speedway, light product and merchandise sales have held steady over the past four years with minor declines. Gross margins (and profits) from merchandising are more than double those from light products.

Light product volumes have, however, steadily climbed at Marathon branded outlets.
MPLX, LP (NYSE:MPLX) Stake and IPO
In addition to its core operations, Marathon Petroleum holds a 71,6% limited partner interest in MPLX, a master limited partnership that owns and operates pipelines formerly held by Marathon Petroleum, and receives steady income under long-term fee-based contracts without commodity ownership and related price volatility risks. MPLX is managed by Marathon's executives who are fully committed to growing MPLX as a stable business. MPLX completed its IPO on October 26, 2012.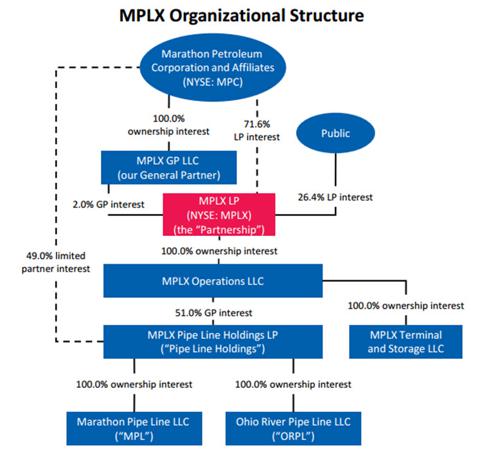 Business Strategy
Marathon Petroleum aims to: achieve top-tier safety and environmental performance in its various refining, transportation, storage and retail operations; deliver top refining performance; increase Speedway and Marathon Petroleum brand-value and drive sales volumes while growing Speedway profitably; and grow enterprise value, generate strong cash flow and deliver solid shareholder returns over the years.
4th Quarter and Fiscal Year 2012 Results
In comparing results to 2011, bear in mind that Marathon Petroleum began operations as an independent entity in July 2011 so comparisons to 2011 should not be over analyzed.
4th quarter, 2012
For its fourth quarter ended December 31, 2012, Marathon Petroleum reported total revenues of $20.71 billion, up 7% over 4th quarter, 2011, on higher refinery throughput, gasoline and distillate sales, and merchandise volumes. Total costs and expenses were well managed and dipped $77 million in the quarter. As a result, the company swung to a profit with operating income of $1.19 billion (up from an operating loss of $158 million) and net income of $755 million (up from a net loss of $75 million). Diluted earnings per share rose to $2.24 while average shares outstanding (diluted) dropped 6% to 336 million. Dividends were up 40% from $0.25 to $0.35 per share.
Segment-wise, refining and marketing contributed most significantly to operating income with $1.14 billion in the quarter with gains resulting from higher gross margins per barrel from lower feedstock crude prices and higher crack spreads. Speedway contributed $77 million, up 5% while the Transportation segment delivered an 89% gain in operating income due to higher pipeline tariffs. Corporate expenses were up 5% to $91 million.

Fiscal Year 2012
For fiscal year 2012, Marathon Petroleum reported total revenues of $82.5 billion, up 5% from $78.8 billion in fiscal year 2011. Costs and expenses were up 3% and operating income was up 43% to $5.34 billion from $3.75 billion in 2011. Net interest and financial costs were up 80% to $110 million from $61 million. Net income jumped 42% to $3.9 billion from $2.4 billion and diluted earnings per share were up 48% to $9.89, partly due to a 4% drop in outstanding shares due to buybacks. In calendar year 2012, the company paid dividends of $1.20, up 167% from $0.45 in 2011 due to an abbreviated 2011 after the company's spinoff from Marathon Oil.

Refining and Marketing were primary contributors to operating income, with Speedway and Transportation each contributing significantly less. Corporate expenses were up 6% in 2012.

Operating Statistics
In 4th quarter and fiscal year 2012, refinery throughput was up significantly in Q4 while overall gains were marginal for the full year (with throughput of 1,363 Mbpd in 2012 versus 1,358 Mbpd in 2011). Annual sales volumes were also up marginally. However, gross margin per barrel was up significantly from $7.75 in 2011 to $10.45 in 2012 (see table below) and boosted profits.

The number of Speedway convenience stores increased to 1,464 at year end 2012 from 1,371 at year end 2011. Gasoline and distillate sales were up, to 786 million gallons in 4th quarter, 2012, from 745 gallons in 4th quarter, 2012. Margins increased $0.0024 per gallon. Merchandise sales in the fourth quarter were up, to $761 million from $721 million. Sales should increase in 2013 with 1,200 additional stores though the company will incur expenses tied to absorbing and rebranding the acquired stores.
In fiscal 2012, Marathon Petroleum sold 3.03 billion gallons of gasoline and distillates and $3.06 billion in merchandise. Same store sales, a key metric, were up 0.2% in the quarter and 0.9% in the full year, held back by dropping cigarette sales. Without cigarettes, same store sales were up 4% in the quarter and 7% in the full year.

Crude pipeline throughput was up for the quarter and full year while refined products throughput declined marginally.

Balance Sheet
The company ended the year with cash of $4.86 billion, up from $3.4 billion on 9/30/12. In addition, the company had $2 billion available on a revolving credit facility and $1 billion on a receivables securitization facility. Total debt was $3.36 billion and shareholders equity was $12.1 billion (less than half of MPC's market capitalization of over $27 billion). Debt was a comfortable 22% of equity, with strong cash flows that support interest payments on debt.

Cash Flow
In 4th quarter, 2012, the company generated $1.64 billion in free cash flow, up from $1.5 billion in the prior quarter. For the full year, Marathon Petroleum had $2.93 billion in free cash flow with strong gains in operating cash flow partly offset by capital expenses on expansion, net property additions and acquisitions.

Summary
Overall, Marathon Petroleum has high quality assets and brands, attractive Midwest market positioning, access to favorable export markets and an integrated logistical value chain which includes its stake in MPLX. It recently made high value investments such as the upgrade of heavy oil capacity at its Detroit refinery, the high complexity Galveston Bay acquisition, the acquisition of 1,200 BP-branded outlets and investments that will increase distillate yields, improve midstream presence, improve margins and increase exports.
Industry trends such as increases in domestic shale oil and heavy Canadian crude from oil sands should give its Midwest refineries a cost advantage.
Overall, increased cash flow from diversified income sources should generate sufficient cash to fund organic growth, acquisitions, dividends and share buybacks. Shares are currently near an all-time high so existing holders could consider options strategies to maintain upside while protecting downside (sell calls, buy puts). New investors could consider selling puts that will lower entry price or wait for a near-term correction to add Marathon Petroleum to their portfolios.
Disclosure: I am long MPLX, MPC. I wrote this article myself, and it expresses my own opinions. I am not receiving compensation for it (other than from Seeking Alpha). I have no business relationship with any company whose stock is mentioned in this article.