During our weekly review of industry performance, we always have an eye on hot stocks in the top performing sectors. Global Industries Ltd. (NASDAQ:GLBL-OLD) is one worth watching.
GLBL provides offshore construction, engineering and support services including pipeline construction, platform installation and removal, and diving services to the oil and gas industry in the Gulf of Mexico, West Africa, Asia Pacific, Middle East/India, South America, and Mexico's Bay of Campeche.
From our vantage point, the most compelling reason we like Global Industries is based on its stock chart. According to our technical analysis, as you see on the chart below, GLBL should find support around $4 per share and upside to nearly $7. That's roughly a 3:1 reward to risk ratio.
Valuation wise, we see merit in the oil & gas equipment & services company. GLBL trades at a forward P/E of just 5.46. In the face of expected 40% plus growth of the bottom in the year ahead, a P/E of less than 6 is attractive. With a PEG Ratio of .25, a price to sales of .44 and trading below its book value of $6.38 per share, GLBL has plenty of reasons to move closer to $7 than $4.
The company's management team also expects the Global Industries to return profitability during the first six month of 2009. Perhaps that's why 3 of the 7 analysts covering GLBL have raised their outlook for the 1st quarter. In our opinion, GLBL is a candidate for earnings surprises and a higher share price.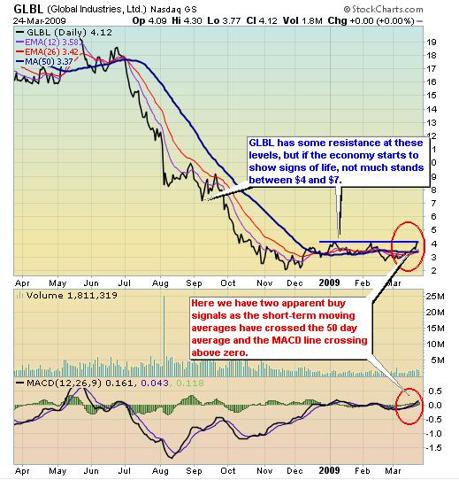 Click to enlarge