I usually wouldn't advise buying a stock at its 52 week high. I usually look for deeper value in the market with hopes of cushioning my potential profits with what I deem to be the stock's fair value, giving myself a perceived margin of safety. But even after a nice 2.32% bump in price, I still think Diageo's (NYSE:DEO) pricing is more than fair in the $121/122 range. The famous Buffett quote comes to mind when thinking about DEO, "It's far better to buy a wonderful company at a fair price than a fair company at a wonderful price."
Now, before delving into an analysis of Diageo's stock, I think that it is important to mention another alcohol stock that is in the news. Not long ago, this stock gave investors the rare opportunity to buy a wonderful company at a wonderful price. Unfortunately for those currently looking to add alcohol exposure to their stock portfolio, this chance to buy into a best in breed company at a discounted price has come and gone. In early February, Anheuser Busch Inbev's (NYSE:BUD) stock price fell drastically: nearly 10%, due to complications with the Department of Justice over BUD's attempt to acquire the remaining shares of Grupo Modelo that it does not already own. These two companies have maintained a long-standing and profitable partnership, and this acquisition seemed only logical for both parties involved. Combined, these two companies would become the largest producer of total volume in the beer industry. On January 31, 2013 the DOJ filed an action seeking to block this merger due to anti-trust concerns.
On February 14th, BUD announced an agreement with Constellation Brands (NYSE:STZ) that included the latter into the Grupo Modelo acquisition with hopes of appeasing the DOJ. On Febr 20th, news broke that InBev, Constellation Brands, and Crown Imports were in discussions with the DOJ concerning this potential move.
Below is a graph of BUD's price throughout this ordeal: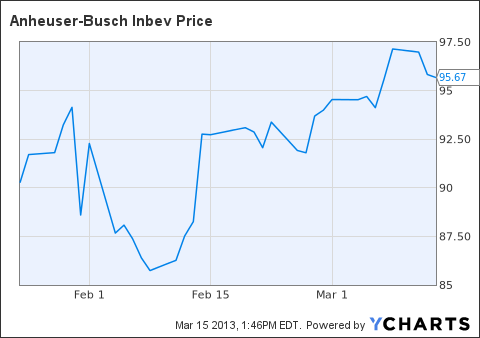 As you can see, fear in the market took over and for a short period of time, and there was great value to be had in terms of InBev's stock price. This opportunity has come to pass, however, and with renewed hopes of a successful acquisition, the stock has soared to a new 52 week high. It is this sort of quick pullback buying opportunity that I look for as a value focused investor. Buying BUD in the $85-86 dollar price range in this forgiving market would have enabled me to quickly make the 10% that I shoot for as a baseline.
So, why BUD? I like InBev because of the incredible moat that it has built within the beer market. BUD brings over 200 brands to market, including three global brands: Budweiser, Stella Artois, and Beck's. Budweiser is currently ranked as the world's most valued beer brand by a Global BrandZ Report. InBev's 2012 revenue was 39.8 billion USD. Even more impressive is BUD's 1 year EPS growth rate of 22.64%. The company's 5 year EPS growth rate is 7.75%. This growth is based upon the company's ability to continue to acquire new brands and to augment its product line and this is why the market reacted so negatively to the anti-trust news regarding its most recent acquisition attempt.
InBev's 21.6x P/E is above the industry average; however, the company's forward multiple of 19.9x is a slight beat of the alcoholic beverage average. BUD's PEG is 3.4, versus an industry average of 2.6. This 3.4 number falls in line with the S&P 500 average of 3.5.
BUD's margin numbers are also impressive, especially when compared to its peers. InBev's gross margin is 58.63%. Its operating margin is 31.98%. The company's net profit margin is 23.73%. Each of these numbers are significant beats over BUD's direct peers, whose numbers come out at 0.47%, 23.21%, and 20.57% respectively. BUD's large beat of its peer's gross margin number serves as reason alone to further inspect and consider buying into the company.
I advise any of those who are considering entering the alcoholic beverage industry to closely watch as this deal between Inbev, Constellation, and Modelo Grupo plays out, because I believe that any negative news coming out regarding regulatory approval or unexpected closing conditions could once again send this stock on an irrational decline. If this happens, swoop in and pick up these value shares before the market corrects itself.
But, all things BUD aside; as things sit now, even at a 52 week high, I think Diageo is a better buy for the long term investor. While BUD is focused on beer, DEO's primary products are of the hard alcohol variety. DEO has shown solid leadership with a focus on the continued growth of the brand, especially internationally. One of the pillars of DEO's growth model is to continue to increase overall volume, driven by its presence in emerging markets. These faster growing markets accounted for 42% of net sales (14% growth YOY) and an increase of operating profit of 21% for the second half of 2012. Not only is Diageo the #1 spirits company in the United States, but the largest premium alcoholic drinks company in Europe, the #1 international spirits company in both the Latin America and Asia Pacific markets, and a known leader with a growing presence in the African beer and spirits industry. Moving forward, the company is dedicated to this international footprint, with further plans for global investment to access new growth.
Net Sales % By Region:
North America: 33%
Europe: 26%
Africa: 13%
Latin America: 13%
Asia Pacific: 15%
Operating Profit % By Region:
North America: 39%
Europe: 26%
Africa: 11%
Latin America: 14%
Asia Pacific: 10%
The company is focused on its margins with plans to improve its pricing environment and utilize "premiumisation", meaning that it pushes its higher quality products through various marketing campaigns. Premiumisation should allow for the company to achieve its goals of anchoring gross margin price increases while delivering market expansion of its higher end drinks. These goals fall in line with Diageo's mission statement focusing on:
reaching the emerging middle class consumer and delighting the consumer of luxury goods.
DEO releases its financial date in half year periods, and in the second half of the 2012 fiscal year for the company, Diageo was able to increase its gross margin by 70 bps and its operating margin by 110 bps, while posting 9% growth of its operating profit. Nine seems to be the magic number for DEO, as it also grew its EPS by 9% pre-exceptionals, and posted a 9% increase in its interim dividend.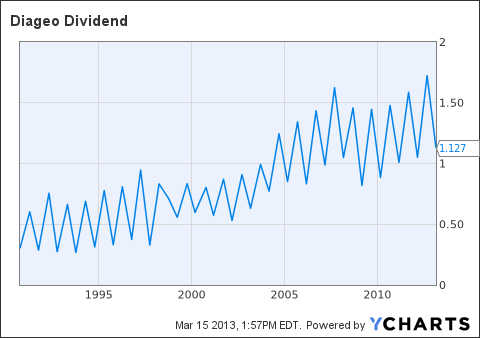 DEO Dividend data by YCharts
Company Information:
Diageo makes 70% of its net sales from its Spirits division. Whiskey accounts for 37% of these sales driven by the strong success the Johnnie Walker, Crown Royal, Buchanan's, and Bushmills brands. Whiskey sales grew 11% during the earnings period. Vodka attributes to 12% of these sales, which grew 7% during the half with Smirnoff, Ketel One, and Ciroc all performing well. Rum measured 6% of the overall Spirits sales, with a 5% growth rate. Captain Morgan and its "Live, Love, Loot" campaign helped to drive these sales. Also, Zacapa rum grew by double digits in Europe. Liqueurs at 6% (1% growth) driven by Baileys, Gin at 3% (5% growth) helped by Tanqueray, Wine at 4% (5% growth), and beer coming in at 19% (1% growth) driven by a 7% increase of Guinness sales in emerging markets round out the growing sectors of DEO's Spirits division.
Tequila, which accounts for 2% of the division (-1% growth) hurt by a decline in Jose Cuervo and Ready to Drink mixes, serving as 6% (-1% growth) were both slowed in the latter half of 2012.
Key Region Breakdown of Performance:
North America:
DEO posted 8% sales growth in its strategic brands in the US. This strategic brand performance in the United States accounted for nearly 66% of all North American Sales. DEO says that most of this growth came from its premium or above segments, which falls in line with the company's goal of premiumisation.
Reserve brands registered double digit growth numbers in North America as well with strong performances from Ketel One, Ciroc, Don Julio, Bulleit Bourbon, and the super premium variants of Johnnie Walker. Marketing for the reserve brands increased by 25% in the region.
Captain Morgan posted 14% sales growth in Canada.
Europe:
DEO has admittedly marked concern for the uncertainty of the economy in this region. In southern Europe the company suffered a very noticeable 19% decrease in net sales with France leading the way in decline. With this being said, the Diageo was able to increase its reserve business in southern Europe, growing net sales by 7%, helped by the launch of Johnnie Walker Gold Label Reserve and 18 Year Old Platinum Label. Captain Morgan increased its net sales by 15% and Tanqueray and Johnnie Walker Black Label also enjoyed double digit increases in net sales.
While trouble persisted in southern Europe, in the northern region of the continent DEO continued its double digit net sales growth trajectory in the region lead by sales in Germany and in the Netherlands.
Diageo's most impressive sales numbers in Europe came from the faster growing eastern region and Russia where the company's double digit growth trends continued. Scotch, liqueurs, and rum all experienced double digit net sales growth. Volume increased by 9% in these areas with net sales rising 15%. DEO has been able to increase its price premiums in these faster growing areas of eastern Europe and Russia.
Net sales in Turkey also increased by double digits: 14%; pushed strongly by DEO's recent acquisition of Yeni Raki. In 2012 DEO was able to grow its scotch market share in Turkey by double digits as well.
Latin America:
Latin America and the Caribbean prove to be a strength for Diageo's growth during the earnings period as operating margin increased by 1.9% and net sales grew 19% in the region. Scotch has been the driving force behind the success lead by Johnnie Walker, Buchannan's, and Old Parr. Once again, DEO's premiumisation push can be attributed to these increased margin and net sales growth numbers.
The PUB region in Latin America (Paraguay, Uruguay, and Brazil) was also a bright spot for DEO with the company increasing its market share despite issues with local currency devaluation.
DEO has seemingly found the golden ticket for the Andean area of the region with 39% growth of its scotch portfolio, 37% in rum, 32% in vodka, and 24% in its ready to drink mixes.
In Mexico, DEO has increased its investments in its strategic brands by 23%, which has allowed for the company to achieve its net sales growth of 21%. This growth was bolstered by 28% of Johnnie Walker net sales and 19% growth of Buchannan's net sales.
Asia Pacific:
Diageo's focus on premiumisation within the faster growing markets within this region has been a tremendous success with super premium scotch sales growing by 28%.
DEO did however experience weakness in its Korean whiskey market, which hurt overall sales growth numbers for the region. This sales growth figure came out in the single digits: 6%. Although, because of improved marketing efficiency and premiumisation in the region, and more specifically, in China, DEO was able to increase its operating margin by 110 bps.
In the greater China market, Diageo posted 13% sales growth. Within China itself, net sales grew by 16% with a 59% growth in the reserve brands category. DEO also gained market share in the super premium scotch segment of the market, lead by Johnnie Walker Blue Label, Gold Label Reserve, and Odyssey. A 44% increase in Bailey's sales is another example of the marketing success of the company which is focusing directly on the urban female population in China.
DEO grew net sales in Australia by 2% while experiencing difficulties in its Indian market due to vodka problems.
Africa:
DEO managed to improve its margins in the region by 1.8% and expects a 33% CAGR going forward.
*All information taken from the annual stockholder reports of these two companies
Fundamentals:
DEO trades at 20x P/E
7.54% 5 year sales growth rate
5.87% 5 year dividend growth rate (current dividend is 2.34%)
Gross margin: 60.65%
Operating margin: 30.43%
Net profit margin: 24.13%
1 and 5 year EPS growth rates: 2.46% and 9.31%
14.5 bililon in revenues for 2012
Disclosure: I have no positions in any stocks mentioned, and no plans to initiate any positions within the next 72 hours. I wrote this article myself, and it expresses my own opinions. I am not receiving compensation for it (other than from Seeking Alpha). I have no business relationship with any company whose stock is mentioned in this article.