I had learned to dwell with pleasure as a beloved daydream on the
thought of the separation of these elements. If each I told myself could be housed in separate identities life would be relieved of all that was unbearable the unjust might go his way delivered from the aspirations and remorse of his more upright twin and the just could walk steadfastly and securely on his upward path doing the good things in which he found his pleasure and no longer exposed to disgrace and penitence by the hands of this extraneous evil.

--Robert Louis Stevenson, The Strange Case of Dr. Jekyll and Mr. Hyde
Political leaders have been struggling since the onset of the financial crisis to emphasize the good of the global economy and suppress the evil that continues to lurk under its surface. Along the way in this desperate process, key policy makers including the U.S. Federal Reserve has concocted solutions of extraordinary potency in an attempt to completely separate all that is unbearable from the financial system so that the worldwide economy could walk securely on an upward path of growth and achieving good things. But alas, in the process of trying to do good, policy makers may have unwittingly released a far greater evil on the global economy in the end. And some early warning signs that things may be beginning to spin out of control may be presenting themselves today through the increasing disconnect between Dr. Copper and Mr. Market.
Strange as my circumstances were, the terms of this debate
are as old and commonplace as man; much the same inducements and
alarms cast the die for any tempted and trembling sinner; and it
fell out with me, as it falls with so vast a majority of my
fellows, that I chose the better part and was found wanting in the
strength to keep to it.

--Robert Louis Stevenson, The Strange Case of Dr. Jekyll and Mr. Hyde
At first, it seemed that fiscal and monetary leaders had achieved miraculous success in their grand experiment. After pulling the economy back from the brink of total collapse in October 2008, U.S. Real GDP growth soon surged back to life with a solid +4% increase roughly one year later in 2009 Q4. And as we moved into 2010, the U.S. economy had settled into a steady +2-3% Real GDP growth range and talk was widespread about strategies the Fed might employ to begin withdrawing their policy support. It seemed that all was bright and well with the economy, and any seeds of evil had been cast off into the dark of night.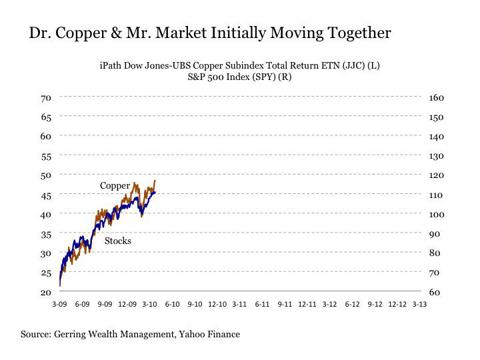 Along the way to this point, Dr. Copper and Mr. Market were moving in complete unison with one another. This, of course, made sense, as Dr. Copper derives its name from the fact that copper (NYSEARCA:JJC) has historically been a strong predictor of the direction of future growth and thus has a PhD in Economics. And as we all know, the stock market (NYSEARCA:SPY) has also been long regarded as a solid leading indicator for the economy.
I have been made to learn that the doom and burden of our life is bound forever on man's shoulders; and when the attempt is made to cast it off, it but returns upon us with more unfamiliar and more awful pressure.

--Robert Louis Stevenson, The Strange Case of Dr. Jekyll and Mr. Hyde
After the conclusion of QE1 in March 2010, it quickly became apparent that the economy was still not all good, as many of the destabilizing forces that led to the crisis in the first place were left unaddressed. Moreover, evils that many had believed were cast off from the economy were still festering under the surface. And in certain respects, this evil had become more insidious with its violence being uncovered in regions such as the European Monetary Union. Thus, the Fed quickly returned to the laboratory and its stock of ingredients in another attempt to gain control over the evil that had taken on a life of its own. Thus, the launch of QE2 in November 2010.
Even in this second application of the grand experiment, both Dr. Copper and Mr. Market remained in harmony as would be expected. But once the potions from QE2 finally wore off in July 2011, the economic metamorphosis started to show the first signs of getting out of control. The stock market as measured by the S&P 500 plunged by -17% in a matter of days amid concerns that the evils that once infected small economies like Greece, Portugal and Ireland had spread to systemically important countries like Italy and Spain. All of this was unfolding at a time when the Middle East was undergoing a massive political transformation due in part to social unrest ignited by a sharp rise in food price inflation from excessively easy global monetary policy. As would be expected, Dr. Copper followed on the path of this correction as well.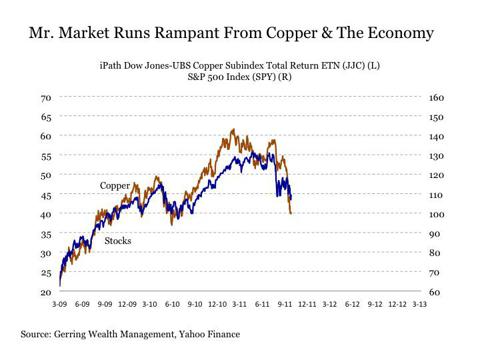 It was precisely in the aftermath of this latest destabilizing episode in mid to late 2011 that we witnessed the two economic predictors that had once been moving in harmony completely diverge. The Fed stepped in with yet another round of extraordinary policy actions that came from a fresh set of solutions concocted in their monetary lab. But while Mr. Market responded by launching into a new phase of gains that seemingly came day after day without interruption, Dr. Copper fell completely flat and the U.S. economy entered a phase of gradually decelerating and uneven real GDP growth.
There comes an end to all things; the most capacious measure is filled at last; and this brief condescension to evil finally destroyed the balance of my soul.

--Robert Louis Stevenson, The Strange Case of Dr. Jekyll and Mr. Hyde
In the 18 months since, it seems as if the Fed may have unleashed detrimental behavior in Mr. Market that may ultimately prove destabilizing and destructive to a market that simply yearns for steadiness and consistency at this stage. As growth in the U.S. has ground to a halt and the global economy has fallen into recession in many parts of the world over the past year and a half, Dr. Copper responded in a way that is rational and would be expected by entering into a consolidating sideways pattern as the global economy works to find its footing. Mr. Market, on the other hand, has flown off on a wild rampage, skyrocketing upward and breaking out to new all-time highs.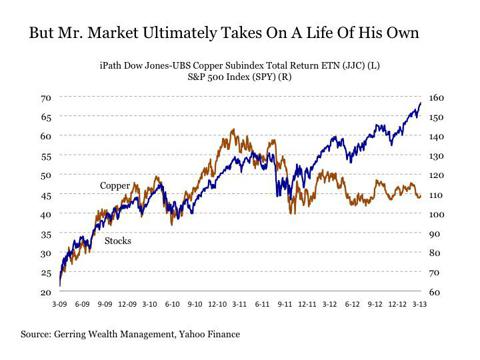 A stock market that is now running out of control is a most troubling development for the global economy. While it is a byproduct of what one can only believe is the best of intentions by global central banks, it has in the process created what may end up being a far greater problem that ultimately spirals completely out of the control of monetary policy makers. At some point, the massive disconnect that has been created between Dr. Copper and the economy versus Mr. Market will have to reconverge. Either Dr. Copper and the economy will have to rise up to meet Mr. Market, or Mr. Market will have to fall to meet Dr. Copper and the economy. Unfortunately, we have seen such scripts of instability play out twice before for stock prices over the last decade, and in both instances Mr. Market ultimately met with his demise. Perhaps it will be different this time, but such is a premise that has been fraught with danger over the history of the market.
Perhaps the Fed and other global policy makers could have cast out the evils of the market if what was left as a result of their actions was a system that was purely good. But unfortunately it was not, as it was far from it. Instead, we were left with banks that returned to their previously reckless behavior and fiscal policy makers on both sides of the aisle that dithered with misguided solutions, raised taxes and created a regulatory environment that appears to be stunting growth, not promoting it. In the end, one can only hope that the Fed won't be forced to bring the life of Mr. Market's rally to an end. Worse yet, Mr. Market may ultimately decide to take matters in his own hands and end it all himself. Regardless of how events unfold, a degree of caution is warranted at minimum.
In the meantime, for those inclined to stay long Mr. Market, focusing on more stable allocations such as the S&P 500 Low Volatility ETF (NYSEARCA:SPLV), the Utilities SPDR (NYSEARCA:XLU) or selected names such as McDonald's (NYSE:MCD) may prove preferable to some of the higher beta offerings at this stage of the move. And for those interested in an allocation to Dr. Copper, BHP Billiton (NYSE:BHP) provides a highly correlated way to establish this exposure. But for those that believe that the behavior of Mr. Market may become increasingly unstable, the allocations to gold (NYSEARCA:GLD) and silver (NYSEARCA:SLV) via the Central GoldTrust (NYSEMKT:GTU), the Central Fund of Canada (NYSEMKT:CEF), the Sprott Physical Silver Trust (NYSEARCA:PSLV) and Silver Wheaton (NYSE:SLW) may all warrant consideration. And those seeking a less volatile way to short Mr. Market may find interest in long-term bond offerings such as long-term U.S. Treasuries (NYSEARCA:TLT) and Build America Bonds (NYSEARCA:BAB).
This post is for information purposes only. There are risks involved with investing including loss of principal. Gerring Wealth Management (GWM) makes no explicit or implicit guarantee with respect to performance or the outcome of any investment or projections made by GWM. There is no guarantee that the goals of the strategies discussed by GWM will be met.
Disclosure: I am long BHP, MCD, SPLV, XLU, GTU, CEF, PSLV, SLW, BAB. I wrote this article myself, and it expresses my own opinions. I am not receiving compensation for it (other than from Seeking Alpha). I have no business relationship with any company whose stock is mentioned in this article.