With many market indexes trading at record highs, it is getting harder to find solid value stocks worth buying now. However, a growing number of investors are starting to look at "old" tech stocks that appear to have everything an investor could ask for: stable revenues, a great brand name, a reasonable stock valuation and even a solid dividend. With many stocks trading at elevated prices, the market leaders could be poised to also lift the fortunes of tech stocks that may have lagged in the past. CNBC's Jim Cramer even recently said that it is time to consider buying old tech stocks. Cramer stated: "The move into old tech is in its infancy and those left behind stocks are now ready to run." With this in mind, here are four reasons to consider Microsoft shares now:
Microsoft Corporation (NASDAQ:MSFT) shares were trading around $31 in September, but expectations for a big launch for Windows 8 and the "Surface" tablet were apparently too high and the stock dropped to about $26.50 in December. However, in 2013, the stock has been trending slightly higher and it could have more room to the upside.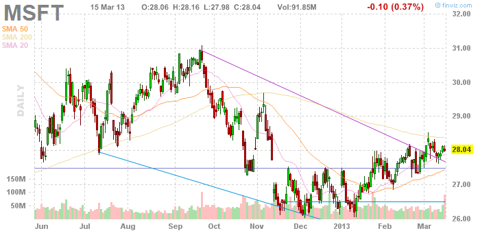 Aside from the fact that Microsoft shares could be poised to continue trending higher, there are a few more reasons to buy the stock now:
1) Surface tablet sales have been lackluster according to some reports. But did anyone really think that this was going to be the next hot gadget? The company has reportedly sold about 1.5 million units which is minimal when compared to the nearly 23 million iPads that Apple (NASDAQ:AAPL) sold in one quarter. However, this "disappointment" might lead to positive (management) changes in the future, and we will get into that shortly.
2) Microsoft has a fortress-like balance sheet with about $68 billion in cash and just around $14.22 in debt. This financial strength gives the company tremendous flexibility to invest in research and development, or buy the latest tech start-up, and it allows it to continue buying back shares. It also means this company has the cash to consider paying a special dividend or continue raising the regular quarterly dividend.
3) Microsoft has a very stable revenue base from ongoing sales of Windows and upgrades. This steady cashflow and the significant cash hoard on the balance sheet allows it to offer a dividend that yields about 3.5%. It has a history of raising the dividend and it has paid a special dividend in the past. Five years ago, the quarterly dividend was 11 cents per share, but thanks to steady increases, it has doubled to 23 cents per share.
4) Many investors have low expectations for Microsoft and its stock. That could be a real buy signal for contrarian investors. For example, when many analysts and investors were very bullish and issuing $1,000 price targets for Apple shares when it was trading for about $700 last year, that was actually a time to sell (when expectations were high) because the stock has fallen precipitously since. In the eyes of many, Microsoft shares have languished for too long and some believe that the company missed big opportunities in social networking, search, and tablets. The recent disappointment in the Surface tablet might be yet another reason why a growing number of investors and analysts believe that CEO Steve Ballmer needs to step down. CNBC's Herb Greenberg has predicted that Ballmer will leave the company and that Bill Gates will take the helm (at least for awhile). I think the market would welcome a management shakeup as a sign that Microsoft is not going to accept the mediocre performance of the stock price over the last few years. A management change could create a significant upside catalyst for the stock.
While no stock is risk free, Microsoft shares offers investors a solid yield that could reward those who patiently wait for the stock to move higher. In a major market correction, Microsoft stock is likely to hold up with relative strength due to its cash-rich balance sheet and reasonable valuation at just about 10 times earnings. Investors could be pleasantly surprised in the future if a management shakeup takes place, or a major stock buyback or dividend increase is announced. These multiple factors make this stock worth buying, especially on any pullbacks.
Here are some key points for MSFT:
Current share price: $28.03

The 52 week range is $26.26 to $32.95


Earnings estimates for 2013: $2.85 per share


Earnings estimates for 2014: $3.14 per share


Annual dividend: 92 cents per share which yields 3.3%
Data is sourced from Yahoo Finance. No guarantees or representations are made. Hawkinvest is not a registered investment advisor and does not provide specific investment advice. The information is for informational purposes only. You should always consult a financial advisor.
Disclosure: I am long MSFT. I wrote this article myself, and it expresses my own opinions. I am not receiving compensation for it (other than from Seeking Alpha). I have no business relationship with any company whose stock is mentioned in this article.