We keep moving forward, opening new doors, and doing new things, because we're curious and curiosity keeps leading us down new paths - Walt Disney
The Walt Disney Company (NYSE:DIS) is a brand that has become a stamp of approval for parents and their children. Parents can feel confident that Disney branded television shows, movies, and its theme parks are appropriate and entertaining for their children. Children and adults know that they'll be entertained by Disney shows, movies and the various attractions at its theme parks. The company just never seems to run out of good ideas.
Disney's weekend debut of its new movie, Oz: The Great and Powerful, generated a total of $150.2 million in sales. The movie sold $80.3 million in tickets in the U.S. and another $69.9 million outside of the U.S. Last year's hit: Marvel's The Avengers, was the biggest movie of the year and the third highest grossing movie of all time.
In addition to the Disney brand, the company also owns these famous motion picture brands: Lucasfilm, Marvel, and Pixar. Disney has plans for the following movie releases later this year: Iron Man 3, and Thor: The Dark World. Some longer-term upcoming potential blockbusters include: Captain America: The Winter Soldier, Star Wars Episode VII, and the next Avenger's movie.
Disney also has a strong network ownership under its belt with ESPN, the Disney Channel, and the ABC Television Group. ESPN remains the market leader in sports. The Disney Channel was the number one channel for kids aged 2 to 11 last year. ABC Good Morning America is currently the number one morning show.
The company had a revenue increase of 3% and an earnings per share increase of 24% for fiscal 2012. The company also increased its dividend 25% in 2012 over the prior year. That marked the 57th year of consecutive dividend payments.
Disney has also been working to keep its theme parks updated. It has expanded Fantasy Land at Walt Disney World to take story-telling to a new level by combining creativity and innovative technology. The company implemented its MyMagic Plus program which uses RFID technology embedded in a wristband and allows guests to plan the details of their visit from home and for making reservations. These wristbands will also allow guests to use them as room keys, club tickets, and for use as a payment method.
Internationally, Disney is in the process of creating Shanghai Disneyland, which combines the magic of Disney with a Chinese appeal. This project includes plans to build the largest and tallest castle that it has ever built. The company sees this project as a great long-term business that will entertain millions of people for generations.
The Risks
It is important for current or potential investors to be aware of the company's risk factors. In addition to the normal risks associated with the economy that all businesses are faced with, Disney is also exposed to various competition in the world of entertainment. The company's television networks compete with other networks that have other programs running simultaneously. Disney needs to maintain its edge on innovation and produce what is appealing to consumers. This risk also applies to the company's movies and theme parks. The company must continue to produce products that meet consumer's tastes. I think that the company has done an excellent job over the years of offering what consumers want, it just needs to continue to do this going forward. Disney has been able to capitalize on stories and themes that have already been in existence and has the ability to bring them to life in a fun, entertaining way.
Changes in regulations could impair the profitability of the business. This could include: FCC regulations of Disney's television and radio networks, Federal, state, and foreign privacy data protection laws, safety regulations of theme parks, trade restrictions imposed by foreign countries, and changes in tax laws and currency controls.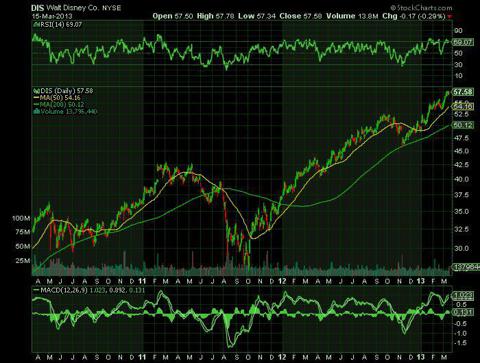 Valuation/Expected Earnings
Disney looks fairly valued with a trailing PE ratio of 18.57, a forward PE of 14.84, a PEG of 1.36, and a price to book ratio of 2.53. Currently, the market is trading with a trailing PE ratio of 14, which is slightly below its historical average of 15.
Disney has a positive earnings revision for fiscal 2013 and 2014. Earnings per share estimates for FY 2013 were upgraded to $3.45, up from $3.41 3 months ago. Earnings per share for FY 2014 were upgraded to $3.84, up from $3.88 3 months ago. The company is expected to grow earnings annually at 12.28% for the next five years. In the past five years, Disney achieved annual earnings growth of 9.67%.
If the company is able to achieve its earnings growth expectations, a $10,000 investment is Disney today should be worth between $18,000 and $19,000 in five years if dividends are reinvested. The company has a great track record of producing quality movies, network programming, entertaining cruises, and fun-filled theme parks with mass appeal. By carrying on the tradition created by Walt Disney himself, the Disney brand and all of its parts are likely to remain 'great and powerful'.
Disclosure: I have no positions in any stocks mentioned, and no plans to initiate any positions within the next 72 hours. I wrote this article myself, and it expresses my own opinions. I am not receiving compensation for it (other than from Seeking Alpha). I have no business relationship with any company whose stock is mentioned in this article.