by Cagdas Ozcan
Introduction:
As the third largest land line operator in the country, CenturyLink (CTL) is considered to be a leader in the telecom industry. The company's recent dividend announcement disappointed all investors and analysts. Although the company is one of the best in the neighborhood, a recent reduction of the dividend payment is still hard to digest. As CenturyLink showed a great performance during the last few quarters, the recent decline in the dividend payment was completely unexpected and shocking to the investors, leading the stock price to a 22.6% decline in one day.
Dividend Analysis:
In the current low-yield environment, dividends play a strong and significant role in attracting the investors. Investors are attracted to put their money in the telecom sector due to the high-yield telecom stocks. CenturyLink earned a very good name in cash dividend payout since August 2008. It showed a stable and consistent dividend payment which never went below $0.63 for the last 19 quarters. After sustaining a stable dividend payout for 19 quarters, the first quarter of 2013 broke the trend. The company announced a dividend payment of $0.54, which is much lower than the investors used to get. A reduction in an annual dividend from $2.90 per share to $2.16 has become a hot news since the company has announced the dividend on 14th February.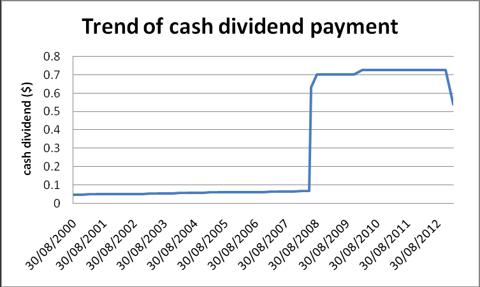 Source: graphical representation is done by the author based on the data found at NASDAQ.com
What went wrong?
A large number of investors seeking a stable cash payment each quarter were relying on CenturyLink as their potential income generator. Promising trends from CenturyLink during the past couple of years encouraged investor to allocate a large portion of their portfolio to CenturyLink stocks. So, what made the best performing non-wireless carrier to decrease the dividend is what we are trying to explore and evaluate in this article.
The dividend has to be paid out of the revenue generated, though it also relies on the cash availability to pay out cash dividend. So, an analysis of the last year's earnings, net income, and cash flow may reveal some facts which might have been ignored by the analysts. Many analysts declared the CenturyLink stock to be one of the top dividend paying in the telecom sector for the coming quarters. If the Morgan Stanley and other analysts had not rated it as one of the stable and top dividend paying company in the industry, the shock might not have been that immense. The severity of the dividend cut can be assessed through the sharp decline of the CenturyLink's stock price of 22.6% on February 14th, 2013.
The revenue and net income available to shareholders was almost the same for the entire year 2012. Except, there was a sharp decline in net income in June 2012, which was mainly due to other expenses amounted to $199,000,000. The company also showed a reasonable cash in hand in the last quarter of 2012 which could be used to pay the dividend. It shouldn't be a problem for a company which had a negative cash in hand for the previous two quarters but still managed to maintain a constant dividend payment of $0.725.
Period Ending

30-Dec-12

29-Sep-12

29-Jun-12

30-Mar-12

Total Revenue

4,583,000

4,571,000

4,612,000

4,610,000

Net Income App

licable To Common Shares

233,000

270,000

74,000

200,000

Total Cash Flow From Operating Activities

1,379,000

1,887,000

1,216,000

1,583,000

Change In Cash and Cash Equivalents

17,000

-87,000

-1,249,000

1,402,000
Source: Finance.Yahoo.com
The comparison of performance indicators of CenturyLink with its two major competitors, Frontier Communications Corporation (FTR) and Windstream Corporation (WIN), are highlighted below.
| | | | |
| --- | --- | --- | --- |
| Name | CenturyLink Inc. | Frontier Communications Corp. | Windstream Corp. |
| Revenues | $18,376 mil | $5,012 mil | $6,156 mil |
| Net Earnings | $776 mil | $150 mil | $165 mil |
| Net Profit Margin | 4.22% | 2.68% | 2.68% |
| Price/Cash Flow | 18.45 | 12.11 | 54.75 |
| Price/Book | 1.27 | 1.04 | 4.41 |
| ROA | 1.40% | 0.77% | 1.17% |
| Dividend | $0.54 | $0.10 | $0.25 |
| Payout Ratio | 232.00% | 307.70% | 357.10% |
| Beta | 0.73 | 0.84 | 0.83 |
Source: SmartMoney
CenturyLink is larger in size than its competitors. It also showed a higher net profit margin and return on assets, but its dividend payout ratio is lower than its peers. With a lower beta value, CenturyLink is the choice of risk-averse investors who are interested in getting a safe return. Due to the higher growth rate over the last five years, CenturyLink was not expected to cut its dividend. We were expecting Frontier and Windstream to reduce its dividend payments, because they had exhibited a lower profit margin and growth rate. Following CenturyLink, Windstream and Frontier may also cut their dividend payout for the following distribution.
Capital Allocation Policy:
So, the dividend cut is mainly due to the company's plans to bring a change in the Capital Allocation Policy. Although the company was able to reduce its loss rate in 2012, it still wants to utilize all of its net operating loss tax assets by 2015. If it succeeds in its efforts, the company will manage to provide an immediate cash return to its shareholders through a $2 billion buyback program. The company also wants to use a portion of its free cash to reduce its debt, as it was already under criticism for having a great reliance on debt financing. The stock buyback program may help CenturyLink in one way, but it would still harm its investment grade credit rating. If the trend keeps going for another two years, then CenturyLink is not the choice of the investors who want to have a reliable and smooth cash income.
Final words:
A small cut in the dividend or payout ratio in such sectors causes a great disturbance among the investors. This brings big shocks to the stock price and investors lose their trust in the company. The same has been experienced by CenturyLink, which caused a 22% decline in stock price after a dividend cut of $0.185 per share. It created a strong buying opportunity for investors who are risk-averse and interested in the short-run gain. If the trend of payout continues, however, investors may start looking for a better option on which they can rely for their smooth income needs.
Disclosure: I have no positions in any stocks mentioned, and no plans to initiate any positions within the next 72 hours.
Business relationship disclosure: Efsinvestment is a team of analysts. This article was written by Cagdas Ozcan, one of our equity analysts. We did not receive compensation for this article (other than from Seeking Alpha), and we have no business relationship with any company whose stock is mentioned in this article.