I have been sharing my view that the market may be approaching an interim top, which can make owning any stock a risky proposition. With that said, not all stocks move in the same direction and to the same magnitude. Also, I could be wrong! Rather than chasing extended stocks, which are likely to perform poorly if the market does consolidate its run, I think it makes sense at this stage of the market rally to look for stocks with favorable growth and valuation but that offer less risky entries. With that in mind, I used Baseline to screen the Russell 3000 for stocks with market caps above $500mm and meeting the following criteria:
50dma > 200dma
50dma within 3% of 200dma
1-year price return > 11% (S&P 500 return)
Price within 20% of 52-week high
Price within 5% of 50dma
1-year Sales Growth > 10%
1-year EPS Growth > 10%
2014 EPS Growth > 10%
PE < 1.2X 5-year average
To summarize the technical requirements, these stocks are all pretty close to both the 50dma and 200dma but have been outperforming the market over the past year. Fundamentally, sales and earnings have been stronger than the market, and the outlook for 2014 (which will guide the price action over the next year) is solid. Finally, the PE ratios aren't too extended from recent history.
Here are the 10 companies that meet these criteria:

I sorted the list by the distance beneath the 52-week high. I included the YTD price return, highlighting 3 stocks down on the year and four that are beating the S&P 500 (with the balance positive but trailing the market). I also included analyst consensus EPS growth for 2013, which is built into the forward PE. Most of the stocks remain on a double-digit trajectory.
The list includes a nice mix of growth and value and has broad representation, with members from Technology, Healthcare, Consumer Discretionary and Industrials. I included the S&P 500 for reference on the bottom, and one can see that this group of stocks has dominant growth characteristics but similar valuation typically (with some exceptions both ways). I follow only one of these stocks closely, but I am familiar with all of them. Here are my high-level thoughts: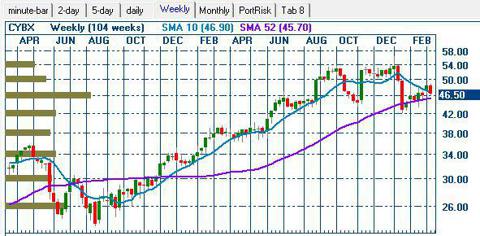 Cyberonics (NASDAQ:CYBX) has enjoyed lots of controversy over the years and has a 14% short-interest. The stock was slammed by a short-seller article earlier this year that was based on a whistle-blower lawsuit that was pulled following the report. The company, which makes medical devices that deliver electrical currents to the vagus nerve (to treat depression, with other potential indications), reported a strong Q3 on 2/22 and boosted guidance to $1.66-1.72 for FY13 from $1.56-1.62 (consensus was $1.60).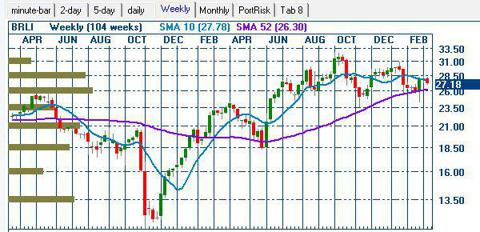 Bio-Reference Labs (NASDAQ:BRLI) is the most heavily shorted on the list at 39%. For some insight, one might want to consider a recent article by TheStreetSweeper, which followed two earlier reports in November. BRLI is the fourth largest full-service lab in the U.S. and the largest independent in the Northeast. The current valuation is well below the median over the past decade despite steady growth. The stock isn't too high from levels from two years ago.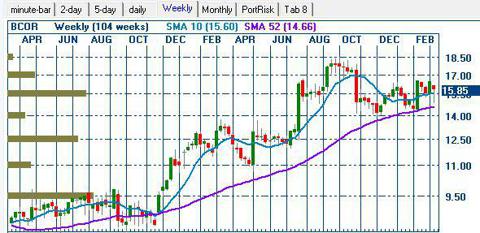 Blucora (NASDAQ:BCOR), previously known as Infospace, is tied closely to Google (NASDAQ:GOOG) and Yahoo! (NASDAQ:YHOO). The company is primarily an aggregator of search content (dogpile.com, webcrawler.com) but also operates TaxACT, an online tax preparation business. Its agreement with YHOO runs out this year and with GOOG in March 2014.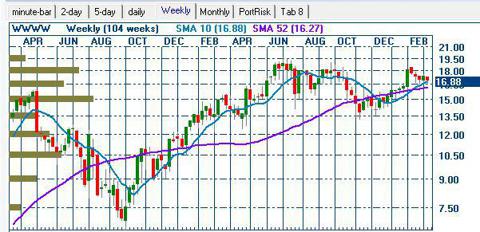 Web.com Group (WWWW) also has a lot of short-interest (18%). It is the cheapest name on the list by PE, but it has debt. Still, at 7X trailing EV/EBITDA it is inexpensive relative to its EPS growth trajectory. The company targets small and medium-sized businesses for internet services (3mm customers) and acquired Network Solutions in late 2011.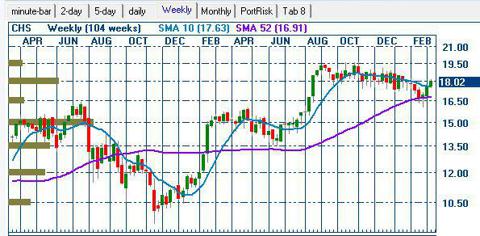 Chico's FAS (NYSE:CHS) is one that I really like here. I recently shared a deep perspective (subscription required after 4/6) highlighting some of the favorable characteristics of this reasonably valued growth stock. From a technical perspective, the stock is within 20% of a high-volume base from two years ago as well as last year (in the 15 area). My target is 25 based on 16PE and adding back cash, suggesting meaningful upside.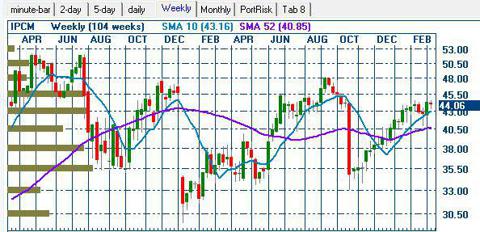 IPC The Hospitalist (NASDAQ:IPCM) is an early 2008 IPO ($16) that is in the middle of a two-year consolidation of a longer-term uptrend. This company, which provides services to hospitals, is trading at the median PE since the IPO, with an EV/EBITDA of 13X. On 2/21, management provided annual guidance that exceeded the street on sales and was in line with the $2.17 EPS consensus ($2.15-2.25). According to the company, which began operations in 1998, hospitalist medicine began in the early 90s with the goal improving outcomes by having a dedicated "hospitalist" coordinate inpatient and post-hospital care. IPCM has added 43 groups in the past three years and operates 225 practices.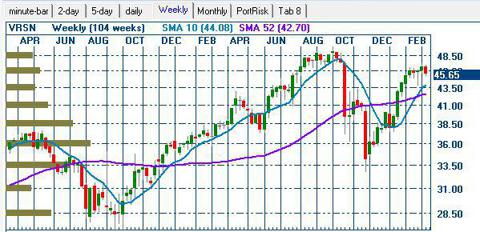 Verisign (NASDAQ:VRSN) has repositioned itself in recent years and now operates only in one segment, Naming Services. The Internet infrastructure services provider lost its CEO in September 2011 when Mark McLauglin left to run Palo Alto Networks, but founder Jim Bidzos has led the stock to a recent post-dotcom bubble high. Berkshire Hathaway has a position in the name.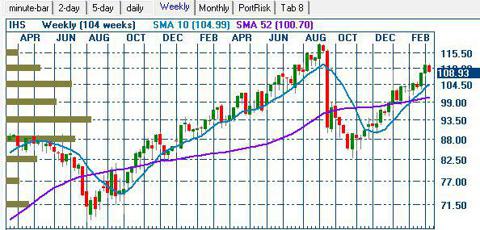 IHS (IHS) is a company I have long admired. They are an information services company with lots of recurring revenue. The stock was slammed during the summer but has recovered most of the loss. The company is very global and is focused on four key industries: Energy & Natural Resources, Chemicals, Transportation and Electronics.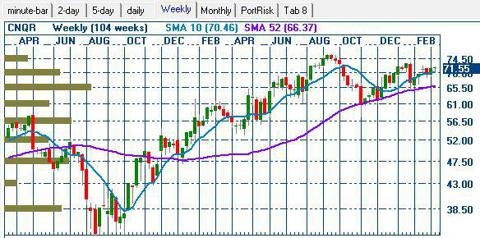 Concur Technologies (NASDAQ:CNQR) is the most expensive stock on the list but is a unique company, helping its customers manage travel expenses with its cloud-based software. The stock traded from its 1998 IPO price of 12.50 to almost 60 before bottoming at .28 per share and then moving to an all-time high of 76 last year. What a run! The company guided to 25% sales growth in 2013 in late January. Several analysts have pointed recently to a ramp up in government contract work.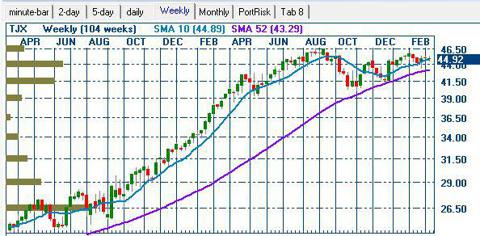 TJX Companies (NYSE:TJX) seems to be consolidating a tremendous run. There are few stocks that have benefited more from the "new normal". Compared to rival Ross Stores (NASDAQ:ROST), TJX is more global, with European operations (12% of sales). Like many retailers, February was rough, with same-store-sales up just 1%.
This exercise has been to look at stocks that have been working for the past year but that may be offering a good entry in an extended market. Several of the stocks have been in consolidation mode for an extended period but have maintained strong underlying growth. Which of these do you think merits further investigation?
Disclosure: I have no positions in any stocks mentioned, and no plans to initiate any positions within the next 72 hours. I wrote this article myself, and it expresses my own opinions. I am not receiving compensation for it (other than from Seeking Alpha). I have no business relationship with any company whose stock is mentioned in this article.
Additional disclosure: CHS is in one or more models managed by the author at Invest By Model