American Capital Agency (NASDAQ:AGNC) has to be one of the better, if not the best pure-play agency mortgage REIT ("mREIT"). It has proved itself to be extremely profitable in nearly any interest rate environment. During 2012, a year of extreme interest rate fluctuations, AGNC was able to post a stellar 32% total return (book value increase plus dividends). AGNC recently declared a Q1 2013 quarterly dividend of $1.25 per share. As of this writing, shares of AGNC are trading for about $33.12, and yield about 15%.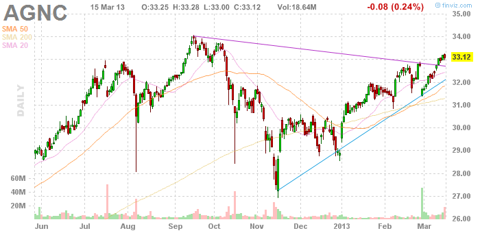 However, some do not share my bullish view of AGNC. I recently read an article which attempted to make the case for selling AGNC. Below is a quote from that article which summarizes the main points:
The bottom line

American Capital Agency has performed exceptionally well since its debut in 2008, but there are many negative catalysts, which make holding onto it quite dangerous.

Adverse sensitivity to interest rate changes
Questionable alignment between management and shareholders
Seemingly dilutive and massive equity offering
Impending cut to the unsustainable dividend.

Both short and long positions are risky at the moment. In my opinion the best choice is to invest elsewhere. Those of you who already own AGNC may want to consider selling.
The main focus of this article will be to address each of these "negative catalysts".
Let us start with the first one: "Adverse sensitivity to interest rate changes"
The other article basically displays the following chart and tries to explain that AGNC is "Hyper-sensitivity to interest rate changes."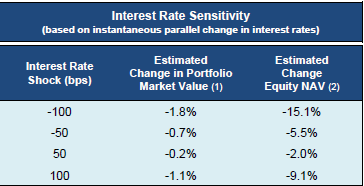 Source: AGNC Shareholder Presentation [.pdf] Page 27
Now, nobody knows what the FED will do in regards to interest rates. Now, if the FED does an extreme action, say raising interest rates 100 basis points, or even lowering them, then AGNC will be hurt. However, I think it is safe to assume that the next FED action will be to raise interest rates slightly (50 basis points). AGNC hedging policy is heavily tilted towards this, with its NAV only declining 2%.
Next, I will tackle the second point and third points: "Questionable alignment between management and shareholders" and "Seemingly dilutive and massive equity offering":
Now, I have very recently written about another agency mREIT that seems to love to issue equity no matter its effect on book value. I do not think it is fair to imply that AGNC issues equity only to benefit from higher management fees. During 2012, AGNC issued 108M shares for $3.3B. This leads to an average price per share of about $30.50. Both this offerings were priced well above book value at the time, and were therefore accretive.


As of Q4 2012, AGNC reported a book value of $31.64 per share. Except for the small decline in Q4 2012, AGNC has consistently increased its book value.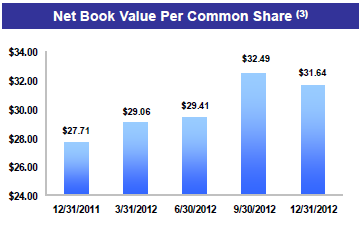 Source: AGNC Shareholder Presentation [.pdf] Page 17
The other author also implied that the recent equity offering by AGNC was dilutive:
On 2/28/13, AGNC announced an equity offering of 50mm shares to be priced around $31.6 each for total proceeds of $1.58B. Once complete, it was disclosed that the offering was upped to $2.06B and the shares were priced at $31.34 each. Given the latest reported book value of $31.64/share, it would seem that the offering was dilutive. It is possible that book value has significantly decreased since the start of the year or that there are incredible uses for the capital, but it seems dilutive to me.
However, I believe there may be a mistake it this calculation. When we divide $2.06B by $31.34, we get 65.7M shares. I believe this is incorrect, as the press release states that the offering was only for 50M shares plus a 7.5M greenshoe:
Below is the relevant quote from the press release:
BETHESDA, Md., Feb. 28, 2013 /PRNewswire/ -- American Capital Agency Corp. ("AGNC" or the "Company") announced today that it priced a public offering of 50,000,000 shares of common stock for total expected gross proceeds of approximately $1.58 billion before expenses.

In connection with the offering, the Company has granted the underwriters an option for 30 days to purchase up to an additional 7,500,000 shares of common stock. The offering is subject to customary closing conditions and is expected to close on March 5, 2013.

AGNC expects to use the net proceeds from this offering to acquire additional agency securities as market conditions warrant and for general corporate purposes.
Now, AGNC did indeed price 50M shares at $31.60 for a total of $1.58B. The underwriters also were granted the option for an additional 7.5M shares. Using the same pricing of $31.60, we arrive at an extra $237M. This leads to total proceeds of $1.82B. While these shares were offered at a very slight 0.02% discount to book value, I would hardly call it "dilutive".
Lastly, let us look at the last 'catalyst': "Impending cut to the unsustainable dividend."
Below are the relevant quotes from the other article:
Notice how the dividend was only supported by the unrealized gains. Net income per common share was only $4.17, with nearly half of its income coming from the line "unrealized gain on available-for-sale-securities, Net." A gain derived from an increase in current carrying value of its securities can only translate into earnings if AGNC were to sell. The fair value of securities is always in flux and investors should not rely on their market value going up for dividend payments. If we look back at AGNC's income statements over the past five years, we can see that income from unrealized gains is all over the place and absolutely not reliable.
and
With its 2013 earnings estimated at $4.29/share, the $5.00 annual dividend simply is not sustainable. Expect a drop to around $4.00 annually. When/if the announcement comes, it will very likely come with a material drop in market price.
I think it would be better to look at AGNC's net spread ROE to determine the dividends safety. To determine this, we multiply the net interest rate spread by the leverage and then subtract expenses. Below is this calculation: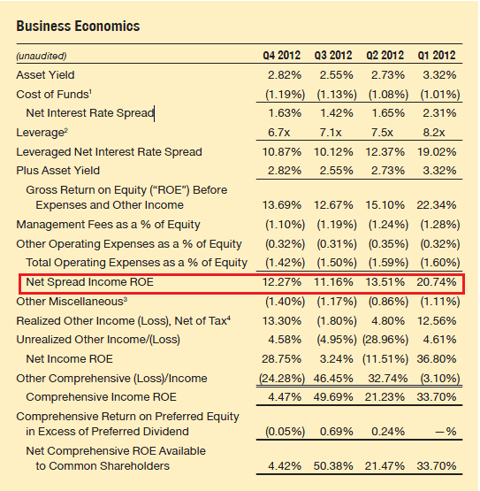 Source: Q4 2012 Investor Fact Sheet
We can see that this figure had fluctuated during 2012, from a high of 20.7% in Q1, to a low of 11.2% in Q3. As of Q4, it stood at 12.3%. Well this begs the question: How does AGNC afford to pay for its 15% yield?
The answer is that AGNC has a large "cushion", in the form of "Cumulative Undistributed REIT Taxable Income". This totaled $1.93 per share as of Q4 2012.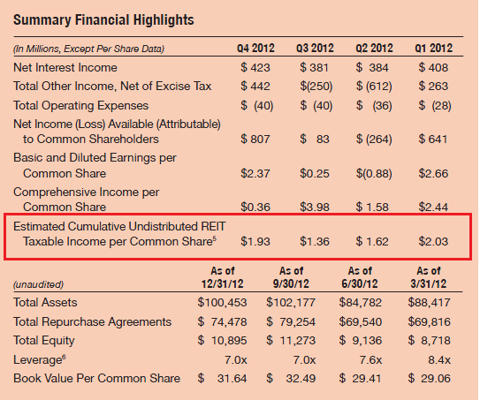 Source: Q4 2012 Investor Fact Sheet
Conclusion
Before the Q4 2012 earnings release, I was also initially hesitant in buying AGNC, primarily due to it trading at or above book value and a fear of a dividend reduction. Below is the relevant quote from the above linked article:
Few stocks offer the yield that AGNC offers. AGNC also was able to steadily increase its book value throughout 2012. However, I would wait until after Q4 2012 earnings are released before starting a position in AGNC. I would need to see if the net interest rate spread improved from the Q3 levels.
Soon after, AGNC reported its Q4 2012 earnings, and they were quite good. AGNC did suffer a small 2.6% decline in book value, it actually saw an increase in its net interest rate spread, from 1.42% in Q3 2012, to 1.63% in Q4 2012. This was due to AGNC deploying a new tactic to generate income called "doll roll income". Below is a quote from my previous article explaining this income:
During Q4, AGNC was able to somewhat "turn lemons into lemonade" by generating income via net carry income (also known as "dollar roll income"). This income is associated with purchases of agency mortgage backed securities ("MBS") on a forward-settlement basis through the "to-be-announced" ("TBA") dollar roll market. The price differential between MBS purchased for a forward settlement date and the price of MBS for settlement in the current month is referred to as the "price drop". The price drop is the economic equivalent of the net interest carry (interest income less implied financing cost) on the MBS earned during the roll period.
As soon as AGNC issued its recent equity offering, I bought shares in AGNC. AGNC also maintained its Q1 2013 dividend at $1.25 per share. That AGNC share price quickly recovered from this offering, and that it is now trading at a premium to book value is proof of strong investor demand for AGNC shares. AGNC's management truly knows how to generate income in any interest rate environment.
Disclosure: I am long AGNC, CYS. I wrote this article myself, and it expresses my own opinions. I am not receiving compensation for it (other than from Seeking Alpha). I have no business relationship with any company whose stock is mentioned in this article.