Molycorp (MCP) released its fourth quarter 2012 results on March 14th after a two week delay. The company postponed its March 1st earnings release date and said it needed more time to file its annual 10-K report so it could determine the size of its "substantial" intangibles writedown. In January I forewarned investors about the intangibles impairment on the article, Molycorp: Price Target $3.50 - $6.10/Share Due to Asset Impairment Risk:
The potential for an intangible asset impairment is real. Either management can tell shareholders prior to the capital raise or afterwards, but the issue still remains. That said, I recommend investors hold off on buying the stock until management addresses the issue.
Here is my interpretation of earnings results.
Financial Results Not As Bad As Anticipated
I have to be honest, I was expecting the worst - a huge net loss, $500 plus million goodwill write-off and a dismal industry outlook from management. Given the fact that management had previously braced us for a fourth quarter revenue and cash flow shortfall, the actual net revenue of $134.3 million, gross loss of $20.5 million and net loss attributable to shareholders of $362.4 was a sign of relief. The following chart outlines fourth quarter results in comparison to third quarter 2012.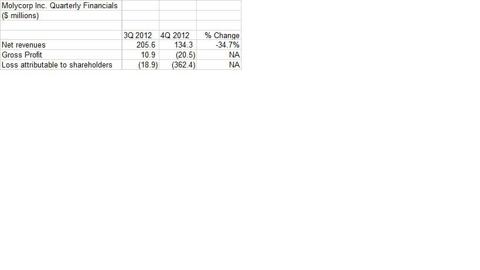 The net loss of $362.4 million includes a goodwill impairment charge of $258.3 million and an impairment charge of other long-lived assets of $11.9 million. Combined, these impairment charges comprised approximately $2.51 per share of the total net loss.
My Revenue Estimate Was Spot On
In the article, Molycorp: 4 Reasons To Take That $1 Billion Intangibles Impairment Now, I estimated the company's fourth quarter revenues would come in at around $136 million. The figure was based on assumptions from the company's January 23rd 8-K pursuant to its pending capital raise. I continue to give investors access to Wednesday morning's news on Monday morning. I have gone on record questioning the company's mark-to-market on intangibles and inventory. Is anybody still willing to bet against me?
Goodwill Write-off Too Low?
Molycorp had approximately $1 billion of goodwill and intangibles related its June 2012 Neo Materials acquisition. The impairment charge of $258.3 million would only impact goodwill $(about $500 million), and not the amortizable intangibles. The market had braced itself for a potential $1 billion impairment and saw the lower amount as favorable. However, since the amortizable intangibles were not written down, the company's run-rate amortization expense of $36 million per year would still impact earnings going forward. The actual write-off implies that Neo Materials is worth approximately $700 million; I will have to get further details on the math Molycorp used to justify that valuation before commenting further. On the surface, those assumptions look aggressive.
Constantine Karayannopoulos Steals The Show
Announcing a delay in the fourth quarter earnings release and 10-K report is not the best opening for your first investor conference call, but interim CEO Constantine Karayannopoulos came through with flying colors. Mr. Karayannopoulos took command of the call by stating the facts - [i] Molycorp is the world's only fully integrated global solution for reliable rare earth supply and is vertically integrated on a global scale from a world-class upstream rare earth resource to some of the world's most advanced downstream rare earth processing facilities, and [ii] the company's goal of being the world's lowest cost producer of rare earth oxides is still attainable. He explained how in certain of its business segments, clients were experiencing a build up of inventory which would slow demand until the second half of 2013. Furthermore, as certain companies in its supply chain - Seagate, Western Digital, and Nidec - continue to suffer from soft global demand, Molycorp's sales would also suffer.
He was very candid about how he expected global demand and prices for rare earths to continue to deteriorate in the near term, yet gain traction in the second half of 2013. Throughout the call Mr. Karayannopoulos demonstrated a command of the business and laid out a clear vision for Molycorp and a strategy for how he would turn the company around. I was convinced. Moreover, I think his performance was one of the main reasons the stock rebounded following the call.
Layoffs
Karayannopoulos announced there would be an unspecified number of layoffs as he attempts to rightsize the business. The layoffs are expected to come from corporate overhead, which totaled $17.2 million for the third quarter of 2012. A substantial cut in corporate overhead is a step in the right direction, but not nearly enough to return Molycorp to cash flow positive. In my opinion, management needs to adopt the partnership culture I previously recommended for Morgan Stanley (NYSE:MS) due to its lack of control over compensation expense. Executives should put their money where their mouth is by taking a lower base salary in exchange for a higher upside once the business turns around. Every dollar in savings today could spare shareholders further dilution down the road in case the company needs to raise additional capital.
Inventory
At September 30, 2012, the company's $290.7 million in inventory was approximately 48% of its $637.0 million tangible GAAP book value. In effect, investors are purchasing inventory in a market where both price and demand for that inventory are in decline. Management did not speak to inventory levels directly, so I will wait until the 10-K report is released before drilling down further.
Conclusion
After bracing myself for the worst case scenario, Molycorp's loss of $362.4 million was somewhat of a relief. Mr. Karayannopoulos' performance on the conference call and his vision for the company made it clear that he is the right man to lead Molycorp. However, given the near term price deterioration in the rare earth space coupled with negative cash flows and the potential for future asset write-offs, I rate Molycorp a hold.
Disclosure: I have no positions in any stocks mentioned, and no plans to initiate any positions within the next 72 hours. I wrote this article myself, and it expresses my own opinions. I am not receiving compensation for it (other than from Seeking Alpha). I have no business relationship with any company whose stock is mentioned in this article.