I recently made the call to short shares of Vringo (VRNG) above the $4 mark. Well, I was right, and shortly after inching above the $4 mark, the stock immediately cratered, and now trades at just a hair under $3.00. My short sale recommendation was simple - whenever the stock got to $4 or above, the insiders would start unloading the shares as though they were toxic. When insiders of a speculative, patent-troll play start offloading the merchandise ahead of what the speculators claim could be a huge price increase, I generally take that to be a pretty strong "sell" signal.
Recent Insider Action
That being said, as I take a look at recent insider transactions, while I still see some insiders fleeing the ship at the $3.22 level (is it any surprise that the market won't pay more than that right now?), I am also seeing some major insider option exercises without the customary sales that generally follow:
(click to enlarge)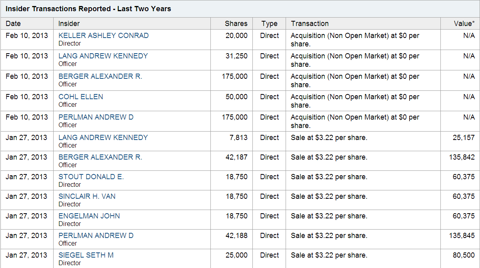 We have the CEO Andrew Perlman acquiring 175,000 shares and actually hanging on to them, COO Alexander Berger doing the same thing, and BoD member Ashley Keller deigning to keep his 20,000 shares as well. Now note that these are not insider buys (no senior management has ever actually bought shares), these are options exercises that dilute the worth of your shares, but it is still interesting to see that these individuals actually kept the shares instead of just taking the money and running.
Technical Picture
The technical picture, despite the fairly tame insider transaction picture, is actually quite grim: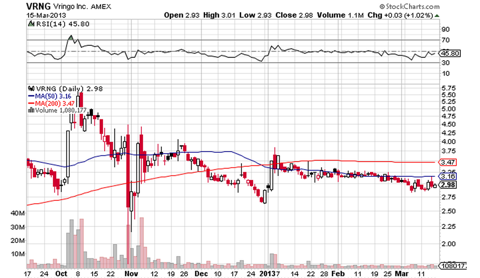 The stock now trades below both its 50-day moving average as well as its 200-day moving average, signaling that the stock is in pretty rough technical shape. Further, the 200 day moving average is solidly above the 50-day moving average, which is generally considered extremely bearish.
The stock itself seems quite broken, and barring a really juicy patent victory, it seems that the stock is going to continue to act weak.
Stay Away
This company has no viable business model and depends solely on trying to win lawsuits based on IP purchased with shareholder money. This in itself is a very risky use of shareholder capital. I would be much more supportive of the story if Vringo spent any meaningful amount on organic R&D, or even if it diluted shareholders in order to buy entire teams to develop new IP. However, it is clear that this is not the case, as the company spends very little on R&D: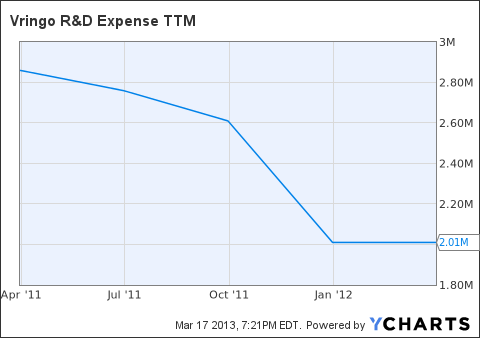 VRNG R&D Expense TTM data by YCharts
In addition, Vringo is now trying to go after ZTE. Despite Vringo's adamant declaration several months back that the suit is going forward, it is completely unclear as to whether this suit will actually succeed, and if so, what sort of financial compensation or licensing fees ZTE will have to pay. For all we know, the patent may not be worth enough to even cover the legal fees.
Do investors really want this kind of uncertainty in their portfolios?
Conclusion
Just running around and buying up patents that nobody else bothered to monetize in the hopes of making a quick buck is a pretty sad excuse for a business model, and I believe completely unworthy of your investment capital. When/if the stock goes back to $4 - or when I see the insiders start unloading again - I plan to yet again make a nice $1/share from shorting the name back down to the <$3 level where it belongs.
Disclosure: I have no positions in any stocks mentioned, but may initiate a short position in VRNG over the next 72 hours. I wrote this article myself, and it expresses my own opinions. I am not receiving compensation for it (other than from Seeking Alpha). I have no business relationship with any company whose stock is mentioned in this article.