General Mills (NYSE:GIS) recently announced that it would increase its dividend payments by 15%. GIS has a very long history of dividend payments, dating back 114 years. In this period, there hasn't been a single dividend cut. The new quarterly dividend will be $0.38, or 0.82%/quarter at the current $46.24 share price.
In this article, I will be investigating GIS's performance over the last couple of years. At several points, I will use Kellogg Company (NYSE:K) and The J.M. Smucker Company (NYSE:SJM) for comparison.
All graphs in this article were made by me, using Microsoft Excel.
Revenue, earnings and costs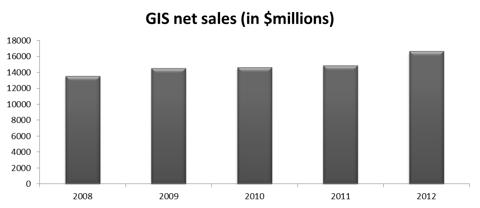 Click to enlarge
General Mills has seen a steady increase in their net sales, which in my opinion is probably a result of their advertising budget increasing by hundreds of millions of dollars (see graph below). In 2008, net sales totaled $13.55 billion. By 2012, this had grown to $16.66 billion, giving it an annual growth rate of 5.3%.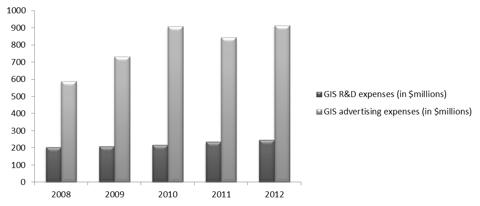 Click to enlarge
Advertising expenses have increased by 55.6% between 2008 and 2012, growing from $587 million to $913 million. Research and development had a budget of $245 million in 2012, compared to only $205 million in 2008.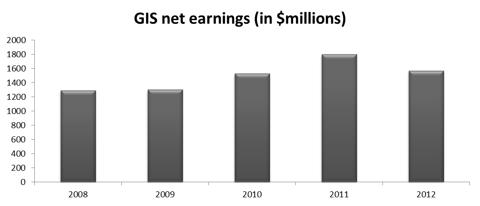 Click to enlarge
Annual earnings growth is at 4.9%, which is very reasonable for a mature company like GIS.
The next graph shows YoY net sales growth for GIS, K and SJM.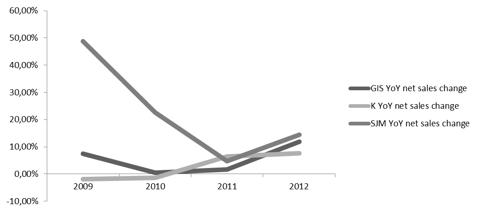 Click to enlarge
We can see here that GIS has made some really impressive increases in their amount of sales, growing at a faster pace than Kellogg. GIS hasn't been able to match the net sales growth SJM has had, which is only normal considering that GIS is a more mature company. GIS has beaten both K and SJM in terms of profit margins, as can be seen in the graph below.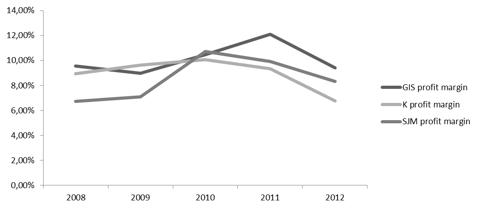 Click to enlarge
EPS, dividend, and payout ratios.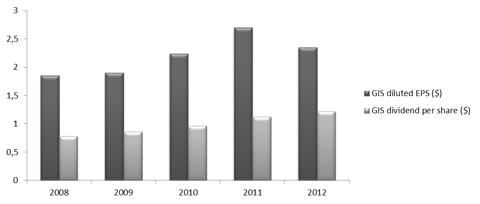 Click to enlarge
EPS has risen with an average 6.1% yearly, from $1.85 in 2008 to $2.35 in 2012. The dividend went up from $0.78 to $1.22, giving it a dividend growth rate of 11.8%. Expected EPS for 2013 is $2.68 (+14% compared to 2012), while for 2014, $2.91 (+24% compared to 2012) is forecasted. The table below is from Yahoo Finance.

Click to enlarge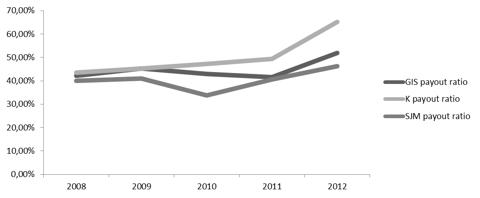 Click to enlarge
GIS's payout ratio has been in the low 40% range from 2008 to 2011. The 2012 drop in EPS increased this by a bit (to 51.9%), but not to any level were I'd be concerned, especially considering the expected EPS growth for the next 2013 and 2014.
Valuation and conclusion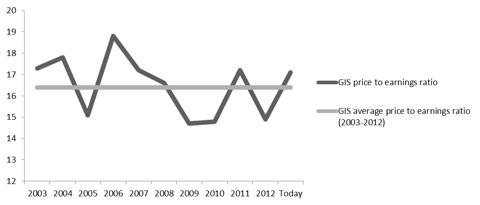 Click to enlarge
At a p/e ratio of 17.1, GIS is slightly above its 10-year average p/e of 16.4. When compared to K and SJM however, GIS looks very cheap.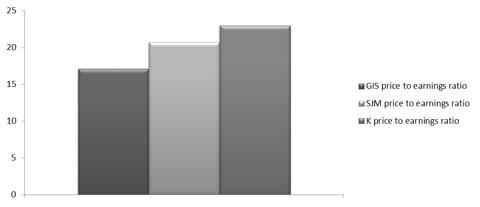 Click to enlarge
All in all, with its recent dividend increase, high profit margin and forecasted growth in EPS, I think GIS would be a great stock to own. At a price of 17.1 times earnings, it's a lot lower than the competitors I've used for comparison.
I will be adding GIS to my portfolio in the near future.
I'd love to hear your thoughts on my article, please take the time to comment below!
Disclosure: I have no positions in any stocks mentioned, but may initiate a long position in GIS over the next 72 hours. I wrote this article myself, and it expresses my own opinions. I am not receiving compensation for it (other than from Seeking Alpha). I have no business relationship with any company whose stock is mentioned in this article.