The global leader in natural gas engines continues to contend more with the promise of natural gas as a transportation fuel than the reality. Along with Clean Energy Fuels Corp. (NASDAQ:CLNE), Westport Innovations (NASDAQ:WPRT) continues to produce more losses than the natural gas used in the engines it develops. While on a fundamental basis this scenario is bad, it won't necessarily keep the stock from rocketing higher.
The company reported Q412 earnings that missed analyst expectations again and provided general commentary that caused analysts to reduce the profit picture over the next few years. Investors though remain focused on the future potential.
The stock got a big boost after the earnings report from an appearance by the CEO on Mad Money with Jim Cramer. While this adds to the reason to buy the momentum, it doesn't add to a reason to make this a long-term investment.
The good news is that the Cummins (NYSE:CMI) - Westport engine needed for highway use by the long haul trucking industry appears on track for Q4 production. The bad news is that natural gas inventories are back to normal levels and prices are moving up.
Q4 2012 Highlights
While investors appeared happy about the revenue numbers on the Q4 report, the company provided the following disappointing earnings for the quarter:
Westport revenue plus Cummins Westport Inc. (NYSEARCA:CWI) revenue for 2012 was $353.6 million exceeding previously stated guidance of $340 to $350 million.
Westport revenue plus CWI revenue for the quarter ended December 31, 2012 was $82.8 million compared with $100.6 million for the same period last year.
For the quarter ended December 31, 2012 Westport reported a net loss of $37.6 million or $0.68 per share compared to $14.5 million or $0.30 per share for the same period last year.
For the year ended December 31, 2012 Westport reported a net loss of $98.8 million or $1.83 per share compared to $60.2 million or $1.26 per share for the same period last year.
Earnings for the quarter and year ended December 31, 2012 were affected by $5.7 million and $17.1 million, respectively, in warranty adjustments. Without the warranty adjustments, reported net loss would have been $35.2 million or $0.64 per share for the quarter and $92.6 million or $1.71 per share for the year.
While engines built and revenue generally continues on the correct trajectory, it never leads to an improving bottom line. The company reported a larger net loss and adjusted EBITDA in 2012 over last year. The loss of $0.68 for Q4 was significantly greater than the $0.45 estimate. That huge miss has caused the estimates for 2013 and 2014 to plunge. According to Reuters, analysts now expect a loss of $0.72 in 2014, down from a gain of $0.64 just one year ago.
The CEO claims the company is on the path to profits in 2015, but one has to wonder if that is actually going to happen. What happens if natural gas doubles in 2014 and saps demand?
Cummins Joint Venture Reclassification
While shifting the joint venture to the equity method from fully consolidating the results has no impact to earnings, it could have a material impact on investor mindset. The company that reported $353M in revenue for 2012, won't even top $200M in 2013. Sure the full revenue from the Westport plus CWI venture will top $430M for a 20% increase, it won't be reported in that manner going forward. Without profits hitting the bottom line, investors will start wondering why a stock with $200M in revenue is worth $1.7B.
Again it's logical to report under the equity method along with all the other joint ventures, but it impacts how investors view the stock. Based on the recent reaction, it is clear that revenue is a driving force. Now the revenue number is going to plunge and that will ultimately weigh on investors.
Higher Natural Gas Prices
The biggest concern for moving towards a natural gas transportation system is that nothing has changed in the market to ensure that prices remain low. Sure shale drilling has made natural gas supplies more abundant than in the past, but what is being done to ensure that it remains that way? Shale drilling is also producing more oil so it could actually lead to lower oil prices in the future if the heavy-duty fleet shifts dramatically to natural gas. It's a simple supply/demand equation that is all but non-existent from the existing discussion. If every sector of the economy races towards using natural gas, won't demand soar beyond current production with a oil services sector focused on drilling for oil?
As the below chart highlights, the equation has already shifted with inventories moving into the 5-year norms. The rigs drilling for natural gas remain at historical lows: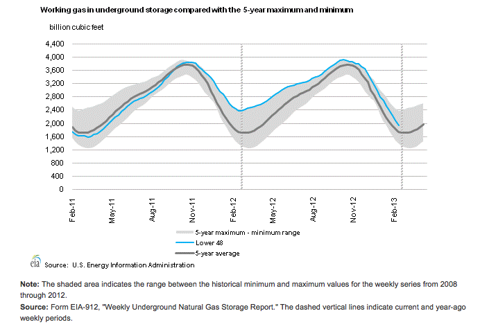 Nobody is paying attention, but natural gas prices are rising while ironically Westport's stock is breaking higher. These two should be moving in opposite directions. Westport wants cheap, abundant natural gas to prosper.
Stock
The stock tells a much different story from the fundamental picture. After a double bottom around $24, it now appears ready for a breakout with the 20ema moving above the 200ema. The chart appears very supportive of another run to $40. See the 1-year chart below: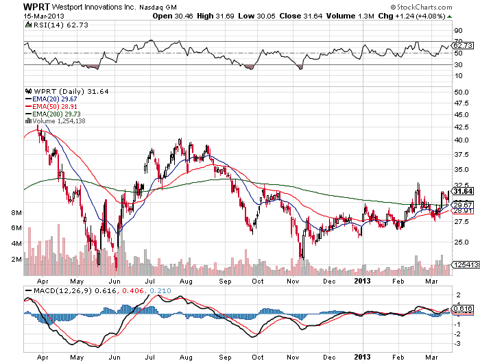 Conclusion
As mentioned with recent reports on Clean Energy, everything does appear in place for natural gas as a transportation fuel. The infrastructure is being built out now with the aide of the Chinese so that Clean Energy doesn't have to do all the heavy lifting alone. The Cummins-Westport engine is getting closer to the production mode. The only missing piece is a path to profits.
This sector is very similar to the internet world of 1999. Every company promised huge profits in the future, but a company had to spend in order to develop a business. Oddly, most of those stocks never survived as the promised profits never materialized. Clearly investing in the future is required to develop a new technology, but when that technology continues to cost more than the management team forecasts one should consider whether those future profits are so guaranteed. The dramatic reversal in expectations of a 2014 profit should send every investor running.
Ironically though, the stock suggests riding the momentum higher by trading Westport's stock for now. Until the company actually shows the ability to contain costs and provide cash flow the stock should be avoided as an investment. Innovating larger losses is not a path to higher stock prices.
Disclosure: I have no positions in any stocks mentioned, and no plans to initiate any positions within the next 72 hours. I wrote this article myself, and it expresses my own opinions. I am not receiving compensation for it (other than from Seeking Alpha). I have no business relationship with any company whose stock is mentioned in this article.
Additional disclosure: The information contained herein is for informational purposes only. Nothing in this article should be taken as a solicitation to purchase or sell securities. Before buying or selling any stock you should do your own research and reach your own conclusion or consult a financial advisor. Investing includes risks, including loss of principal.