CombiMatrix Corp. (NASDAQ:CBMX) is a small molecular diagnostics company operating primarily in the field of genetic analysis and molecular diagnostics.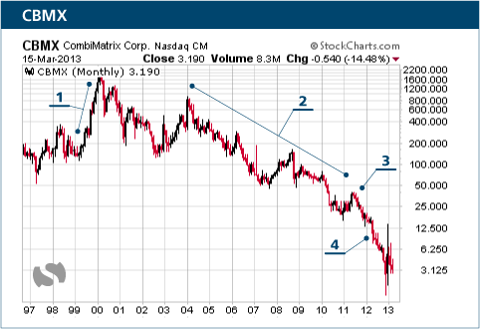 The company experienced a dramatic rise [1] in 1999 propelled by excitement over various government contracts showing huge potential at the time.
As the reality settled in, the shareholders' value was diluted [2] through multiple stock offerings meant to support company's operations.
The company received a New York State clinical laboratory permit mid-2011, creating a short-lived excitement [3]. The Q1 2012 earnings release [4] combined with the Nasdaq notice regarding minimum bid price put extreme pressure on the stock.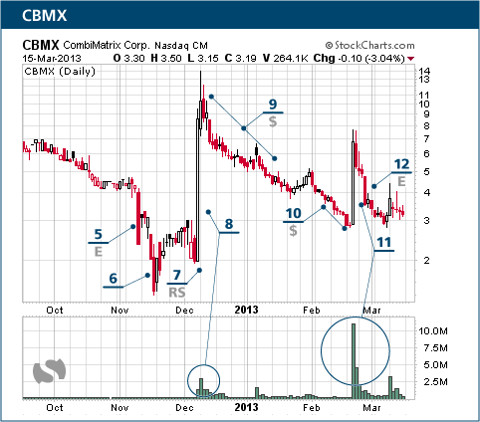 In November 2012 things began to unravel. Q3 earnings resulted in a big drop [5], putting the company well below accepted Nasdaq minimum price requirements. The capitulation of old shareholders is clearly visible at [6]: after a decade of painful losses, many of them lost all hope and left. It is extremely important for a potential turnaround to experience such a drop: without a capitulation, long term shareholders will continue to sell on any price spike to recover some losses. After the capitulation [6], a new group of shareholders sees positive unrealized gains, and the typical tendency is to add more shares on any dips. A reverse split of 10 to 1 was announced on Dec 4, 2012 [7].
And then everything changed. On Dec 6, 2012 [8] the New England Journal of Medicine published the results of two large studies comparing chromosomal microarray analysis (NYSE:CMA) to traditional karyotyping. The studies clearly favored CMA over karyotyping for genetic prenatal diagnosis and genetic evaluation of stillbirths.
The stock closed +336% on the day of the announcement [8], followed by the next day high for a +630% rise in two days. The company moved quickly to raise funds in three separate offerings at [9], followed by another two tranches at [10]. Raising funds when investors are in a buying frenzy makes sense: the company still needs money to reach the level where they can break-even.
The volume of 1.3M on Dec 7 and 2.9M on Dec 10 [8] represented a remarkable surge for this company, since it traded without any substantial volume for years. On Feb 21, 2013 the stock surged again, this time over +135% in one day on volume over 11 million shares [11]. A new CEO was announced the following day. The company announced Q4 2012 earnings at [12].
A dramatic spike in volume at [8] and [11] suggests the turnaround and the beginning of an accumulation with the base building around $3.
Business Model
CombiMatrix is an accredited clinical laboratory performing DNA testing for prenatal, pediatric and oncology diagnostics. In 2012 the company was repositioned to focus on molecular diagnostic services for prenatal and pediatric markets.
The article in the New England Journal of Medicine at [8] shows a potential of the shift from standard Karyotyping to Chromosomal Microarray Analysis for these markets. The company is perfectly positioned to take advantage of such shift, and there are some indications in the last Q4 report [12] that the process has already started: the company announced the revenue growth in prenatal testing was driven by a 172% increase in billable test volumes quarter-over-quarter, and a 171% increase year-over-year. The focus on services for prenatal and pediatric markets appears to gain traction. If such a growth trend continues, the company may quickly reach the break-even point.
The core market for the company is the prenatal and pediatric analysis which is currently serviced by a number of companies using standard Karyotyping tests and a few labs using CMA standard. CombiMatrix is the only pure-play public company in the CMA test field. The size of the prenatal and pediatric market is approximately $600M; the oncology market is approximately $800 million.
The issue of liquidity must be taken very seriously. The company needs to raise funds to continue operations, and one can never guarantee that funds will be available.
The company survived the deepest crisis in recent history and was quite successful in raising funds when all other financial markets were practically frozen. Today, in a bull market with financial markets open for business, raising funds for a company with such growth in core business should be easier.
When investing in biotech turnarounds, I like to see years of development funded by dilution, culminating in a capitulation [6]. That's a good start, but it's not good enough. Any company no longer on the market experiences such events, only to disappear soon afterwards. What we need is the story, the reason why there may be a potential for a turnaround.
For CombiMatrix, the story exploded into an amazing run at [8], the day the New England Journal of Medicine published an article favoring the company's technology for the vast market of prenatal diagnosis.
This Friday, March 15th, 2013, was the first day of Mr. McDonough as the new CEO of CombiMatrix, bringing his extensive experience in the healthcare industry to the company. For those who attempt to short the stock to gain from its demise, I would advise you to read the SEC filling from that day describing a successful closing of another round of funding. The exercise of warrants by the current holder shows confidence in the future of the company; the company provides common shares in return for cash at the closing of the transaction.
I believe the company belongs in a basket of well diversified, high-risk / high-reward small caps.
As of March 13, 2013 Combimatrix has 2,783,030 shares of common stock issued and outstanding.
If the company is successful in achieving 10% market penetration of the $600M prenatal & pediatric market (and ignoring the oncology market for a moment), the company may see its market cap increased from the current one of $8.8M (as of March 15, 2013) to approximately $120M using a standard 2x sales valuation model.
Disclosure: I have no positions in any stocks mentioned, and no plans to initiate any positions within the next 72 hours. I wrote this article myself, and it expresses my own opinions. I am not receiving compensation for it. I have no business relationship with any company whose stock is mentioned in this article.
Disclaimer: Past performance is no guarantee of future results. Investments involve risk, including the risk of loss of principal. Any opinions related to markets or publicly traded securities expressed above do not represent trading recommendations and any attempt to employ them in any form is the sole responsibility of the party involved in such operations. The author and Santoren Inc. takes no responsibility for any trading activities by any party attempting to follow any theories or opinions presented above. There can be a substantial risk of loss in trading stocks, ETFs and other instruments. You should, therefore, carefully consider whether such trading is suitable for you in light of your financial condition and your risk tolerance. The information provided above is based on sources believed to be reliable, but it is not guaranteed to be accurate. The clients of Santoren Inc. may maintain long, neutral or short positions in securities mentioned above in investment accounts managed by the author.