A couple of months ago, I wrote an article about Coca-Cola (NYSE:KO) that the impending dividend raise would increase attractiveness. The company has since raised that dividend, and with markets rallying to new highs, shares have continued higher. Today, I'll examine the stock again and encourage investors to wait for a slight pullback before buying this name again.
Recent positive news:
A couple of weeks ago, the company's board of directors approved the 51st consecutive annual dividend increase. The company announced that the quarterly dividend would be rising from $0.255 per quarter to $0.28. This raise would bring the yearly payout from $1.02 to $1.12. This nearly 10% raise in the dividend marks the largest percentage raise since the dividend was increased from $0.17 to $0.19 in 2008. I put together the following chart, showing the company's quarterly dividend since 2003, adjusted for the 2-for-1 stock split that took place in August 2012. At $0.28 per quarter, the dividend is now double the $0.14 quarterly dividend that was paid in 2005.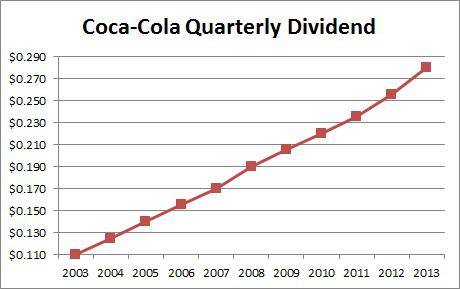 The other piece of news I'll cover briefly is the company's recent debt raise. The company raised $2.5 billion: $500 million aggregate principal amount of floating rate notes due 2015, $1.25 billion aggregate principal amount of 1.15% notes due 2018 and $750 million aggregate principal amount of 2.50% notes due 2023. The company will primarily use these funds to retire debt due in 2013, 2014, and 2015, as well as for general corporate purposes. The 2013-2015 debt all carry rates much higher than the new debt, so this was a perfect opportunity for the company to refinance some of its debt. Anytime a company can take advantage of low rates to lower their interest expenses, they need to. Coca-Cola has done that here.
Updating the industry comparisons:
The table below shows some key comparisons for Coca-Cola against two other large beverage names, PepsiCo (NYSE:PEP), and Dr Pepper Snapple (NYSE:DPS). I also threw in a smaller name, SodaStream (NASDAQ:SODA), to show what a growth company in this space looks like. The table shows currently expected revenue and earnings growth for 2013 and 2014, along with a two-year total. I've also included an annual dividend yield, as of Friday's close. I chose to separate SodaStream because that is a growth company, which will obviously show a lot more growth, and not pay a dividend. The yellow highlight is for the leader in each category, amongst the three large names.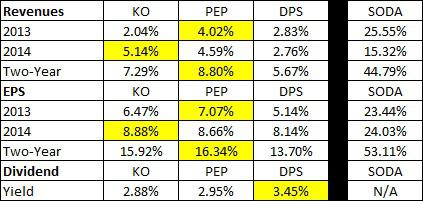 When it comes to the big three, Coke and Pepsi go back and forth for the top spot, depending on the category. Dr Pepper Snapple doesn't have the highest growth, but it still has respectable growth and a bit higher dividend. The yield for PepsiCo represents the raised dividend amount they gave in their fourth quarter report. Overall, when it comes to the two-year growth prospects, PepsiCo offers slightly more at this point than the other two names.
I threw in SodaStream to add a different dimension to this argument. If you are looking for a solid company, a value name with a dividend and lesser risk, the three giants above are good choices. If you are looking to take a bit of a risk looking for growth, SodaStream is here to stay. SodaStream is in the early stages of its international expansion plan, and continues to deliver spectacular results. If you are looking solely for growth, SodaStream is the name to be in.
Share repurchase programs:
Coca-Cola is also known for buying back plenty of stock. The company announced a new buyback program to buy back 500 million shares of stock, details found on page 70 of their 10-K filing. The company expects to buy back between $3.0 and $3.5 billion worth of stock during 2013. At the beginning of this year, the company's market cap was about $160 billion, so they'll be looking to buy back about 2% of shares this year. Overall, a 500 million share program would represent about 11% of shares.
Pepsi is also buying back shares. They had almost $8 billion on their current plan at the end of 2012. That plan was scheduled to end halfway through this year, and they announced a new $10 billion plan to start during the second half of this year. Details on their plan can be found on page 25 in their 10-K filing. Pepsi did not give an amount they expect to buy back in 2013. Their market cap as of the end of 2012 was about $105 billion.
At the end of 2012, Dr Pepper Snapple had about $972 million left on their current buyback program, as per page 20 of their 10-K filing. As of the end of 2012, Dr Pepper Snapple had a market cap of just under $9 billion. All three of these names are buying back plenty of stock, and that is something to keep in mind. SodaStream is not buying back stock now, but SodaStream is a growth company, not a value one.
Current Valuations:
No matter what you are buying, whether it is groceries or stocks, you have to look at prices and valuations. The table below shows the valuations for each name, based on Friday's closing prices and the currently expected earnings for each year.

Coca-Cola trades at a slight premium to PepsiCo, and a larger premium to Dr Pepper. This was true as of my last update as well. SodaStream also trades at a decent valuation to all of these, given the much larger growth profile.
Given that markets are a bit overheated now, and Coca-Cola trades at a slight premium to the others, I would encourage investors to wait for a pullback before buying. For a solid dividend payer like Coke, I like to recommend dividend yield points as entry points. The stock closed Friday at $38.83, which puts the annual yield at just over 2.884%. Thus, I would encourage investors to wait until the yield is at least 2.90% before buying, but my personal preference would be to wait until about 3.00% or so. I put together the following chart showing prices and yields, from 2.80% all the way up to 3.22%. I don't think Coca-Cola will drop $4 anytime soon, but if we get a market pullback, I don't think the 3.00% yield level is untouchable.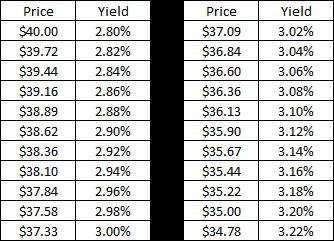 Final Thoughts:
Coca-Cola's dividend increase was slightly larger than I expected, and that's good for investors. However, the stock trades at a slight premium to others in the space, and the market feels very overheated right now. This is a great value name to be in for the long term, but investors looking to get in now might want to wait for a pullback.
Disclosure: I have no positions in any stocks mentioned, but may initiate a long position in SODA over the next 72 hours. I wrote this article myself, and it expresses my own opinions. I am not receiving compensation for it (other than from Seeking Alpha). I have no business relationship with any company whose stock is mentioned in this article.
Additional disclosure: Investors are always reminded that before making any investment, you should do your own proper due diligence on any name directly or indirectly mentioned in this article. Investors should also consider seeking advice from a broker or financial adviser before making any investment decisions. Any material in this article should be considered general information, and not relied on as a formal investment recommendation.