Full disclosure: My grandfather, H.B. Reese, invented Hershey's most popular and financially successful product, Reese's Peanut Butter Cups. In 1963, 7-years after my grandfather's death in 1956, my father Charles Richard Reese and his 5-brothers merged the H.B. Reese Candy Company with The Hershey Company (NYSE:HSY). It was a tax free stock-for-stock merger with the 6 Reese Brothers receiving 666,316 shares of Hershey common stock (view draft of the 1963 Hershey-Reese Closing Agenda). After the 1963 merger, the Reese Brothers owned such a large portion of Hershey's Public Float, they were restricted by an investment letter from selling any Hershey shares. Over the past 50-years Hershey's stock has split so many times, the original 666,316 Hershey shares owned by the 6 Reese Brothers now represent 16 million Hershey shares paying annual cash dividends, which alone exceed the total 1963 stock market value (i.e. $23.5 million-- the value most often mentioned by Hershey public relations) of the Reese Brothers' Hershey shares.
Earlier this month, investors and Hershey shareholders should have been pleased to read the Forbes article on the ambitious $10 billion sales goal of Hershey Senior Vice President, Michelle Buck:
Hershey's Provocateur-In-Chief Pushes The Candy Company To $10 Billion
According to Buck:
"We want to be at $10 billion in revenue in the next five years, which calls for a very aggressive top-line growth rate."
Well, after reading the above article, imagine my surprise when I received the following "forwarded" email message from The Hershey's Store: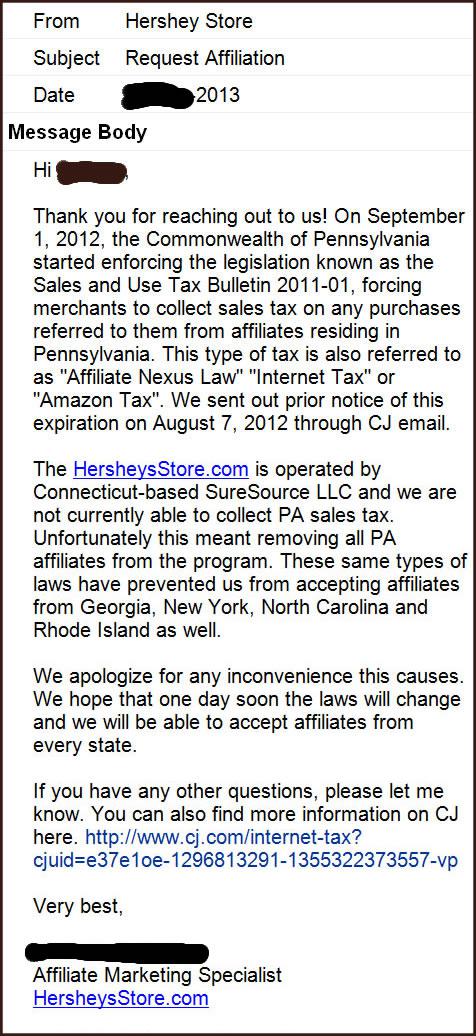 I just don't get it, Hershey's top sales executive is calling for an aggressive top-line sales growth rate, while simultaneously The Hershey Store is rejecting affiliate sales from Pennsylvania, New York, North Carolina, Georgia and Rhode Island.
Commission Junction has been outsourced the job of handling affiliate sales for The Hershey Store, which itself has outsourced its operation to SureSource LLC.
It was almost 4-years ago that I wrote about Hershey's previous failure at online Internet sales: Chocolate icon Hershey fails at online retailing. According to the Internet Retailer Top 500 Guide, from 2004 to 2008, Hershey's annual online Internet sales never exceeded $23 million.
"A source familiar with Hershey Gifts said Hershey had been hoping to achieve $50 million in annual online retail sales, however, the operation was never taken seriously or even fundamentally understood by Hershey's management."
Truth be told, I was galvanized by the Forbes article on Michele Buck thinking that Hershey finally had a "can do sales attitude." It doesn't appear so with Hershey's online Internet sales, even though Hershey heavily promotes its online store via its seven worldwide Chocolate World Retail Stores.
I'm looking at the Commission Junction Internet Retail Tax web page and if The Hershey Store continues to reject affiliate sales located in states that tax Internet sales, the future of The Hershey Store looks none too bright!
How so? Well, The Hershey Store is currently rejecting affiliate sales from Pennsylvania, New York, North Carolina, Georgia and Rhode Island, however, California, Connecticut, Arkansas and Vermont have also had Internet sales tax legislation introduced. Furthermore, Hawaii, Minnesota, Florida, Michigan, Indiana, Maine, Missouri, West Virginia, Kansas, Utah and Oklahoma have introduced legislation that may require taxation of Internet sales in the future.
It's my opinion that when Hershey's sales executives allow minor tax collection technicalities to diminish The Hershey Store's revenue stream, it calls into question how serious Michele Buck is about achieving $10 billion in sales by 2017.
What's your take, how do investors and Hershey shareholders feel about this "can't do sales attitude" of The Hershey Store, especially with regard to the Forbes article touting the "aggressive sales attitude" of Hershey SVP Michele Buck?
Disclosure: I am long HSY. I wrote this article myself, and it expresses my own opinions. I am not receiving compensation for it (other than from Seeking Alpha). I have no business relationship with any company whose stock is mentioned in this article.
Further disclosure: My family is a large shareholder of The Hershey Company and my family members have direct business dealings with The Hershey Company as well as affiliates owned by the controlling shareholder of The Hershey Company, the Milton Hershey School Trust. Personally, I have no business relationship with The Hershey Company nor with any of the affiliates owned by the Milton Hershey School Trust.