Last week I wrote an article titled Why REIT Returns Have Been Systematically Better Than Non-REITs. The purpose for writing that particular article was to demonstrate that the REIT structure is a much more efficient model since, by law, REITs are forced to pay out dividends. My argument was hinged on the notion that non-REITs with excessive free cash tend to be less efficient as they generally burden stockholders with the wealth creation process.
To prove my point, I used a few excerpts from a famous article written in 1986 by Michael C. Jensen, Professor Emeritus at Harvard Business School. In that article, Agency Costs of Free Cash Flow, Corporate Finance, and Takeovers, Jensen explained:
Managers with substantial free cash flow can increase dividends or repurchase stock and thereby pay out current cash that would otherwise be invested in low-return projects or wasted. This leaves managers with control over the use of future free cash flows, but they can promise to pay out future cash flows by announcing a "permanent" increase in the dividend. Such promises are weak because dividends can be reduced in the future. The fact that capital markets punish dividend cuts with large stock price reductions is consistent with the agency of free cash flow.
So this weekend, and after a long travel week, I was catching up with my oldest daughter. As I mentioned in a previous article, she is a senior in high school and she is trying to win a stock picking contest for the best fantasy stock portfolio. She tells me that she is not doing that well and that all of the REITs that she has picked have under-performed. She is 30 days into the contest and she can't understand why her dad - the so called Intelligent REIT Investor - has given her so many "bad bets".
She is especially frustrated because I keep preaching about REITs that are cheap and her fantasy returns are becoming more of a nightmare. She asked me yesterday:
"Dad, the only REIT that is throwing off mustard is Medical Properties Trust (NYSE:MPW). The other ones are dead and I'm getting in a deeper hole every day."
She went on to say:
"You write that REITs are so great but I aint' seen nothing yet."
The Biggest Lesson for the Game of Life
Now with less than 30 days to go, I am doubtful that there is one REIT that could get my daughter to the victory lane. Unless, however, I offer up some mortgage REIT picks. So I think it's best to explain to my daughter the concept of patience. Here's what Ben Graham had to say about patience:
Can you really make money in them [stocks] without taking a serious risk? Yes indeed if you can find enough of them to make a diversified group, and if you don't lose patience if they fail to advance soon after you buy them. Sometimes the patience needed may appear quite considerable. [But] most of the bargain issues in our experience have not taken that long to show good profits.
Although I think one of the biggest lessons that I can help me daughter (and all of my kids) with are these words from Ben Graham:
I blamed myself not so much for my failure to protect myself against the disaster I had been predicting, as for having slipped into an extravagant way of life which I hadn't the temperament or capacity to enjoy. I quickly convinced myself that the true key to material happiness lay in a modest standard of living which could be achieved with little difficulty under almost all economic conditions.
To me, that is the lesson that will make all of my children successful. Indeed, patience is a virtue but humility is the better lesson of all. Now let's talk about her REIT portfolio.
Actions Speak Louder Than Words
It's no surprise that I consider Ben Graham to be the best teacher of all time. After all, I practice his sound habits daily in an effort to provide the best REIT valuations and most practical common sense advice. Graham said:
An investment is based on incisive, quantitative analysis, while speculation depends on whim and guesswork.
It's plain to see that my daughter is down on REITs. With the exception of Medical Properties Trust, her remaining four REITs have all under-performed during the last 30 days. Her remaining REITs are Realty Income (NYSE:O), Kimco Realty (NYSE:KIM), CapLease Inc. (NYSE:LSE), and American Realty Capital Properties (ARCP). Excluding MPW, the four REITs returned only 1.125% (on average) under-performing both the S&P 500 (2.9%) and the SNL US REIT Index (1.7%).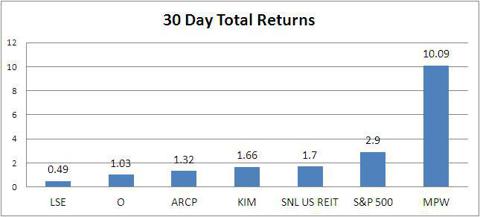 But clearly the dividends were anchoring her monthly REIT allocation as the five "hand-picked" REITs produced an average dividend yield of 5.06%.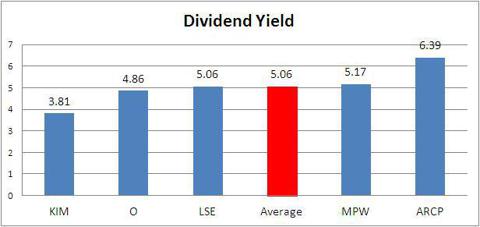 Of course we all know that fantasy contests are just what they imply, fantasies. There is simply no way that anyone can win a 60 day contest without significant luck. However, there are larger lessons in life and the key to great investing is consistency. I've always liked Gary Player's quote:
Greatness isn't just talent. It's talent applied consistently.
So, for the sake of argument, let's assume that today was the last day of the fantasy contest and my daughter had kept all five REITs for a full year. The results are more in-line with my prior argument that "REIT returns have been systematically better than non-REITs". For the last 12 month period, the fantasy REITs returned an average of 41.8%, exceeding the S&P 500 by a whopping 27.98%.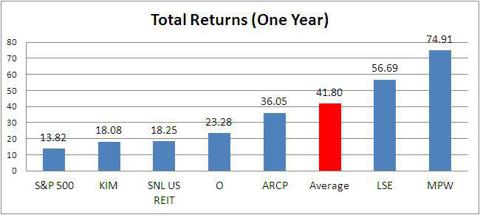 Needless to say, she would have won. Hands down.
Now, let's look at this in another light. Assume that I'm picking the very same portfolio for my youngest daughter. She is in kindergarten and she will be ready for college in twelve years. In order to provide a meaningful comparison I will need to use O, KIM, and MPW since ARCP and LSE have not been around for a full dozen years.
These three REITs produced a total return of 344.84%, compared with 71.53% for the S&P 500 and 306.1% for the SNL US REIT Index. Comparatively, the same three REITs produced an average annual return of 28.74%. Clearly, I need to get started on the college fund NOW. (O is simply a "dividend machine" with a total return of over 661%).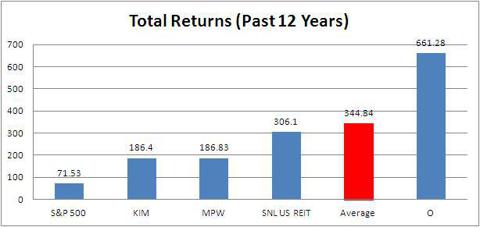 The Only Way To Invest is the REIT Way
It's clear to see that I'm bullish on the REIT sector. There's not a day that goes by that I don't think about the land and buildings that store our groceries, auto parts, discount items, hospitals, doctors, bankers, parts suppliers, data, and even prisoners. Let's face it, real estate is here to stay.
But I own my house, so why should I have more exposure to the space? It's clear to see that non-REITs tend to be more "wasteful" with capital allocation so I don't want to find myself in the same foolish position. I need some specific evidence to support the argument that REIT returns have systematically better than non-REITs.
In my last Seeking Alpha article Brad Case, Ph.D., CFA, and CAIA, Senior Vice President of Research & Industry Information with NAREIT said:
Academic researchers have found time and time again that executives have a tendency to make poor use of free cash on hand, whereas when they have to undergo "capital market scrutiny," they tend to make decisions that are better for shareholders. That may be part of the reason why listed REIT returns have been systematically better than non-REIT stock returns, not just recently but over more than four decades of available history.
OK. Let's find the answer. But first remember, I'm not a huge fan of mortgage REITs. I know that my daughter could pick up some quick points and possibly win the fantasy contest, but if she invests "real money", I know that the returns will not be sustainable. As I explained to my daughter (and I quote Warren Buffett):
(You must) not be swayed by what other people thought or how the world was feeling that day or anything of the sort.
In fact, I wrote an article a few months back (here) dispelling the notion that mortgage REITs outperform equity REITs. They don't and (in my opinion) they never will.
At the end of the day, the winners and losers are determined by investing in companies with remarkable records of consistency, not just high returns. It is the outstanding investors that are distinguished for their ability to control risk as they are for generating big returns. Equity REITs pay out dividends and, on average, the majority of a REIT's total return (around 60%) is made up of dividends.
It is the consistency in the REIT structure that creates the consistency in REIT profits. That is why REITs outperform. Simply said, consistency and durability are the key attributes for the competitive advantage. I believe this quote from Ben Graham is the epiphany to this final verse:
You are neither right nor wrong because the crowd disagrees with you. You are right because the data and reasoning are right.
When it doubt, check this out...REITs have outperformed the S&P 500, the Russell 2000, and the Barclays Capital Aggregate Bond Index over the previous 1, 3,6,10, 16, 20, 26, 30, 36, and 40 year periods. Need I say more?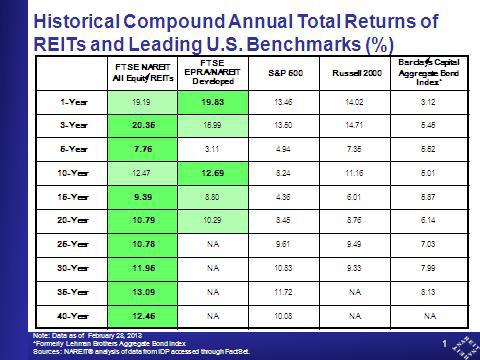 Sources: SNL Financial and NAREIT
Disclosure: I have no positions in any stocks mentioned, and no plans to initiate any positions within the next 72 hours. I wrote this article myself, and it expresses my own opinions. I am not receiving compensation for it (other than from Seeking Alpha). I have no business relationship with any company whose stock is mentioned in this article.