Exposure to precious metals can be achieved using a variety of investment vehicles. In this article we introduce streaming companies as one way of achieving this exposure. Streaming companies provide upfront financing for mining companies looking for capital. In return, streaming companies receive streaming agreements, or alternatively net smelter return (NSR) royalties.
A streaming agreement defines the right to purchase a percentage of a mine's production at a fixed, and usually heavily discounted price. Nominally, the streaming company receives the actual commodity in exchange for the fixed payments, but in reality transactions are performed electronically with the streaming company pocketing the difference between the fixed payment and the spot price.
Net smelter return is defined as the gross revenue (total revenue minus production costs) that the owner of a mining property receives from the sale of a mine's products less transportation and refining costs. As a royalty it refers to the fraction of net smelter return that a mine operator is obligated to pay the owner of the royalty agreement.
Streaming companies like to describe themselves as non-operating mining companies. Another way of looking at them would be as highly specialised venture capital providers. Streaming companies offer exposure to precious metals at reduced risk levels compared to mining companies for the following reasons:
Streaming companies have fixed operating and capital costs.
There are no exploration costs, but streamers still enjoy exploration upside.
Operational risk is reduced compared to miners.
There are no risks of environmental costs.
The asset base is typical more diversified than with mining companies.
However, a stream only yields a profit as long as a mine is operational. If a mine operator decides to close a mine then this decision also affects the streaming agreements and royalties associated with this mine. Country risks are also present for streaming companies to a similar degree as for mining companies. Selecting reliable, low-cost operators in safe mining jurisdictions mitigates these risks but may also lower the rewards.
Streaming companies typically try and spread their funds between cash generating streams and future prospects. Future prospects in a streaming portfolio carry a higher risk since these prospects still need to be developed into a mine. This is especially true for exploration assets that still need to go through all the necessary studies before development can be initiated.
Estimates suggest that the capital raised in the mining sector came to $249B in 2012, a sharp decline from the $340B in 2011. Mid-tier and junior companies were hardest hit. This has led to a situation where development capital is sought increasingly from alternative sources. Streaming companies have been able to pick and choose from a wide range of projects and have been able to add to their portfolio under advantageous conditions. We believe that the present situation is offering these streaming companies a rare opportunity to set themselves up for a prosperous future, provided they manage to choose the right projects.
As far as exposure to precious metals is concerned, investors currently have four streaming companies to choose from: Silver Wheaton (NYSE:SLW) and Sandstorm (NYSEMKT:SAND) with their headquarters in Canada; and Royal Gold (NASDAQ:RGLD) and Franco Nevada (NYSE:FNV) which are based in the USA. Canadian tax law provides an advantage for the former two companies since as long their proceeds are reinvested or paid out as dividends, their tax rate typically does not exceed 8%-- which is significantly less than their counterparts in the U.S. need to pay. The table below lists some salient financial key statistics for the four companies taken from yahoo.com.

Silver Wheaton is the largest precious metal streaming company currently on the market. They achieved this leading position within only 9 years since their inception in 2004. Until very recently they were squarely focused on silver streams; however, their latest deal which closed on February 28 increased their exposure to gold to a peak of 25% over the next 5 years. Silver Wheaton currently controls 19 producing assets and 4 development assets, all of them streaming agreements. Their portfolio includes assets such as the Pascua-Lama project operated by Barrick Gold (NYSE:ABX), the 777 mine operated by Hudbay Minerals (NYSE:HBM) and the Salobo mine operated by Vale (NYSE:VALE). A detailed up-to-date report on Silver Wheaton can be found here.
Franco Nevada has the longest tradition of the four streaming companies considered in this article. Their portfolio consists of a mixture of precious metals and also oil and gas royalties. Gold currently makes up 76% of revenue and PGM metals add another 15% leaving 9% for base metals and oil and gas related revenue. 71% of revenue is generated in North America. Franco Nevada controls 46 producing assets, 28 advanced development assets and 136 exploration assets plus 136 oil and gas assets. This article represents a good starting point for more detailed research on Franco Nevada.
Royal Gold is another streaming and royalty company with gold-related royalties and streams providing 68% of total revenue. Besides offering capital for mining development activities they also actively seek to acquire existing royalties. Royal Gold also purchases royalties in exchange for providing acquisition finance. They currently own 39 producing assets, 28 development assets and almost 140 exploration stage assets. Of their top 15 assets the median projected life is 15 years, promising a long-term outlook. Their latest company presentation gives more details for interested investors.
Sandstorm Gold is the most junior among the streaming companies presented in this article. They have displayed a very aggressive approach to the business in recent months acquiring a controlling interest in a potential future competitor and also closing their biggest deal to date. Their focus is almost exclusively on gold streams from development companies. A starting point for further research can be found here.
The share price for all four companies has come off their 2012 highs in recent months as can be seen in the diagram below, following the path of gold and silver spot price, with Silver Wheaton showing the greatest resilience so far.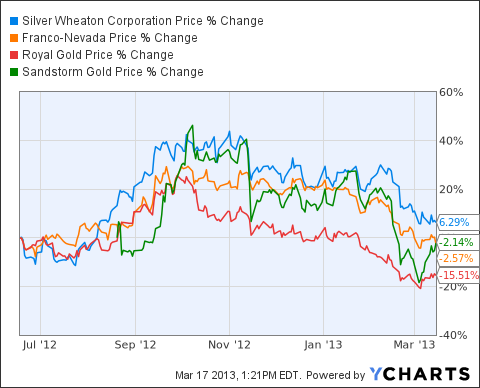 The first three described companies could be described as matured or maturing streaming companies whereas Sandstorm is still in an early growth phase offering greater risks, but also greater rewards. This evaluation is also emphasised by the fact that the first three companies pay a modest dividend. The diagram below gives an overview on dividend yield for the three dividend-paying companies. Dividend yield has increased for all three companies due to the recent decline in share price. It is noted that Silver Wheaton still offers the highest yield despite out-performing the other companies in terms of share price.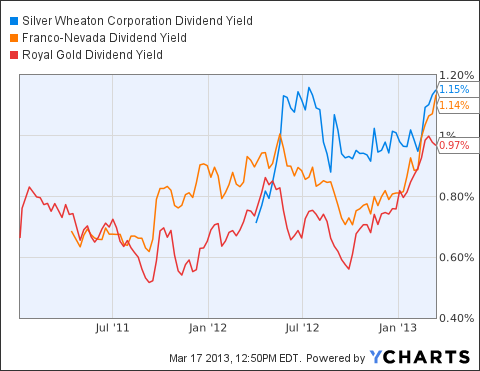 SLW Dividend Yield data by YCharts
Silver Wheaton's forward P/E is almost half of Franco Nevada's and Royal Gold's forward P/Es. Analysts' median target prices are also best for Silver Wheaton in comparison to the present share price. Considering all available data, we would pick Silver Wheaton as the potentially most profitable bet of the three larger companies presented in this article.
Sandstorm Gold represents a wild card in comparison to the other companies mentioned herein. They have been taking on more risk than the other streaming companies dealing mostly with junior miners and accepting assets in riskier jurisdictions. Sandstorm Gold's share price has just suffered a rather dramatic recent decline and we suspect that another leg downwards is a strong possibility. Should our prediction prove correct, we would view this as a very attractive entry point.
Disclosure: I am long SLW. I wrote this article myself, and it expresses my own opinions. I am not receiving compensation for it (other than from Seeking Alpha). I have no business relationship with any company whose stock is mentioned in this article.