We all know that J.C. Penney (NYSE:JCP) has been in the news quite a bit. The struggling retailer founded in 1902 and based in Plano, Texas has become a major topic of conversation, especially among the real estate crowd.
With 1,103 stores nationwide, J.C. Penney has become more of a "brick and mortar" story than a retail stock subject. What started out as one small town Texas store has grown into a mixed bag of on-mall stores, off-mall stores, and legacy stores. Here is a snapshot of J.C. Penney's current store-based real estate: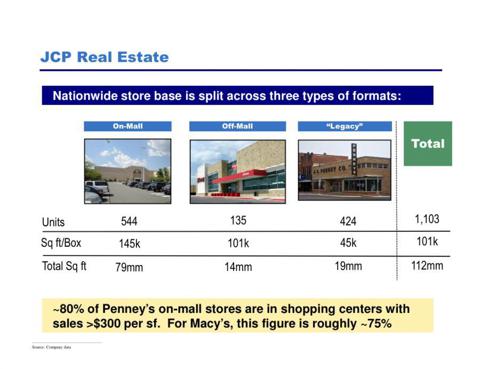 In the early days, J.C. Penney grew its sales model from around $91 million in 1925 to well over $3 billion in 1968: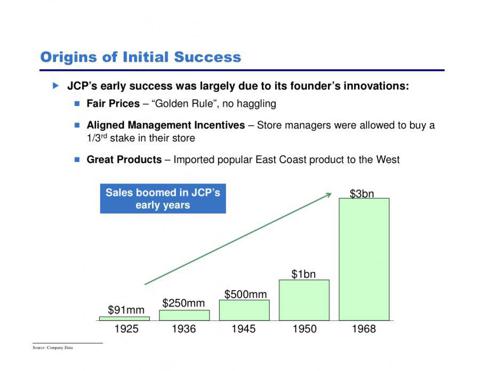 In the 1980s, under the leadership of W.R. Howell, J.C. Penney successfully transformed from a discount chain into a department store model. Clearly, the threat of Wal-Mart (NYSE:WMT) was one of the key threats to J.C. Penney's 80s evolution; however, the company was eventually overwhelmed by its outdated infrastructure.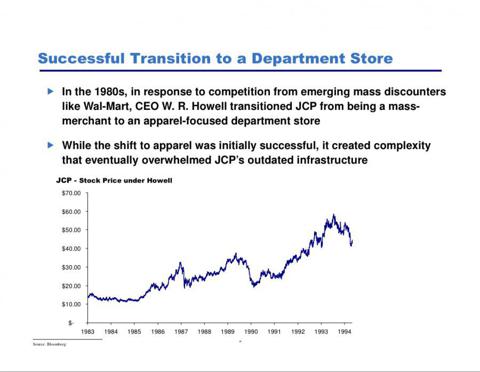 So in the 1990s, J.C. Penney began to decline and the largest part of the erosion was due to high leverage and poorly planned expansion of its conglomerate growth strategies. For example, J.C. Penney acquired Eckerd Drug in 1996 for around $3.3 billion and the net effect for J.C. Penney was an unaligned integration that pushed the company closer to financial distress (see my article on Rite Aid here).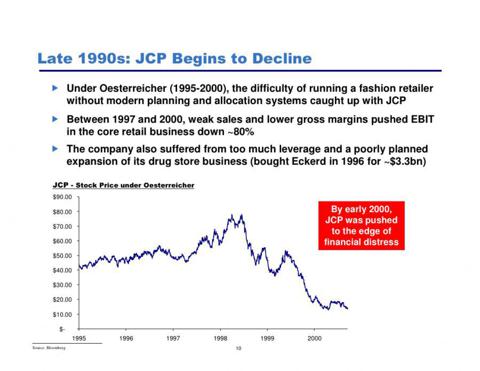 In early 2000, J.C. Penney brought in new management (Allen Questrom hired in 2001) and performance began to improve: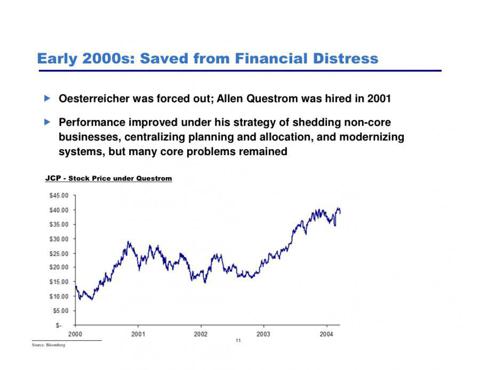 In 2005, Questrom was replaced by Mike Ullman and during his tenure he failed to "right size" the company's cost structure despite a severe consumer recession. J.C. Penney invested around $1 billion to expand the off-mall store base with an inadequate return on capital. So progress stalled.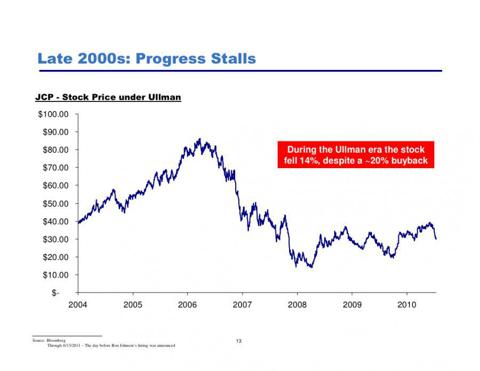 Clearly, over the last 20 years (3 different CEOs), J.C. Penney failed to create any meaningful shareholder value: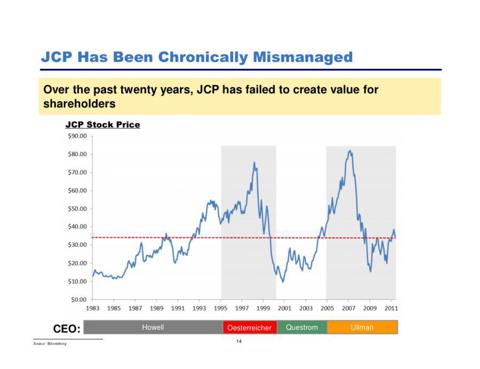 So the newest CEO Ron Johnson, was supposed to turn J.C. Penney into the next "dream team." After all, Johnson had played a huge part into the success of two global brand giants: Target (NYSE:TGT) and Apple.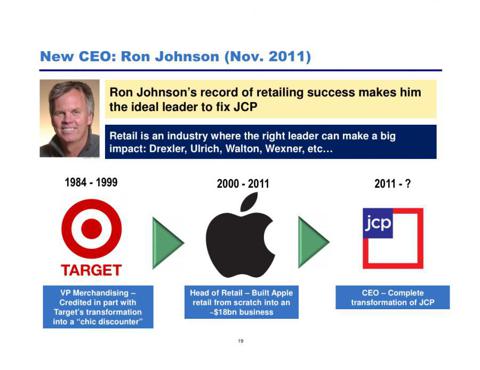 A New Reality for J.C. Penny
In a recent Seeking Alpha article, Saibus Research explained the track record of the current J.C. Penney CEO:
We are stunned at how poorly JCP has performed since Ron Johnson's arrival. We have seen a number of notable investors in J.C. Penney's shares and bonds because they were expecting Mr. Johnson to reinvent JCP because of his solid record of performance with Target and his outstanding track record with Apple Retail.
Karen Talley at Dow Jones provided some color on J.C. Penney's latest results (source WSJ blog):
The retailer is filling its stores with boutique-like shops in effort to "re-invent" the way department stores are viewed. The effort, which began in 2011, has so far seen dismal results, with Penney hemorrhaging business. The company dropped $4.3 billion in sales last year--the 12 months after former Apple Inc. (NASDAQ:AAPL) executive Ron Johnson took over as chief executive, as he cut back on discounts and rolled out plans to fill stores with dozens of branded boutiques.

Declines worsened through last year, with sales down 28.4% from a year earlier in the fourth quarter, which spans the crucial holiday selling period. The company reported a fourth-quarter loss of $552 million, its worst of the year, and held $930 million in cash on Feb. 2, a decline of 38% from a year earlier.
One of Penney's largest shareholders, activist investor Steven Roth's Vornado Realty Trust (NYSE:VNO), recently dumped 10 million J.C. Penney shares to Deutsche Bank AG (NYSE:DB), a move that comes as the firm looks to cut its losses on a failing turnaround at the department store chain that it helped spark. Vornado sold the shares in a block trade at a price of $16.03 a share and the New York-based REIT still owns 13.4 million shares in J.C. Penney, an approximate 6.1% stake.
The steady slide in J.C. Penney shares have been painful for Vornado, which disclosed in the fall of 2010 that it had been building a stake in J.C. Penney along with fellow activist William Ackman and his Pershing Square Capital Management LP. Vornado booked a $225 million loss on its stock in J.C. Penney and another $76 million loss on derivatives exposed to the retailer. In a recent Forbes.com article, I explained Vornado's struggles:
It is plain to see that Vornado's bet on the struggling J.C. Penney chain has been a flawed strategy as the company has moved away from discount prices when bargain stores appear to be thriving in tough economic times. Vornado's latest earnings results reported that the company had lost $224.9 million on its J.C. Penney stake that contributed to the REIT's weak fourth-quarter earnings in which funds from operations dropped to $55.9 million (30 cents per share) from $280.4 million ($1.46 per share) in the 2011 quarter…

I've often argued that Vornado looks more like a hedge fund instead of a REIT. The company has been trying to revitalize its stock by purging several of its strip malls and exiting the furniture-mart business; however, it continues to take considerable losses in the J.C. Penney investment-clearly this is not a simple business model.

Vornado's highly complex REIT model-operating a variety of unique operating platforms-makes the other "pure play" REITs look extraordinarily simple. Most notably, Vornado's business lines (that investors want to see the company exit) are the ones that are either hard to sell (like J.C. Penney) or because they're illiquid like Toys 'R' Us.
Now we all know that J.C. Penney is far from bankrupt. The company has around $930 million in cash (at year-end 2012) with adjusted cash of around $850 million ($85 million deferral of vendor payments in 2013). So if you add the adjusted cash on hand of $850 million plus the asset-backed credit facility in which the line was increased to $1.85 billion with a $400 million accordion feature, J.C. Penney's access to short-term capital is approximately $3 billion.
It's important to remember that J.C. Penney is a retailer that owns or controls a large inventory of real estate. In fact, J.C. Penney's assets were reduced by around $1.6 billion in 2012, primarily driven by the monetization of certain non-core assets ($526 million of non-core assets reduced) - REIT interests and mall-based interests. There are literally hundreds of millions of dollars that Penney could utilize to strategically unlock value.
Unlocking the Value in General Growth Properties
General Growth Properties, Inc. (NYSE:GGP) began over 50 years ago as the owner of a single retail property in Cedar Rapids, Iowa. Through organic growth and strategic acquisitions, the company grew into one of the largest mall REITs in the United States.
Second only to Simon Property Group (NYSE:SPG), GGP has around $29.56 billion in assets ($40 billion based on market value) with a current market cap of around $18.67 billion. The smaller peers include CBL & Associates Properties (NYSE:CBL), Taubman Centers (NYSE:TCO), Rouse Properties (NYSE:RSE), Macerich (NYSE:MAC), and Tanger Factory Outlets (NYSE:SKT).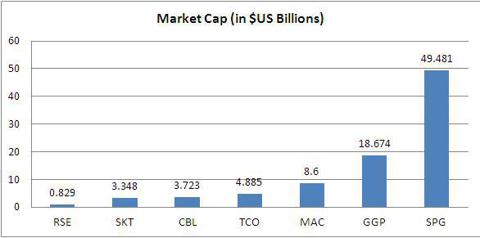 GGP's portfolio includes ownership interests in more than 134 million total square feet of regional mall space and hybrid mixed-use properties.
On April 16, 2009, GGP and certain of its domestic subsidiaries filed voluntary petitions for relief under Chapter 11 of Title 11 of the United States Code. The emergence from bankruptcy by GGP and the substantial equity investment and restructuring constitutes a new beginning for the mall REIT.
At the peak, GGP owned around $32.37 billion in assets and since the bankruptcy, restructuring the company has reduced its asset base by around 19% (assets as of Q4-12 are $27.28 billion).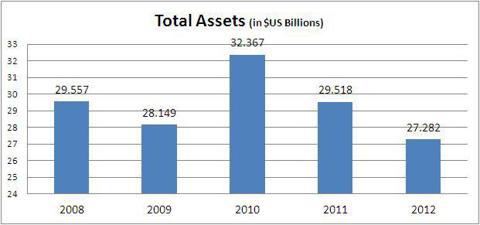 As part of the strategic bankruptcy, GGP also reduced its total debt from $24.76 billion in 2008 to around $16.19 billion (as of Q4-12). That equates to around 35% in total debt reduction.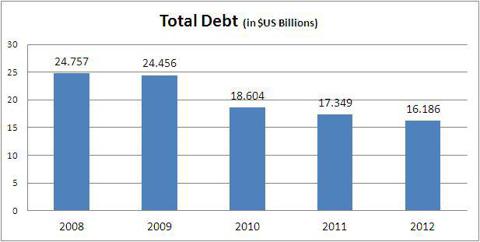 Total debt-to-total assets for GGP are now around 59% (from a high of 87% in 2008):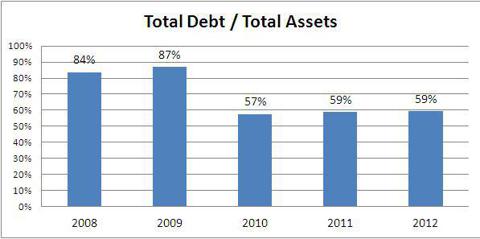 As part of GGP's strategic post-bankruptcy plan, the company completed the spin-off of a 30-property portfolio, disposing of non-core assets and decreasing outstanding mortgage loans by $1.1 billion.
GGP sold its interests in non-core assets including an office portfolio, three office properties, 11 strip centers/other retail, seven regional malls and an anchor box totaling approximately seven million square feet of GLA for $524.5 million, which reduced property level debt by $320.6 million. These sales generated net proceeds of $239.1 million. Here is a snapshot of the company's historical property count: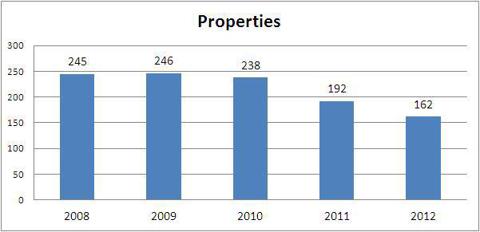 GGP has interests in properties in 42 states as well as retail rental property operations and property management activities in Brazil. Here is a snapshot of GGP's geographic concentration (top 12 concentrated by state):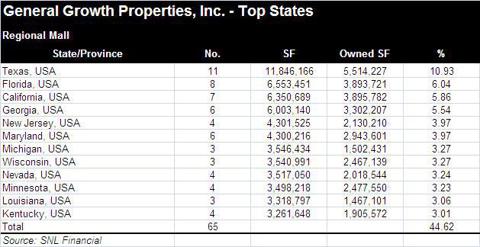 GGP has a well-balanced portfolio with many nationally-recognized retailers.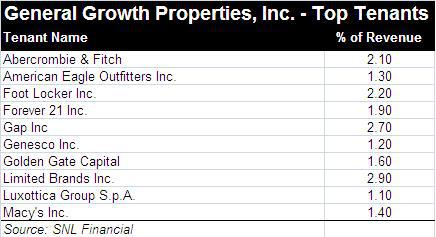 So Why Isn't J.C. Penny on the list of Top GGP Tenants?
As I alluded to earlier, J.C. Penney owns many of its properties and the properties they don't own they control via below-market lease arrangements. In other words, there is considerable equity associated with the J.C. Penney real estate portfolio. That is precisely the reason that Vornado has a position in J.C. Penney stock.
However, the beauty for GGP - the REIT - is that the company is able to collect rent checks, while all Vornado - the "hedge fund in a REIT wrapper" - has is a sinking bet (with no dividend). GGP has around 82 stores in its portfolio out of 125 total mall-based assets. In other words, J.C. Penney stores are located in around 65% of all of GGP's US mall-based properties.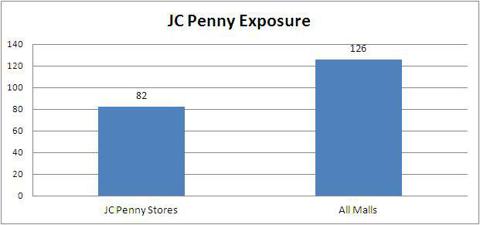 What's The Risk of Penney's Association?
The best way to analyze the risk for GGP's exposure to J.C. Penney is to look at GGP's most recent operating results. Upon examining GGP's occupancy rate, the metrics continued to post strong results as the portfolio occupancy was slightly over 96% leased as of year-end (2012) compared to 95.7% last year. The overall portfolio (including all assets) also increased from 94% to 95.3% (occupancy rates exclude anchor space).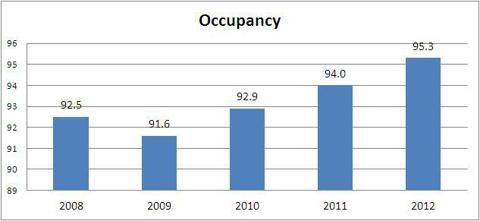 Also, GGP's tenant sales were $545 a square foot, an increase of 6.6% from the last year, equating to an occupancy cost across the portfolio of 13.2%, a level considered relatively low for a portfolio of this quality. For GGP's "top malls" the average tenant sales were $1,167 and the top 30 malls (owned by GGP) reported 2012 tenant sales of $837 a square foot.

One of the primary differentiators of GGP is the company's long history of development and redevelopment. Of course, there is very little new development today for malls, so GGP has been more focused on its redevelopment efforts. As Sandeep Mathrani, CEO of GGP, explained during the most recent earnings call (Q4-12):
The step-up in anchor quality at our malls is just one of the key drivers of boosting the overall mall quality and in turn optimizing the value of each property within the portfolio. During the last two years for GGP, the team has accomplished extraordinary results, especially in terms of leasing volume and rental rates, property sales and debt refinancing.

A little over one year ago at our inaugural investor day conference, we set forth a number of goals for our company, which I'll recap. We estimated for 2012 permanent occupancy would be 88%. We're now over 89%. In addition, I want to highlight that 70% of our leasing goal for 2013 has been reached, and we hope the portfolio will stabilize close to 92% in 2013. We announced 1.6 billion five-year redevelopment strategy and have commenced over 900 million to date. Most of the projects include existing space, making it difficult to accurately show percentage leased.
By controlling many key J.C. Penney sites, GGP is in a unique position to benefit from the continued monetization of J.C. Penney assets. Also, because GGP has a core of competence in redevelopment, the future of J.C. Penney could prove to be more beneficial as the company continues to evolve into a more sustainable department store based model.
Also, GGP has seen hard times and its management team is better equipped to deal "head on" with distress. Remember my motto:
Huge Failure Makes for Huge Success.
GGP has effectively embraced its troubled past by rebuilding its balance sheet. In 2012, GGP was able to refinance $7 billion, including $1.4 billion of proceeds, of which $1 billion went to pay off Rouse bonds and the remainder funded its development pipeline; by disposing off non-core assets, generating over $220 million in net proceeds.
During 2011 and 2012, GGP refinanced over $12.1 billion and lowered its interest rate from 5.49% to 4.51%. In addition, GGP increased its term-to-maturity from 2.5 years to 9.6 years while generating around $2 billion in proceeds (2011-2012). Most importantly, GGP eliminated around $2.4 billion of recourse debt to GGP (most of the company's debt is single asset secured level debt with no cross-collateralization). Also, GGP has well-laddered debt maturities that has reduced considerable risk going forward.
Show Me The Money
GGP's fourth quarter FFO came in at $312 million, approximately $19 million better than guidance and about $59 million better than last year, or an increase of 23%. For the full year of 2012, GGP reported around $994 million in FFO, approximately $120 million better than last year, an increase of almost 14%.
In 2009 and going into bankruptcy, GGP suspended its dividend. Although painful for many shareholders at the time, the "new" GGP has begun to "claw back" its dividend, as evidenced by a first quarter 2013 increase of 9% - from $.11 per share to $.12 per share.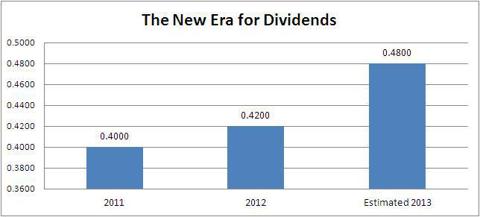 As the FAST Graph illustrates below, GGP was a fortress REIT that appeared to be bullet proof. As the dividend history illustrates (shaded blue area dividends paid) the Chicago-based REIT was climbing to new heights, until the GREAT RECESSION. GGP shares traded at a high of $64.57 and then fell below $1.00 (the black line is the price line). Today shares are trading at $19.88 with a dividend yield of 2.41%.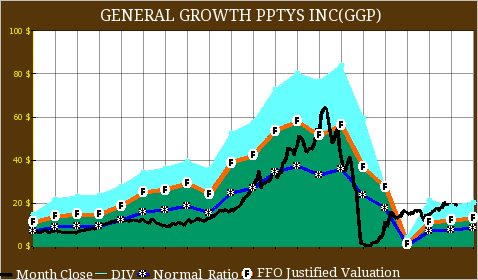 On February 13 (2013), GGP issued 10,000,000 shares of 6.375% Series A Cumulative Redeemable Perpetual Preferred Stock at a price of $25.00 per share. This is the first preferred issue by the "new" GGP but according to Michael Berman, CFO of GGP, it may not be the last (from the recent earnings call):
Well, potential pricing…That's for the market to tell me. We are looking at potentially adding that to our repertoire and look at that as a very reasonable source of financing. It kind of splits the baby between the debt and the equity. If you look at our cost to capital, I think it would lower our overall cost of capital, and I think that that's a marketplace that would be receptive to a company of our quality and size.
In closing, GGP appears to have strong potential for dividend growth. It must raise its dividend to remain competitive with its peers (peer average dividend yield is 3.01%).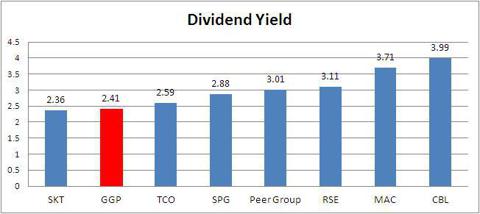 GGP has returned (year-over-year) around 19.88%, higher than the peer group average of 17.88% and higher than the corresponding S&P 500 return of 13.82%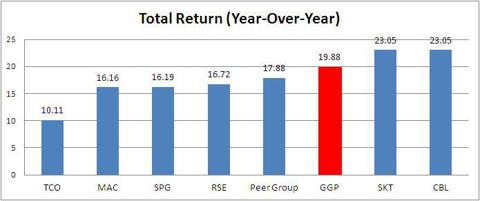 In addition, management appears to be receptive to growing the dividend and the future looks promising. However, given the risks associated with the J.C. Penney component, I believe GGP investors have "more to lose than to gain." In my view, I can get the same growth from Taubman Centers or Tanger Factory Outlets, and remember, neither of these REITs have EVER cut a dividend.

Although I like the "organic growth" prospects for GGP, I would not purchase the common shares until J.C. Penney has several quarters of positive profitability. However, I would recommend the Series A preferred shares. The 6.375% coupon is risk-aligned and the "thrill of victory" is "worth the agony of defeat." In other words, GGP's capital stack has become much more simplified and I believe the Series A preferred issue is safe.
There's a lot riding on J.C. Penney and it's not just the 111-year-old brand but also the priceless real estate underneath it - just another good reason to own a REIT and "sleep well at night."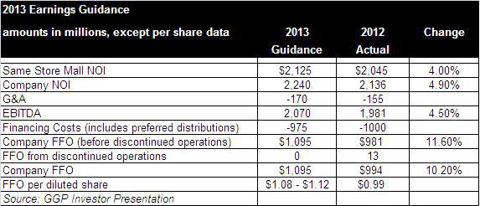 Sources: FAST Graphs, SNL Financial, GGP Investor Presentation, Pershing Square "Think Big" May 16, 2012 Presentation
Disclosure: I have no positions in any stocks mentioned, and no plans to initiate any positions within the next 72 hours. I wrote this article myself, and it expresses my own opinions. I am not receiving compensation for it (other than from Seeking Alpha). I have no business relationship with any company whose stock is mentioned in this article.