Click here for Part VI
Sardar Biglari - Bet The Jockey
Sardar Biglari burst onto the investment scene in 2008 with his successful proxy fight for The Steak n Shake Company. While only 35 years old, he has assembled an outstanding investment record over the past sixteen years that is largely unknown and unappreciated. Biglari Holdings, Inc (NYSE:BH): Sardar Biglari - Bet The Jockey is a series of eight articles to investigate Biglari's investment results since inception, the strategies he has used to achieve these results, analyze his concentrated investment decisions and the likelihood he can achieve outlier status and outperform the market over the long term. Part VII in this series looks at Sardar Biglari's role as an entrepreneurial founder operator.
William Thorndike, in his outstanding book, The Outsiders: Eight Unconventional CEO's and Their Radically Rational Blueprint for Success points out that over the long term, returns for shareholders will be determined largely by the decisions a CEO makes in choosing how to deploy capital. CEOs have five essential choices; investing in existing operations, acquiring other businesses, issuing dividends, paying down debt or repurchasing stock. Two companies with identical operating results and different approaches to allocating capital will derive two very different long-term outcomes for shareholders. Essentially, capital allocation is investment, and as a result, all CEOs are both capital allocators and investors. Unfortunately, very few CEOs come prepared for this critical task since they typically rise to the top because they have excelled in an area such as marketing, production, engineering or possibly institutional politics. Once they become CEO's, they now must make capital allocation decisions, a critical job that they may have never done and is not easily mastered.
The metric the media usually focuses on to determine the success of a company is growth in revenue and profits, but it is the growth in a company's intrinsic value that offers the ultimate barometer of a CEO's greatness. Thorndike suggests that the best CEOs believe:
Capital allocation is their most important job.
What counts in the long run is the increase in per share value, not overall growth or size.
Cash flow, not reported earnings, is what determines long-term value.
Independent thinking is essential to long-term success and interaction with outside advisors (Wall Street, the media, etc) can be distracting and time consuming.
With acquisitions, patience is a virtue…. as is occasional boldness.
What type of individual best embodies these important qualities? In 2007, Ohio State University professor, Rüdiger Fahlenbrach published a paper titled, "Founder-CEOs, Investment Decisions, and Stock Market Performance." Fahlenbrach's research indicated that founder-CEO firms differed systematically from successor-CEO firms with respect to firm valuation, capital investment decisions, value-destroying merger and acquisitions, stock market performance and long term management orientation. An equal-weighted investment strategy that had invested in founder-CEO firms from 1993-2002 would have outperformed benchmark returns by 4.4% annually.
Fahlenbrach found that founder-CEOs differed from successor-CEOs in several important aspects. Founder-CEOs often consider their firm as their life's achievement and their emotional commitment far exceeds their equity stake. This motivation and long-term approach sets founder-CEOs free to pursue a long-term shareholder value maximizing strategy as opposed to a successor-CEOs obsession to meet quarterly earnings estimates. Their goal from the start is to build something significant. Founder-CEOs tend to have the confidence and support of their Board and are less likely to be removed from office in the event of a business setback. This allows them to have a different attitude towards risk and they are more likely to pursue bold initiatives. They also typically have more influence and decision-making power due to their equity stake and entrepreneur status. Founder-CEOs shape their organizations from inception and the impact of the differences in managerial characteristics on corporate behavior and performance is particularly strong, resulting in higher firm valuations and favorable stock market performance.
This research would suggest that the goal of every active stock market investor should be to identify a great entrepreneurial founder operator early in his or her career and buy and hold the stock for the long term. Of course this is easier said than done. While the entrepreneurial founder operator mindset and character represents a powerful determinant of success, identifying the next Warren Buffett is another matter. In fact, the investment community was actually very slow to identify the first Warren Buffett.
Berkshire Hathaway (NYSE:BRK.A) posted solid financial results through the late 1960s and 1970s relative to the price performance of the S&P 500. The company posted a cumulative increase in book value of 148% from 1969 to 1975. The S&P 500 posted an 11.6% increase for the same period.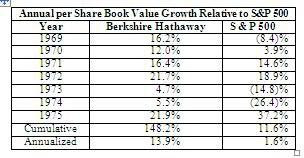 Unfortunately the investment community of the era was not much impressed by Berkshire Hathaway's financial performance. Relative to the S&P 500, Berkshire Hathaway shares significantly underperformed the index.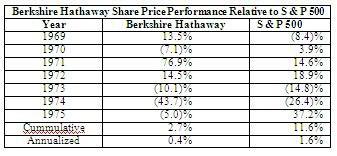 At the end of 1972, Berkshire Hathaway shares traded for an approximate 11.3% premium-to-book value. At year-end 1975, Berkshire Hathaway traded at a 60% discount-to-book value. The investment community failed to recognize Buffett's investment record for many years with Berkshire Hathaway stock trading at a discount-to-book value of 39% as late as 1978. This discount was the primary factor in Warren Buffett's accumulation of enormous wealth. Buffett originally owned 29% of Berkshire Hathaway and he gradually increased his stake to a high of 46% during the 1970's.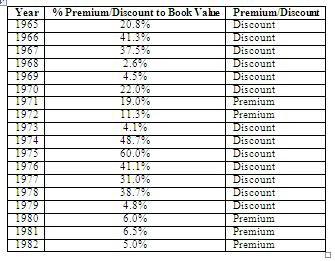 Why did it take so long for the investment community to realize the true value of Berkshire Hathaway and appreciate the investment record of Warren Buffett? The answer lies in the fact that Buffett was a true entrepreneurial founder operator in every sense. He didn't follow convention. He didn't discuss specific investments or investment strategy. Communication with investors was limited to his annual letters. He reported to a small, handpicked Board that gave him a free hand to run the company as he saw fit. He pursued a concentrated investment strategy that differed markedly from that of practically all public investment operations of the time.
He was willing to concentrate quite heavily in what he believed to be the best investment opportunities recognizing very well that this may cause an occasional sour year and greater volatility. He was focused on long-term value creation. In a word, he was different, and different doesn't play well when you are a fiduciary safeguarding your client's money. In this world, it's better to fail conventionally than to succeed unconventionally. The investment community was more comfortable placing their money with investment managers with diversified exposure to the Nifty Fifty than to take a chance on an unknown like Warren Buffett.
Sardar Biglari - An Entrepreneurial Founder Operator
While there will never be another Warren Buffett and Sardar Biglari is no Buffett, Biglari is clearly an entrepreneurial founder operator. He is solely responsible for all major operating and capital allocation decisions at Biglari Holdings and he enjoys wide support from his Board. In fairly short order, he has assembled a collection of companies and investments through a focused value investment strategy with a stated goal to maximize free cash flow. Any incremental capital that cannot be redeployed into the core business at high risk-adjusted rates is channeled back to the parent for reallocation to other unrelated businesses or investments. Unlike some public company CEOs pursuing a high cost strategy of growth through expansion of the empire, Biglari is focused on limiting capital expenditures to only high return projects so as to maximize investable cash. His investments are highly concentrated, a strategy most likely only an entrepreneurial founder operator could pursue.
Personally, Biglari is fully invested in the company with a strong desire, passion and vision to build something of significance over time. Counter to the contentions of his critics, the company's name change to Biglari Holdings was indeed his signature (you don't put your name on the company if you are planning to loot it). He has a significant portion of his net worth invested in the company and an incentive compensation plan that ensures that fifty percent of his before tax incentive compensation is reinvested into the company. Biglari's long-term fortunes are clearly tied to the performance of Biglari Holdings stock.
Measuring Biglari's Success in Growing Intrinsic Value
The most important measurement of Biglari's success as CEO is the growth in the company's intrinsic value. This is measured through a combination of 1) growth in net cash and securities and 2) improvement in financial performance of the operating companies.
Starting with a net debt position of $23.8 million during his first quarter as Chief Executive Officer, Biglari steadily grew net cash and securities to $246.1 million as of the end of the fourth quarter 2012. He made his first investment in marketable securities during the fourth quarter 2009. Over the ensuring three-year period, net cash and securities have grown at a compounded annual rate of 90.1%.

Year to date through March 8, 2013, net cash and securities have increased an additional 25%, or $60.9 million.
The following table presents per-share investments in net cash and securities since 2009. As of March 8, 2013, each share of Biglari Holdings, Inc. represented $214 of net cash and investments, independent of Biglari's operating companies.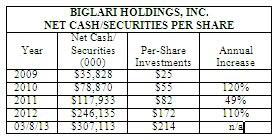 The second component of value is earnings from operating businesses. Biglari successfully turned around the Steak n Shake operation in 2008-09 and the businesses have posted steady growth over the past three years. Since 2010, net earnings have grown at a compounded annual rate of 9%.

During this time, store level operating performance at Steak n Shake showed significant improvement.

The final component of intrinsic value is more subjective. How will management deploy retained earnings in the future? As Warren Buffett points out, "If the CEO can be expected to do this job well, the reinvestment prospects add to the company's current value; if the CEO's talents or motive are suspect, today's value must be discounted. The difference in outcome can be huge. A dollar of then-value in the hands of Sears Roebuck's or Montgomery Ward's CEOs in the late 1960s had a far different destiny than did a dollar entrusted to Sam Walton."
Based upon the strong growth in net cash and securities as well as the consistent growth in the operating businesses, the intrinsic value of Biglari Holdings has increased considerable over the past two years. How have shareholders been rewarded for this solid performance? It would appear that the investment community is placing a discount on the company's shares out of concerns regarding Biglari's ability to profitably redeploy capital in unrelated investments or that his motives are somehow suspect.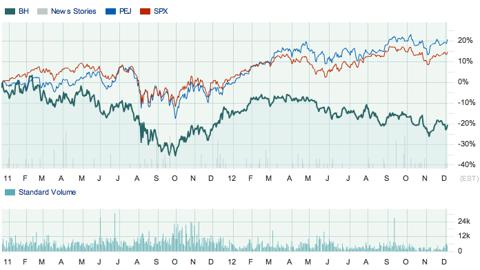 Over the past two years, the S&P 500 has posted an increase of 15% while the PowerShares Dynamic Leisure and Entertainment ETF posted a 20% gain. During the same period, Biglari Holdings shares posted a 22% loss. Why the disconnect from financial performance and could the investment community once again be missing out on an emerging entrepreneurial founder operator?
Biglari Holdings Valuation
When Biglari started accumulating stock in Steak n Shake in March 2007, the company had a total stock market capitalization and enterprise value of $468,281,558 and $495,717,558, respectively. Five years later, after the successful turnaround at Steak n Shake, after the acquisitions of Western Sizzlin and The Lion Fund, and after a series of winning stock market investments, Biglari Holdings, Inc had a total stock market capitalization and enterprise value of $552,138,368 and $245,025,368, as of March 8, 2013. These valuations are derived as follows:

* Note: It is important to point out that during 2002, Steak n Shake changed its accounting for sale/leaseback transactions to more fully reflect the provisions of Statement of Financial Accounting Standards No. 98, "Accounting for Leases." The change was made because the agreements, though transferring title at inception, included an option (although not the requirement) allowing the company to purchase the related property at the end of the lease term, at the then-market value. Under the highly technical interpretation of SFAS No. 98, the presence of these clauses was considered to be continuing involvement by the company in the property, which disallowed sale and leaseback accounting. For enterprise value calculation purposes, capitalized leases related to these transactions are not factored in total debt calculations since the figure is deemed to be the equivalent of capitalizing lease/rent expense from an unrelated owner at some multiple. Interest related to these capitalized leases has been deducted from total EBITDA.
Biglari Holdings: Valuation #1
Historic adjusted free cash flow for Biglari Holdings is detailed below: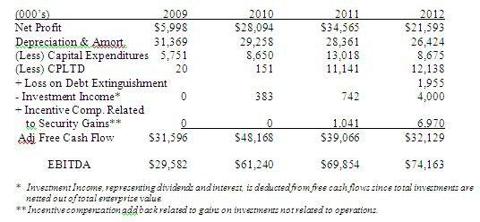 The adjusted free cash flow represents cash generated by the operating businesses that is available to Biglari to fund investments unrelated to the core business. Biglari Holdings is currently trading at a 7.6x multiple of adjusted free cash flows to enterprise value and a 3.3x multiple of EBITDA to enterprise value.
Biglari Holdings Valuation #2 - "Look Through Earnings"
Accounting conventions dictate that Biglari's 19.99999% holding in Cracker Barrel Old Country Store, Inc. (NASDAQ:CBRL) is carried on the company's balance sheet under investments at current market value. Income reported on the investment is limited only to dividends received during the year (projected to be $9.2 million in 2013). If Biglari acquired seven more shares, the investment would be accounted for using the equity method of accounting allowing Biglari to report its proportional share of Cracker Barrel's net income. Cracker Barrel has 621 stores and generated sales of $2.5 billion in its 2012 fiscal year. Biglari's ownership stake is akin to owning 100% of 124 stores with sales totaling $500 million.
An alternative valuation method is to use "look through earnings" of material investment holdings against an adjusted enterprise value. Look through earnings represent the percentage of free cash flows in Cracker Barrel owned by Biglari Holdings, which are then consolidated with the existing free cash flows of Biglari Holdings. Adding back the current market value of its Cracker Barrel holdings ($360.3 million as of March 8, 2013) to the company's total enterprise value yields an adjusted total enterprise value of $605.3 million. In 2012, Cracker Barrel reported adjusted free cash flow of $147.6 million. Based upon Biglari Holdings 19.99999% ownership position in the company, $29.5 million of the free cash flow is "owned" by Biglari and added back to cash flows.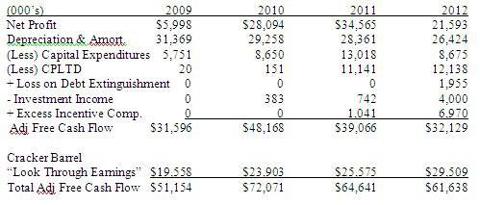 Based upon the adjusted total enterprise value and adjusted free cash flow based upon "look through earnings," Biglari Holdings was selling at an 9.8x multiple of adjusted free cash flows.
Biglari Holdings Valuation #3 - Unrealized Investment Gains
The final valuation adds back tax adjusted unrealized investment gains(losses) and deletes excess incentive compensation add back related to security gains to reflect cash flows from operating businesses as well as investment operations.

Based upon this valuation method, Biglari Holdings was selling at 3.3x adjusted free cash flows.
Disclosure: I am long BH. I wrote this article myself, and it expresses my own opinions. I am not receiving compensation for it. I have no business relationship with any company whose stock is mentioned in this article.
Additional disclosure: The information contained in this presentation is provided for informational purposes only. No representation or warranty (expressed or implied) is made or can be given with respect to the accuracy or completeness of the information. Nothing contained herein shall be relied upon as a promise or representation whether as to past or future performance.