The Buckle (NYSE:BKE), an apparel retailer for young women and men, has attracted a large short position: 33% of the float is held short. This is one hated stock: 5.8 to 9.4 million shares out of a 27.5 million count float have been shorted for the last year and has been one of the most consistently shorted stocks of the last three years. Looking over my old articles, I discovered one from 2010 discussing the enormous short interest in Buckle. And yet, despite such a dedicated short interest, Buckle has almost tripled in value over the last four years, confounding those who bet against it.
Normally, I would be concerned by the continuing large short position. Short sellers have a reputation for correctly picking losing stocks. However, in my opinion, Buckle will prove them wrong once again. This stock has 40% upside when you factor in share appreciation, dividends, and a potential special dividend. Some of that fuel will be provided by short sellers covering - and probable analyst upgrades (as I will discuss shortly.)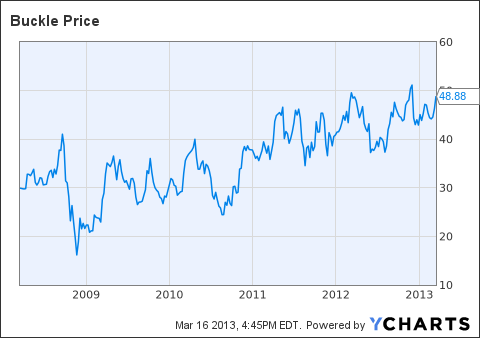 Why So Many Are Short The Stock
Who can blame those wagering against Buckle? They are reading bearish analyst reports. Just look at the analysts' input: All of the nine analysts who follow Buckle are negative - so negative, that they have slapped a mean price target of $42, roughly $7 below the current trading price, and each of them believes Buckle is overpriced (target range $36 to $47). Just like the shorts, the analysts have been consistently negative on Buckle. Of the nine analysts, not one has upgraded the stock in years. Currently, there are 6 holds, 2 underperforms and 1 sell. And just like the shorts, all of the analysts that follow The Buckle have been consistently wrong.
The crux of their bearish argument: Buckle cannot maintain its remarkably high operating margin. In 2011, Goldman downgraded the stock because "margins and productivity are at peak levels." J.P. Morgan concurs given the company's "peakish margin levels." Last July, KeyBanc called Buckle's margins "unsustainable."
(Oddly, the analysts have liked Buckle competitor, Aeropostale (NYSE:ARO). Imperial Capital and RBC have had an outperform recommendation for almost a year even as shares have continued to fall 33%. Only 2 firms - Janney Montgomery Scott and Caris & Company - downgraded Aeropostale over the last year; however, those downgrades occurred after shares had already cratered. In contrast, I have been counseling going long Buckle and short Aeropostale for 2 years - a position that would have paid off handsomely.)
The Margins
Buckle's operating margins have been extraordinary, rising hundreds of basis points above their competitors. Margins are 2000 basis points higher than Aeropostale. The chart below follows O.M. on a TTM basis. Margins for the recently reported quarter reached 27%, a 100 basis point improvement over last year, much to Merrill Lynch's surprise (expressed during the call).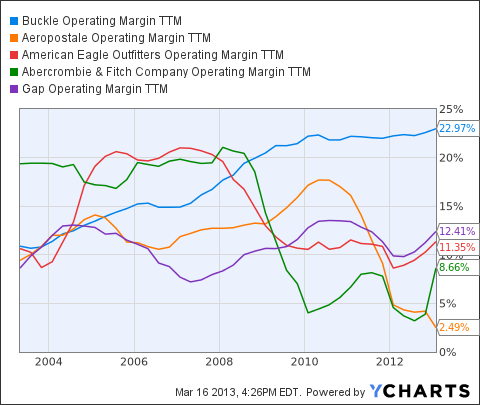 Why Excellent Margins Are Here To Stay
I could have told you Merrill margins would climb in the just reported quarter. Why? There have been little to no markdowns in the stores. Wander over to the competitors and you will see "Two For One" and "Price Reduction" signs all over. Indeed, the quarter - like most of the recent quarters - have been clean. Leaving the quarter, Buckle looks well-positioned inventory-wise (matching my perception of the individual stores):
As of the end of the quarter, inventory on a comparable store basis was down approximately 1.5%, and total markdown inventory was down compared to the same time a year ago. The reduction in markdown inventory was the result of a decrease in the 20% off category.
Contrast that shopping experience to Aeropostale's:
As Tom mentioned earlier, similar to many other retailers, we've been experiencing challenging macroeconomic headwinds and its impact on customer traffic into the first quarter. Additionally, based on the sales shortfall in the fourth quarter versus plan, we are planning increased promotional activity compared to the first quarter last year to clear through inventories.
In addition, The Buckle has been ramping up its private label offerings, a high margin business. This year, private label represented a third of sales. Three years ago, private label accounted for a quarter of sales.
The Buckle has superbly managed gross margin year after year. Again, compared to Aeropostale, Buckle shines. Buckle has been able to get customers to pay more. Average women's price point rose from $37.75 (2009) to $49.05 (2012).
Compare how much better Buckle has done in delivering gross profits than Aeropostale.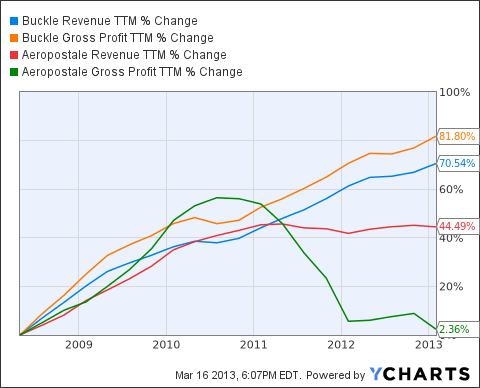 Moreover, Buckle manages overhead better than its peers. Revenue has climbed much faster than SGA. Compare how well Buckle has handled overhead versus Aeropostale.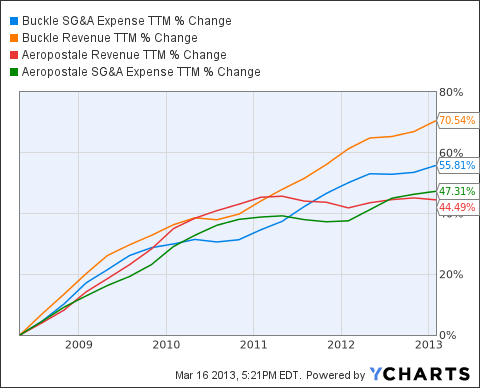 Buckle's SGA management clobbers rival American Eagle (NYSE:AEO) as well.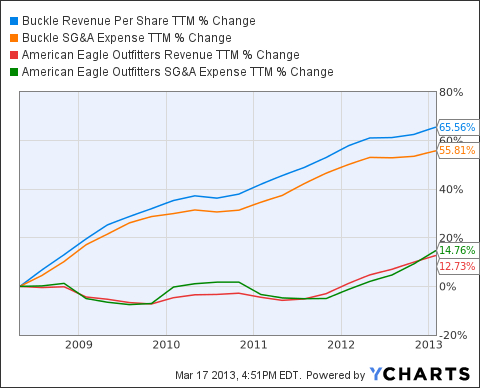 SALES PER SQUARE FOOT IS CLIMBING
Buckle has more than margin going for it: Sales per square foot has been climbing. This has been driven by improving merchandising, higher price points, and store remodels.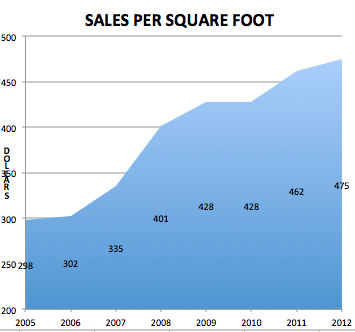 (My data sourced from 10Ks.)
Further, store count has increased. The Buckle has been carefully adding stores, going for slow steady growth.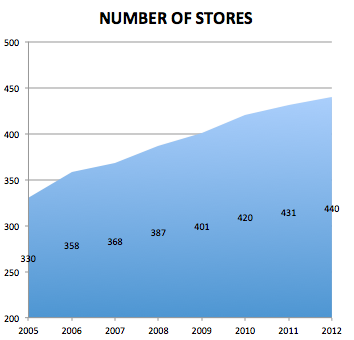 (My data sourced from 10Ks.)
Undervalued And Then Some
With 33% of the float held short, you'd expect Buckle to have a nosebleed valuation, wouldn't you? Yet, the stock has a trailing P/E of 14.6 and a forward P/E of 13.4. Contrast that to industry average trailing P/E of 19.4. Yet, Buckle has delivered consistently better EPS TTM including 2008 and 2009.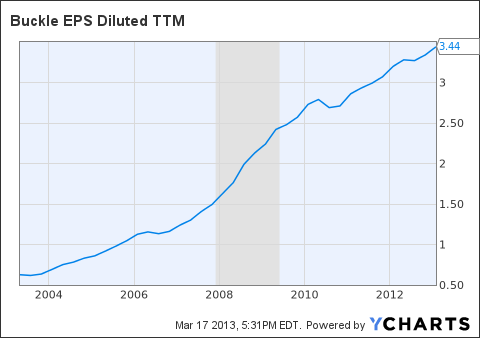 Buckle Is Showing You The Money
Buckle is famous for its special dividends. The company has handed out $1.80 to $4.50 in one-time dividends in each of the last five years, a total of $13.05 a share, probably making it the most consistent special dividend payer of all U.S. companies. Including its regular dividend, The Buckle has paid out an average $3.80 a year, about 10% a year.
The company has $144 million in cash and short-term investments (even after paying out $255 million in 2012 dividends) - leaving the balance sheet in far better shape than at any other time after paying a special dividend. For example, cash on hand in the quarter following special dividends has been $118 million (2008), $93 million (2009), $139 (2010), and $78 million (2011). The Buckle's $144 million in cash sets it up for another one-time dividend. It is my belief Buckle will hand out another large special dividend this year.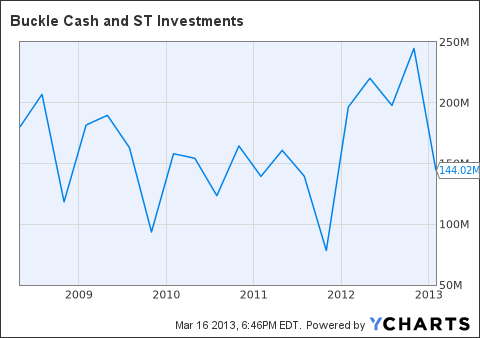 The Buckle expects $34 to $38 million in capex, not too far off its usual $32 to $36 million, indicating that the company will not have large capital requirements. Buckle should easily be able to rebuild its cash and enable it to announce a $3.00 to $3.50 special dividend later this year.
As For The Shorts
My conclusion from observing those betting against Buckle: The shorts figure they could waltz out of their positions before a special dividend is announced. Perhaps, but I'm going to speculate that the company does something that will wreck their plans: Raise the regular dividend and/or announce a buyback. After all, $38 million in yearly regular dividends is way too low for a company throwing off a $180 million in free cash. Possibly that thought will help convert the shorts to longs. Doubling the quarterly dividend would create a short minefield as would a dedicated share repurchase program.
By the way, The Buckle is trading at $48.88 (as of March 15) - not far from the price when it announced its 2006 and 2008 3:2 split ($47 and $55 prices respectively). While splitting isn't supposed to add value to shares, it does get the juices flowing. If Buckle maintains this price or goes higher, expect a split later this year - something more for short sellers to think about.
The Buckle has climbed despite negative analyst write-ups. It's doubtful analysts can maintain their bearish stances in the face of being wrong so often about the stock. This year, the share price may be driven higher by overdue analyst upgrades.
Disclosure: I am long BKE. I wrote this article myself, and it expresses my own opinions. I am not receiving compensation for it (other than from Seeking Alpha). I have no business relationship with any company whose stock is mentioned in this article.
Additional disclosure: The opinions in this document are for informational and educational purposes only and should not be construed as a recommendation to buy or sell the stocks mentioned. Past performance of the companies discussed may not continue and the companies may not achieve the earnings growth as predicted. The information in this document is believed to be accurate, but under no circumstances should a person act upon the information contained within. We do not recommend that anyone act upon any investment information without first consulting an investment advisor as to the suitability of such investments for his specific situation.