The move by the EU and Cyprus to tax savings accounts might be what creates a pullback for money to come back into the market in the next few weeks. The last leg up seems to have been people who had pulled out rushing back in to cover bearish positions as well as rejoin bullish uptrends before they missed out on gains. Bull markets climb a wall of fear is the saying and we are reminded of that this morning. This could simply be another wall climbing event or one of those corrections caused by greed. Either way we are happy to have over 20% in the retirement account to use at our discretion and will seek some dividend paying stocks as well as potential capital gains via our favorite names in the commodity space.
Commodity prices this morning are as follows:
Gold: $1603.40/ounce, up by $10.80/ounce
Silver: $28.83/ounce, down by $0.021/ounce
Oil: $92.55/barrel, down by $0.90/barrel
RBOB Gas: $3.1199/gallon, down by $0.0439/gallon
Natural Gas: $3.926/MMbtu, up by $0.054/MMbtu
Chart of the Day: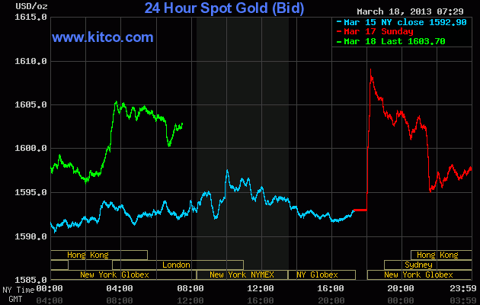 Click to enlarge
Chart courtesy of Kitco.com
Precious Metals - Gold
Today gold is up strongly in trading and finds itself above the $1600/ounce level which we find bullish. If the risk-on trade is being taken off the table a bit for now, the risk-off trade must be coming back to some degree and if that is the case then gold shall rise. Gold bugs will also point out the benefit of the implications from the Cyprus bailout have, which is that there is no better storage mechanism for money than gold as it is easily tradeable/sellable and can be kept almost anywhere and most certainly out of the grasp of government taxing agents. We are simply interested in the trade, which we have been talking about since almost the exact lows set only a few trading sessions ago.
So look for moves in Yamana Gold (NYSE:AUY) and AuRico Gold (NYSE:AUQ) as investors look to add exposure to gold. We might also see a retreat of the bears from the gold trade and a move towards the exits this week if the delayed vote by the Parliament of Cyprus does not alter this agreement. It is not a popular move in the country or among investors around the world, but at this point one has to wonder what other choice do they have? The next 24 hours should be interesting to say the least.
Oil & Natural Gas
We have been watching PDC Energy (NASDAQ:PDCE) rise almost nonstop since our sell call (although there was the brief 10% pullback) and today we are wondering what the markets have in store for it. We have wondered what was propelling the shares higher, as they have bottlenecks out west and a long timeline to correct that while also having to prove up a large part of their Utica acreage. Now do not get us wrong, we like the prospects here, but having broken above $50/share indicates something else has to be at play and maybe it is the belief that the company is to be taken over. Regardless of the reason behind the move, we think that it has been a bit over done based on facts and will watch today to see whether some of the froth gets taken off. We sold in the $42/share range expecting a pullback which we could then buy ahead of drill results from the Utica. We have those drill results now so a pullback to the $42-45/share range is where we would once again start looking to become buyers.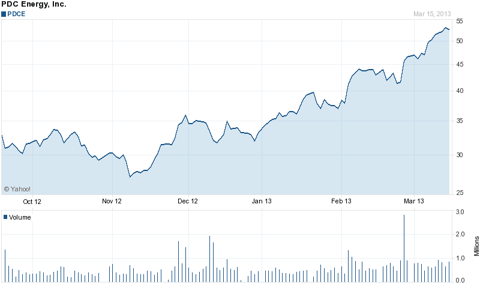 Click to enlarge
Chart courtesy of Yahoo Finance.
On another note, looking at natural gas, wow. The traders have moved in and really begun to push this up on the back of comments made by Warren Buffett and the Chinese wanting to build stations in the US for refueling. General Motors has also stated they would like to see the government get behind this, so there has been a lot of interest in the area over the past few sessions and momentum has been building. The question is how strong are these hands and will they be able to hold or willing to hold through a potential global correction? That will be important to watch.
Coal
This morning we want readers to be cautious with the coal stocks. It seems every time they get started with a risk-in trade the market is hit with a risk-off moment or something within the industry causes a pullback. That just happened again as we said last week that they, both Alpha Natural Resources (ANR) and Arch Coal (ACI), were open for a trade due to the important psychological levels they were trading at. We got the rise, but with this market we would have to expect a fall. With that said we would pull any funds used for speculation out this morning and wait to redeploy them here or as we mentioned earlier look to the precious metals for a trade. There are many options, however we feel that waiting this one out risks losing your spec capital or forcing you into a long-term trade which was not the point of the move at all.
Disclosure: I have no positions in any stocks mentioned, and no plans to initiate any positions within the next 72 hours. I wrote this article myself, and it expresses my own opinions. I am not receiving compensation for it (other than from Seeking Alpha). I have no business relationship with any company whose stock is mentioned in this article.