Today, everyone and anyone is a critic. All you need to join in the party is an Internet connection and a blog and you too can pontificate and criticize whomever you would like.
Multiple tech bloggers love to bash anything and everything that relates to Microsoft (NASDAQ:MSFT). Hardly a day passes where a blog post or an article is written that predicts the upcoming downward spiral of Microsoft. The focus of these critics is clearly on Microsoft's failures in the consumer portion of its business, particularly smartphone and tablets - a fair criticism. But all these bloggers and journalists (I use that term lightly) can ever do is point out everything Microsoft does wrong, not the many things it does right. Microsoft is so much more than the Windows division.
Microsoft's CEO, Steve Balmer, is almost universally disliked - both by those that have worked for him and those that only know him as the high energy guy that has made a fool of himself on multiple occasions at company events. See Exhibit 1. Recently, multiple former high-level employees have come out criticizing the tech giant and its CEO. Joachim Kempin spent 20 years at the company, but left in 2002. Just last fall his book was published, detailing his time at the company. He also gave an interview where he stated what he thinks is wrong inside Microsoft. There is also this guy, one of the founders of the original xBox project. He recently took to his blog to tell the public everything that is wrong with the xBox and how Apple (NASDAQ:AAPL) could destroy it if they wanted to. Mind you, both of these guys left the company many years ago. Did their confidentiality clauses just expire or something? Why are their criticisms relevant when they haven't been "in the know" for a decade? There really is no end to the bashing of this company. Microsoft gets it from nearly every angle, nearly every day, and its stock pays the price.
But let's take a look at how Microsoft in its entirety has performed financially over the past several years - because numbers just don't lie.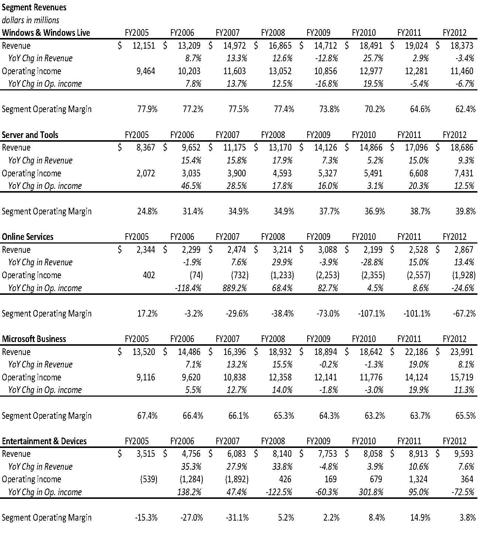 Click to enlarge
(Click to enlarge)
Source: Company 10-Ks
As you can see, several of the divisions have done remarkably well over the past seven years. Server and Tools and Microsoft Business have posted outstanding performance numbers and should continue to post record revenue and income on the back of their enterprise products (including their extensive cloud offerings) as well as Office. These two divisions separately generate more revenue than the Windows and Windows Live division and a ton more operating profits when combined. Entertainment & Devices and Online Services, the divisions responsible for Bing, the xBox, Windows Phone, etc., have had ho-hum performance over the same time frame, but investments in these areas are starting to pay dividends and should contribute more to the company's bottom-line going forward. That leaves the Windows & Windows Live division. Revenues have grown at a decent clip, mostly just as a result of the growth in the PC market overall. But with the growth of tablets (the iPad in particular) as alternatives to PCs, Microsoft is seeing sales level off and declining slightly … hardly the end of the world. The company is making an aggressive push to stem these losses with the launch of Windows 8. It is an entirely new operating system designed for touch screens that will take time to catch on. Its adoption is being hurt by the high price of touchscreen displays, which are expected to decline in price throughout the course of 2013 and, as a result, boost demand for Windows 8 tablets/hybrids.
Mobile is an important area where Microsoft was clearly late to the game. However the company is making strides in the area with Windows Phone 8. Reports out of China and Europe show that their WP8 products are selling quite well, though still suffering from supply issues, particularly in Europe.
Clearly the company has more work to do in the PC and mobile space, but it is making a real effort to do so. I am encouraged by its products in these areas; I have a Windows 8 hybrid laptop/tablet [the Samsung (SSNLF PL) 700T] that I love and am considering a Windows Phone 8 to replace my iPhone … I'm bored of it. I wouldn't recommend Windows 8 for a non-touch PC. I find it cumbersome with just a mouse.
So overall, how has the company performed?

Click to enlarge
(Click to enlarge)
Source: Company 10-Ks
These are pretty remarkable numbers for a company the size of Microsoft. I guess Steve Balmer is doing something right. Clearly the stock deserves a premium multiple in the market, right? Not! Everyone only focuses on the PC and mobile portions of their business. The company gets zero credit for everything it does right. The stock has basically gone nowhere for the past ten years, as it suffered from massive multiple compression (from ~40x in 2003 to ~10x in 2013).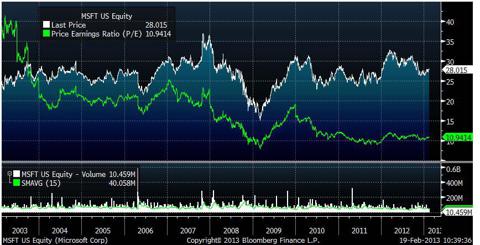 Click to enlarge
(Click to enlarge)
Microsoft's public relations and personal computer problems will likely persist for some time - until it can finally defy the critics and take a large piece of the mobile and tablet marketplace. Replacing Steve Balmer as CEO would provide a short-term boost to the stock price, but it is unlikely to make a huge difference in the company's overall prospects.
So is Microsoft a buy? If you are looking for a low volatility stock with a super safe dividend that will only grow over time, you should consider buying the stock. Whether or not Microsoft stock can break out of the range it has been in for the past several years is likely highly dependent on the success of Windows 8 and Windows Phone 8 - the only products that apparently matter to the investing public and the tech media universe.
Disclosure: I have no positions in any stocks mentioned, and no plans to initiate any positions within the next 72 hours. I wrote this article myself, and it expresses my own opinions. I am not receiving compensation for it (other than from Seeking Alpha). I have no business relationship with any company whose stock is mentioned in this article.