The one constant in Facebook's (NASDAQ:FB) short history is that it has continued to change and adapt to the rapidly changing trends on the internet. In fact, Facebook's recognition that most social networking users are inherently fickle was an important differentiating factor which prevented the social networking giant from suffering a similar fate to early startups like Orkut and MySpace. Facebook's recent announcement of its plans to overhaul the News Feed in the coming days appears to embody the same principle of adapting to changing user preferences. Thus far, the new design has generated a lot of excitement among digital media bloggers and enthusiasts. However, the pertinent question for us investors is if this excitement is justified and would it translate to increased profitability, and in turn increased stock price? In this article, I look at some of reasons investors should be excited about this change.
What's New?
"Goodbye clutter, hello bright, beautiful stories."
This is how Facebook is promoting its redesigned News Feed to its more than one billion monthly active users. CEO Mark Zuckerberg touted the new interface as the "best personalized newspaper" a user could have. Maybe that is why the new look News Feed looks more like an online version of a shiny magazine than the traditional text-rich version. Those who use multiple social networks would notice that the new look draws inspiration from some of the competitors who have recently been gaining ground on Facebook. The revamped News Feed incorporates a left side icon based sidebar just like Google + (NASDAQ:GOOG), with increased focus on visuals over text which has been the hallmark of rival Pinterest and Facebook's own Instagram. According to Zuckerberg, the new design is based on three themes of change:
Richer Stories
Choice of Feeds
Consistency Across Platforms
Richer Stories
Visually speaking, the most noticeable change in the new interface is the News Feed moving from a three column to a two column format, leaving extra room in the main column for bolder, richer and more vibrant stories with a clean and sleek overall look. Taking advantage of the increased space, everything appears to be bigger and more prominent: your friends' posts are hard to ignore, but so are the ads. For example, the videos have larger thumbnails, the pictures are larger and have their caption overlaid on top; the shared articles have a bigger picture and a lengthier introduction summary with the logo of the publisher displayed as well; events are more visual and appear on a calendar; stories embedded with a location come with a larger map across the length of the column; even 'check-ins' and 'likes' appear to be much more conspicuous due to the increased focus on the visuals over text. Stories shared by multiple friends appear as one and hovering over the link displays what different friends had to say about it. To sum up, Facebook has tried to increase the visibility of the content posted on the newsfeed by giving more information and increasing the size of the visuals related to each post whilst maintaining a clean and compact overall feel.
Customized Feeds
To increase user engagement, Facebook's new News Feed also gives its users more personalization options to help them manage and organize the content they want to see. Following are some of the variations available in addition to the default, Facebook algorithm based News Feed:
All friends: Shows everything a user's friends has posted in reverse chronological order without the interference from any algorithm. Currently this feed does not show any "suggested posts"
Photos: Only shows photos from users' friends and pages that they like
Music: Only shows posts related to music including what friends are listening to, new songs from artists you like etc.
Following: Shows real time news and updates from the pages a user likes and the people that he or she follows, a lot like Twitter
Consistency Across Platforms
Another important theme that Facebook has focused on with the redesign is to make its interface consistent across the web and mobile platforms, both on Apple's (NASDAQ:AAPL) iOS and Google's Android. This move also aims to increase user engagement levels by making the switch between desktop and mobile to appear seamless.
Reasons To Be Excited
The bullish argument on these changes is based on the notion that the new News Feed would be a compelling improvement over the older one both for users and advertisers, resulting in more paid impressions as well as increased ad prices. The new design appears to be cleaner, simpler and more visually appealing; it's just easier on the eyes. This would go some way to reduce the clutter of information that was thrown at the user in the earlier News Feed; this clutter was blamed as the major reason for Facebook fatigue. If the new design improves user engagement levels, it will result in more paid impressions. Moreover, advertisers are likely to be happy with the increased space and prominence of the ads displayed. This fact along with the expected increase in user engagement would make the advertisers be willing to pay a higher price for the opportunity to advertise on Facebook.
Yes, the increased prominence of ads does mean that they are more in your face and harder to ignore which could be annoying and potentially drive away users. However, I noticed that well designed ads actually look much better and well integrated into the overall clean interface as compared to the earlier version of the News Feed. The onus would now be on advertisers to design colorful, high resolution ads to take advantage of the increased space.
One of the most anticipated features for advertisers has been video ads on Facebook, and the redesigned News Feed with its increased emphasis on visuals could pave the way for their introduction. Digital marketing website AdAge reported in December last year that Facebook is all set to introduce video ads during the first half of 2013. Although auto-playing video ads are highly controversial and could potentially generate a backlash from users, Mark Zuckerberg hinted in the Q4 2012 earnings call that Facebook could make it work. The idea is that as the users' focus is increasingly directed towards enlarged pictures and more videos from their friends, they would be steadily conditioned to tolerate and even engage with creative and interactive video content from advertisers as well. More recently, Facebook Global VP Advertising David Fischer also confirmed that Facebook is working on a way to introduce such ads without negatively affecting user experience. In an interview with Fortune, he had the following to say on this subject:
"I believe there are ways we could do it. There are ways that could be destructive and distracting to the user experience. But there are ways that could potentially balance user experience with advertiser experience."
Successful integration of video ads into the new News Feed would be a big boost for Facebook's profitability as video ads command significantly higher prices as compared to other forms of online advertising.
The customization options in the new interface are also expected to have a positive impact on the user experience, and in turn, on Facebook's revenues. The ability to choose what the user wants to see appears to be an answer to users' complaints that their earlier News Feed was cluttered with useless information. Users also protested that Facebook's proprietary algorithm did not show the posts that they wanted to see; in response Facebook has given the option of the algorithm-free All Friends feed. For now, the All Friends feed does not feature any "sponsored stories", so this feed would incorporate the wishes of users who want an ad free experience. The personalization options could also potentially increase the time a user spends on Facebook; users who would earlier browse the News Feed for new updates and then go away could now spend more time browsing navigating through the new custom News Feed options. Such users are then more likely to find photos, music or games that are of interest to them, resulting in increased engagement. A variety of News Feed options would also allow advertising brands to better target ads towards users who are more interested to see them. For example, a music label ad would be likely to receive more interest if displayed in the Music feed; whereas a new Game ad would attract more attention if placed in the Games feed. Better targeted ads would be more effective and could help Facebook command a higher price from advertisers. Moreover, when browsing the Following feed, the user actually wants to see content from brands and people that he or she likes, providing advertisers a separate platform where people actually want to see brand promotion. This could enable Facebook to command higher prices for ads on this platform where users would be expected to be more likely to engage with ads. This feed could also be the first place where Facebook experiments with auto-playing pre-roll video ads.
One recent concern that investors had about Facebook was the declining ad revenues from desktop. Part of the problem that resulted in this issue was the inconsistency between Facebook's mobile and desktop interface; the desktop interface had started to look messy and chaotic as compared to the simple and tidy mobile interface. Zuckerberg admitted that the new design was inspired from the simplicity of Facebook's mobile interface. With the same, aesthetically pleasing interface across all platforms, Facebook hopes to win back its desktop users and slow down the trend of declining desktop usage.
My Verdict
I have not usually been a big fan of investing in Facebook due to its expensive valuation, declining desktop advertising revenues and continuous insider selling. I called short when the stock was trading around $32.5 in January with a price target of $27 in mind, and I'm glad to have made good money on that call. However, the complete overhaul of its basic interface, even if it is in response to the success of its rivals is hard to ignore. This signals that Facebook's management is actively monitoring the developments in its environment and is willing to do whatever it takes to maintain its leadership by enhancing user engagement while catering to the advertisers' demands. In fact if the new design can pave way for Facebook to successfully add the lucrative video advertisements feature to its monetization toolbox without driving away users, which I think the Following feed can, that could be a huge catalyst and result in a major shift in sentiment around the stock by silencing bears who doubt Facebook's ability to increase monetization while keeping users engaged. Facebook's price chart ( see below) shows that the current price is at a critical support level at the confluence of an important trendline with the 0.618 Fibonacci retrace of the move from the September bottom to the January top.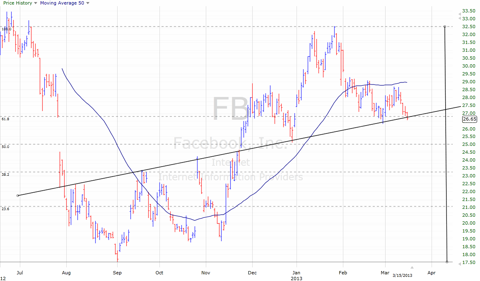 Due to the possibly upcoming catalyst in the form of successful video ads and the price moving lower towards an important technical support, I would be taking a small long position at this point with a stop placed at the 0.5 retrace at $25.10. I would add to my position if the price goes through its 50 day moving average which is hovering around $29 with an upside target of $32.5.
Disclosure: I have no positions in any stocks mentioned, but may initiate a long position in FB over the next 72 hours.
Business relationship disclosure: This article was written by Dividend Pros' analyst covering technology.