I opened my mailbox two days ago and found a copy of The Bank of Nova Scotia's [Scotiabank] (NYSE:BNS) 2012 annual report. I treat the arrival of an annual report as a signal to assess the progress and the future prospects of my portfolio holding. So, without further ado, here's my quick check-in on Scotiabank.
I initiated an investment in BNS on August 7, 2012. I reinvest all dividends and have a cost basis of $53.92, which means I currently have a paper gain of 9.76% on the position. I intend the position as a long-term holding in a dividend growth portfolio.
The Year in Review
Scotiabank is a large Canadian bank, one of the "Big 5." Of all the large Canadian banks, it is the one with the largest international footprint. It operates four primary divisions: Canadian Banking, International Banking, Global Banking and Markets, and Global Wealth Management. Part of the bank's long-term strategy is diversification of revenue sources through business type and geography. Its primary competitors are Royal Bank of Canada (NYSE:RY), Toronto-Dominion Bank (NYSE:TD), Bank of Montreal (NYSE:BMO), and Canadian Imperial Bank of Commerce (NYSE:CM).
Fundamentally, Scotiabank had an outstanding year. Revenues in the Canadian Banking business were up 16% from the prior year. Revenues in International Banking were up 18%. Revenues in Global Wealth Management were down 7%, mainly due to acquisition-related gains in 2011. And revenues in Global Banking and Markets was up 19% on the year. In addition, 2012 performance in several key areas outperformed management's stated objectives. Return on equity was reported as 19.7% (17.6% after excluding real estate gains), which was at the high end of the target of 15-18%. Tier 1 capital was reported at 13.6%. Earnings per share grew at 22.2% (8% after excluding real estate gains) after excluding 2011 acquisition-related gains, which is comfortably on the high end of the 5-10% target. The productivity ratio was 52% (54.3% after excluding real estate gains), which beat the target of less than 58%. Going forward, management's objectives for 2013 includes returns on equity of 15-18%, earning per share growth of 5-10%, a productivity ratio less than 56%, and efficiency and expensive management, among other targets.
There were also two noteworthy acquisition related notes on the year. Scotiabank completed the purchase of a 51% stake in Banco Colpatria in Colombia. This is part of the bank's strategic acquisition strategy and complements other assets in South America. In addition, Scotiabank announced the purchase of ING DIRECT Canada, which would solidify Scotiabank's position as the third-largest retail bank by assets and deposits in Canada. It also provides a new route for Canadian growth.
Finally, Scotiabank increased its dividend on two separate occasions in 2012, making for a 6.8% increase from the prior year's dividend.
Risks
Looking to the future, there are some potential risks that I keep in mind. First, there is the general risk of governments being more interested in regulation following the financial crisis in the U.S. Scotiabank has been improving capitalization ratios and seems to be navigating Basel III well.
Scotiabank has grown in some areas through acquisition. Should it make poor acquisitions in the future, it could be detrimental to shareholder value. I am comfortable with past history in this area and believe it is selective and makes acquisitions that fit well with its business lines.
More specifically to Canadian banks, there is some discussion suggesting that the Canadian housing market is in a bubble that has not yet popped/deflated. Should there be a sudden collapse of the Canadian housing market, it would be hard on the banks. If that happens, I suspect BNS will come out of it pretty well in large part because of its focus on geographic diversity and strong international business segments.
Finally, because of Scotiabanks' presence in a number of countries other than Canada, it must navigate many different governments. In the worst case, a country could nationalize its banking system, which would impact Scotiabank if it is a player in that country. This risk is probably most likely targeted at South America.
Overall, I'm not losing too much sleep over potential risks. I think BNS is well diversified and can handle some adversity if some major event impacts one of the business lines.
Valuation
Finally, I like to work through a valuation so that I have some feeling for an appropriate fair value in the event that volatility picks up in the near future. First, I look at the Price/Book ratio for BNS and the other large Canadian banks: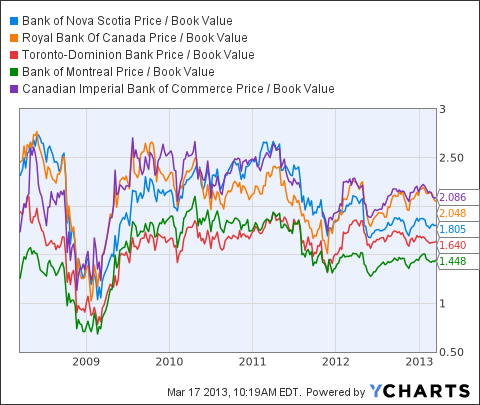 BNS Price / Book Value data by YCharts
From this, we see that BNS is right in the middle of the pack, so there are no immediate concerns that it is being valued by the market in a way that is fundamentally different from competitors. If we look at Price / Tangible Book, we see the same story: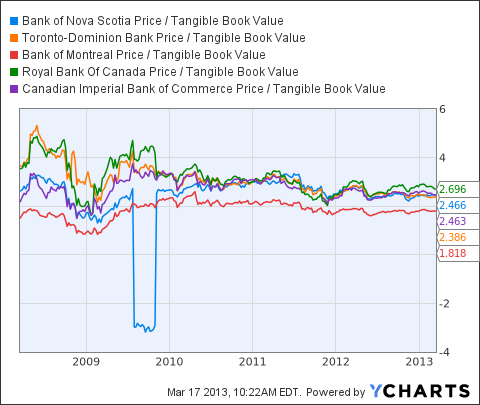 BNS Price / Tangible Book Value data by YCharts
I also worked through an excess return intrinsic valuation, using the spreadsheet provided on Aswath Damodaran's personal website. After normalizing earnings over the past five years to account for the exceptional RoE this year in part due to real estate sales, I chose a RoE of 16.2% to apply to the next 10 years. After five years, that number moved down gradually toward a long-term 14% RoE, which is below the industry average. I used a risk-free rate of 4% and a risk premium of 5%, giving a discount rate of 9%. I assumed a long-term 3% growth rate after 10 years. Putting it together, this led to a fair-value estimate of about $67.61 / share.
Based upon the relative and intrinsic valuations, I believe BNS is trading near fair-value at the moment.
Conclusion
I am pleased with where this investment stands at the moment. Barring some major event in the future, I don't plan to think about it too much beyond seeing what shows up on SeekingAlpha and in the quarterly reports in about six months or so.
Disclosure: I am long BNS. I wrote this article myself, and it expresses my own opinions. I am not receiving compensation for it (other than from Seeking Alpha). I have no business relationship with any company whose stock is mentioned in this article.