The Wall Street Journal recently reported that the cost of complying with federal ethanol mandates has risen dramatically in 2013. The cost of an "ethanol compliance credit" has skyrocketed from under $0.10 to $1.10. The credit was only 1.5 cents in June of last year.
But the credits are running out, causing the prices to jump over $1 since the beginning of the year. Are these ridiculous ethanol mandates going to wreck the economy, destroy your engine, and knock down your refining stock gains?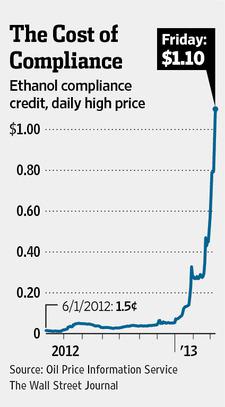 History of Ethanol Mandates
The Energy Independence and Security Act of 2007, directed the U.S. Dept. of Energy to assess the feasibility of using intermediate ethanol blends in the existing vehicle fleet. Apparently, the DOE uncovered no big problems other than all test vehicles exhibited a loss in fuel economy proportional to ethanol's lower energy density. For example, E20 reduced average fuel economy by 7.7% when compared to gas-only vehicles.
In March 2009 Growth Energy, a lobbying group for the ethanol industry, formally requested the EPA to allow the ethanol content in gasoline to be increased to 15 percent, from 10 percent. In October 2010, the EPA granted a waiver to allow up to 15% blends to be sold for cars and trucks with a model year of 2007 or later, representing about 15% of vehicles. In January 2011 the waiver was expanded to authorize use of E15 to include model year 2001 through 2006 passenger vehicles.
How The Mandates Work
The ethanol mandates require refiners blend more of the corn-derived fuel with petroleum-based gasoline each year. The mandate required the use of about 13.2 billion gallons of ethanol in 2012. When an ethanol maker produces a gallon, the company receives a credit representing roughly that much ethanol. (They also receive a tax credit - i.e. a U.S. taxpayer subsidy). The ethanol credits are then bought by refineries to define how much ethanol they have blended into fuel. If a refinery doesn't have enough credits, it can be fined. As the New York Times reported, in 2011 refiners paid about $6.8 million in penalties to the U.S. Treasury because they failed to mix mandated levels of cellulosic ethanol into gasoline because not enough supply was available.
This is obviously U.S. energy policy at its worst. And it has been a truly bi-partisan effort. The so-called Bush ethanol mandates have been embraced, and expanded, by the Obama administration - in spite of a plea by the UN to ease them.
And things are about to get even worse.
The "Blend Wall"
Up to now, refiners have been able to hit their quotas because roughly 10% of U.S. gasoline is ethanol. The U.S. consumed about 133 billion gallons of gasoline last year, according to the Energy Information Administration. That meant that about 13.3 billion gallons of ethanol was blended into gasoline, slightly above the 2012 requirement of ~13.2 billion gallons.
But the EPA's proposal for this year could force refiners and fuel importers to use more than 14 billion gallons of ethanol. But refiners are reluctant to blend gasoline with more than 10% ethanol because most auto makers say the majority of vehicles can't handle a higher rate. As a result, most Americans don't want to put higher ethanol content gasoline into their tanks. As a result, the 10% ethanol content is known as the "blend wall."
The problem here is that Washington policymakers in 2007 were way off in their estimates about how much gas Americans would keep putting in their tanks. In 2007 annual gasoline consumption was about 140 billion gallons per year. But gasoline demand has been falling due to a combination of the economic contraction and a more fuel efficient vehicle fleet. Gasoline consumption is estimated to be 135 billion gallons this year.
If the refining industry is not successful in pushing the EPA to lower the 2013 ethanol requirement, it could cause serious pain for the industry, the consumer, and the overall economy.
The Economy
As I have written before in one of my many articles urging the U.S. to adopt natural gas transportation, the average price of a gallon of gasoline in 2012 was the highest on record. If the 2013 ethanol mandates are not eased or abolished, the cost of compliance will certainly be passed onto consumers and push gasoline prices even higher. Not only will you be paying more for gasoline, your miles/gallon will go down due to the less energy dense ethanol blends. In addition, as the U.S. pointed out, the ethanol mandates have caused the price of corn and livestock to surge. At some point, higher food and energy prices are going to take a toll on the American consumer and thus the economy.
Your Vehicle
Except for flex-fuel vehicles, and some 2013 models, auto makers generally advise against using gasoline with ethanol blends above 10%. The AAA says E15 gasoline could case serious engine damage and void warranties on many vehicles sold prior to 2012:
BMW, Chrysler, Nissan, Toyota and VW have said their warranties will not cover fuel-related claims caused by E15. Ford, Honda, Kia, Mercedes-Benz and Volvo have said E15 use will void warranties, .....citing potential corrosive damage to fuel lines, gaskets and other engine components.
The Refiners - Export Capacity Will Be A Factor
Stephen Brown, Tesoro's (NYSE:TSO) vice president for federal-government affairs, said the ethanol mandates give U.S. refiners an incentive to export gasoline because exports aren't subject to the same ethanol requirements. This gives coastal refineries a distinct advantage.
Phillips 66 : Well Positioned
Export capacity should prove advantageous for Phillips 66 (NYSE:PSX). Seven of its 11 U.S. refineries are located on coastal waters: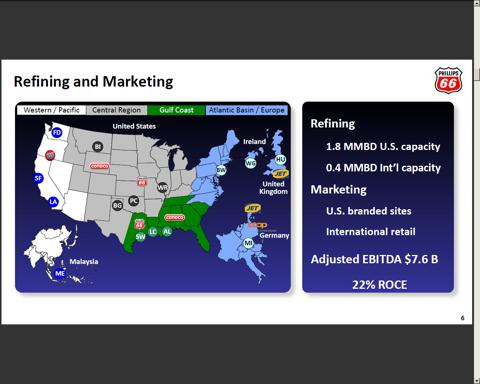 At the recent Merryl Lynch 2013 refining conference Larry Ziemba, Executive VP of Refining, Projects & Procurement at Phillips 66, said the following:
....utilization rates have picked up, largely because we're exporting product to Latin America, and we've seen our company's exports also increase. There's more opportunity to move those products offshore. So what we're doing is expanding our capability to load products at our coastal refineries by about 100,000 barrels a day, to roughly 400,000 barrels a day over the next year, to gain access and flexibility to move some of that product offshore. And when we're done, we'll have the capability of moving 30 percent of our clean products offshore.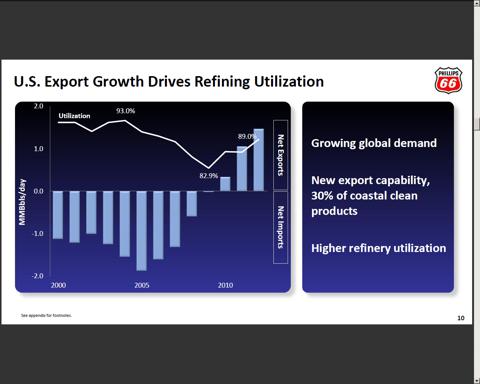 In addition, about 20% of PSX's refining is international and is therefore not affected by U.S. ethanol mandates. You can access PSX's entire presentation here.
In the words of Mike Wirth, EVP, Downstream & Chemicals at Chevron (NYSE:CVX), who spoke at the recent analyst meeting:
....RIN is a Renewable Identification Number which is a 38 digit number that manufacturers, importers and blenders of fuel require to assemble enough of these 38 digit numbers to then submit to the government each year to satisfy a volume obligation that shows you are blending enough fuels or procuring the credits that reflect that blending to satisfy the volumes mandated by the standard....

Specifically to Chevron position [Arjun] we tend to have more marketing sales and therefore more blending of fuels that we sell than we do refining production. So we're in natural long position on RINs and have been and we will probably hit the blend wall as an individual company much later than others would.

On the other hand, importers, merchant refiners or refiners whose marketing position is much smaller than the marketing production needs to procure these RINs from the market place and as the market seems to be tightening up the price obviously has risen and frankly we have been a seller of RINs into this market with our natural long position. So we can satisfy our compliance obligation and still have some access that we can sell into the market. So the company we are not in a particularly vulnerable position on this today, but I will tell you that this is regulation that just doesn't work, and I think that's got to be confronted by the federal government, and I think the renewable field standard will need to be changed.
So it would appear large refiners like CVX and ExxonMobil(NYSE:XOM) are net longs in the ethanol credit market at this time, and will not see as much of an adverse affect as will the smaller players and merchant refiners.
Summary
Phillips 66, Chevron, and Exxon Mobil look relatively well positioned to deal with the federal ethanol mandates. I am not as familiar with the operations of refiners Valero (NYSE:VLO) and HollyFrontier (NYSE:HFC), but investors in those stocks should be taking a look at any potential impact. Smaller refiners and those without significant export capability may have a harder time handling the increasing price of ethanol credits going forward.
Meantime, you might want to take the time to contact your Senators and Congressmen and tell them you want the ethanol mandates abolished. Now. They are yet another example of extremely wrong-headed U.S. energy policy. At the same time, if you agree with me that natural gas transportation makes sense, you should express that as well.
Disclosure: I am long COP, CVX, XOM. I wrote this article myself, and it expresses my own opinions. I am not receiving compensation for it (other than from Seeking Alpha). I have no business relationship with any company whose stock is mentioned in this article.
Additional disclosure: I am an engineer, not a CFA. Please do your own research and contact your investment adviser. I am not responsible for investment decisions you make. Thanks for reading and good luck!