In a memorable scene from the 1992 film Glengarry Glen Ross, a silver-tongued, alpha-salesman named Blake (Alec Baldwin) storms into an office full of underperforming real estate salesmen "on a mission of mercy." After delivering a lengthy rant on the incompetence of the salesmen and offering a set of steak knives for second place in the monthly sales contest, he looks at Moss (Ed Harris) in the eyes and says, "Nice guy?...Good father?...Go home and play with your kids."
One could imagine owners of Intel (NASDAQ:INTC) stock saying the same thing to the soon-to-be-former CEO, Paul Otellini. On November 19th, 2012, Otellini announced that he would be stepping down in May 2013. Let's hope Intel's shareholders are a little more polite than Blake on his way out, because Otellini's tenure has been anything but stellar for the stock.
The Legacy of Paul Otellini
Otellini joined Intel's finance department in 1974 and steadily rose in the ranks after a series of big wins. Namely, he convinced IBM (NYSE:IBM) to use Intel's microprocessors in 1980 and established himself as a compassionate leader after workers were rattled by two suicides by employees in a Folsom, California, plant during a six-month span in 1987. He manned several key management posts in the 1990s and was finally named COO and heir-apparent to Craig Barrett in 2002. Intel has a mandatory retirement age of 65, which Barrett would be up against in 2005. Barrett stepped down as expected on May 18th, 2005, and Otellini assumed his post.
Having started out in the finance department and not as an engineer, Otellini was not a typical Silicon Valley CEO. Perhaps this was an early omen of what was to come. Intel under his leadership could be described as a steady ship, but not a high-flyer. To be fair, he took over Intel towards the tail-end of a cyclical upswing in the global economy and faced headwinds during the Great Recession of 2007 and 2008. Most product releases were highly anticipated and met with critical acclaim, including the Core microarchitecture (2006) and X18-M and X25-M solid-state drives (2008), to name a few. Major acquisitions during his stay included Infineon's Wireless Solutions business (2010), McAfee (2011) and ASML Holding (2012).
In recent years, Intel has branched out with Ultrabook, which was intended to compete with Apple's MacBook, but ultimately failed to make a major dent due to Apple's brand dominance and a lack of recognition of the emergence and popularity of mobile devices. In February 2013, Intel announced its intention to sell a TV set-top box that promises to revolutionize how people use their televisions. The company is also trying to keep up with consumer trends and get more involved in the mobile space.
If You Had Invested in Paul Otellini
At the end of the day, highly acclaimed products and well-timed acquisitions don't mean anything to shareholders unless it translates into profits in their portfolios. Intel has a rather unfortunate total return calculator on its website, which allows you to enter a date and price to see just how much you made (or lost) with the stock. In all honesty, maybe they should take that page down.
Here's how a $1,000 investment with dividend reinvestment would look if you bought the day Paul Otellini took over as CEO - a mere 3.9% return.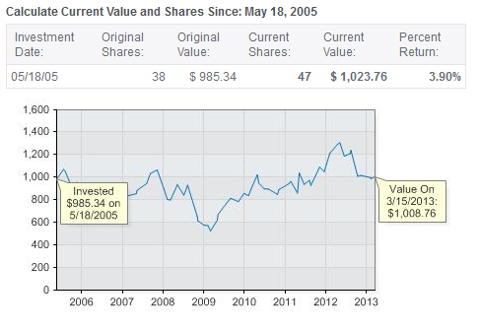 The results without dividend reinvestment are even worse.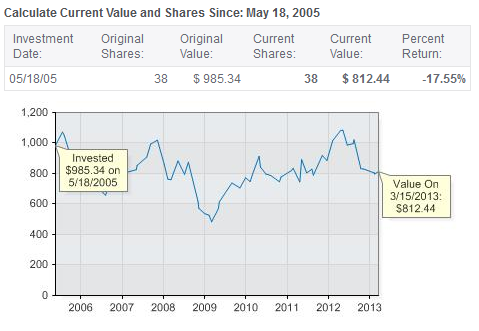 Considering that during the same time, the S&P is up 17%, the Dow is up 38% and the Nasdaq is up a whopping 60%, this can be described as nothing more than an unmitigated disaster. Nice guy? Maybe. Good CEO? I think not.
The New Face of Intel
Fortunately for shareholders, all bad things must come to an end. In this case, it would have been the mandatory retirement age Otellini would run into in a few years or voluntary resignation. Otellini took the latter route. Thus began speculation over who would be replacing him and what it would mean for the company.
The board of directors will ultimately make the decision, but Otellini believes the new CEO will come from within Intel's current ranks. Maybe given Otellini's weak leadership, the board would be well advised to go another route. Rumors have circulated about potential outside candidates, including VMware's (NYSE:VMW) Pat Gelsinger, who has since expressed a lack of interest in the role, and Jen-Hsun Huang, the founder and CEO of Nvidia (NASDAQ:NVDA).
Conclusions
Regardless of who the board of directors picks, the upside potential for Intel stock in the face of such news could be dramatic considering how poorly the stock has performed under Otellini's watch. Any change would be a perceived improvement in the short run, even if in the long run the CEO is another failure. The belief on the part of Otellini that the new CEO will be from the inside is a risk to this thesis. Perhaps a conservative pick would further erode investor confidence and send the stock tumbling. However, a pick from the outside could also raise uncertainty.
My personal recommendation to the board is to pick someone from the outside as a way of communicating to the market that Intel wants to make a change. Ideally, it would be someone who is both strategic for the business and also has an entrepreneurial knack for new ideas and new businesses, because Intel is currently thought to be lagging trends in the consumer space.
My current price target for Intel stock is $30 by mid-2014. I believe the new CEO, whether from the inside or outside, will spark investor interest, and ultimately, Intel will deliver during what appears to be a burgeoning economic recovery in the United States. My price target also reflects my general view of the market being undervalued right now. Intel will benefit from a rising market in the same way the stock rose in late 2010 into 2012, when it went from $16.50 to $28. Intel's stock is currently trading at $21.28.
Disclosure: I am long INTC. I wrote this article myself, and it expresses my own opinions. I am not receiving compensation for it (other than from Seeking Alpha). I have no business relationship with any company whose stock is mentioned in this article.
Additional disclosure: I am long INTC Jan 2014 $27 calls with a very small percentage of my portfolio