It seems as if everyone is stomping on J.C. Penney (NYSE:JCP) and Ron Johnson which suggests to me it might be time to look at the bonds and determine if there might be value.
First, a philosophical position. Turn-arounds are very difficult to architect. More often than not, investors and board members do not have the intestinal fortitude to stay the course and wind up changing strategy before the changes take shape. This constant changing of imperative confuses customers, burns capital and wastes precious time. JCP and the strategy that Mr. Johnson has outlined is no exception. Only time will tell whether the board and investors have the patience to see through the plan.
Essentially, what he is trying to do is change the core customer of JCP from an older, discount oriented customer to a younger, growth customer with a future (just look at the ads and website images).
How long do you think this should take? My best guess is 3 - 5 years to see real traction. Based on the alternatives available to JCP (such as staying like every other discount department store), this strategy, while risky, has the potential to drive meaningful value in the longer term. The process of rotating from grandma to grad will be a painful one but if the strategy is given ample time, there is a reasonable chance it will be successful.
For this reason, I think a look at the capital structure of JCP may be worth some time. Here is the schedule of long term debt from the most recent 10-K:
| | | |
| --- | --- | --- |
| Maturity | Coupon | Face |
| | | |
| 2012 | 9.000% | 230 |
| 2015 | 6.875% | 200 |
| 2016 | 7.650% | 200 |
| 2017 | 7.950% | 285 |
| 2018 | 5.750% | 300 |
| 2020 | 5.650% | 400 |
| 2023 | 7.125% | 255 |
| 2026 | 6.900% | 2 |
| 2036 | 6.375% | 400 |
| 2037 | 7.400% | 326 |
| 2097 | 7.625% | 500 |
| | | 3,098 |
Let's start with the draconian liquidation scenario. What would the current balance sheet likely produce in proceeds in the event of a liquidation? If we are looking at liquidation, cash would likely have burned down appreciably so let's assume $200MM. Merchandise inventory would likely produce about $500MM in cash. Lastly, the monetization of properties would bring in around $2,800MM. The total of these assets gets you to $3.5BB versus the current total debt of $3.0BB using, in my opinion, very conservative numbers. Perhaps this is why the common equity is still trading at a market cap of $3.4BB.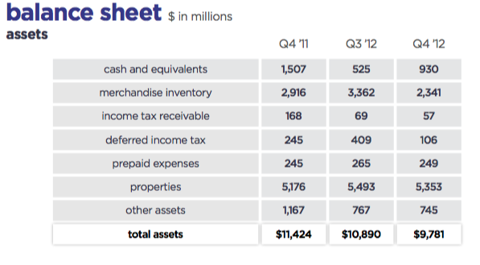 So, with the various bonds trading between 72 and 99 depending on maturity and coupon, it may be worth investigating further. For me, I am legging in with the June 2020 Senior Unsecured with a 5.625 coupon; currently yielding ~10%.
Disclosure: I have no positions in any stocks mentioned, and no plans to initiate any positions within the next 72 hours. I wrote this article myself, and it expresses my own opinions. I am not receiving compensation for it (other than from Seeking Alpha). I have no business relationship with any company whose stock is mentioned in this article.
Additional disclosure: I am long CUSIP 708130AD1.