At the start of the month, I noted that Intuitive Surgical Inc. (NASDAQ:ISRG) and its "da Vinci" robotic surgical system might face headwinds from both peer reviewed research data that questions the broad usage of robotic assisted surgery and government scrutiny. Since then, ISRG shares have declined by about 15 percent, and are now down about 20 percent from their 2013 high. Shares of ISRG were up on Monday by around four percent and appear likely to remain volatile in the coming weeks and months as more opinions regarding robotic assisted surgery are made public. See a recent performance chart for ISRG: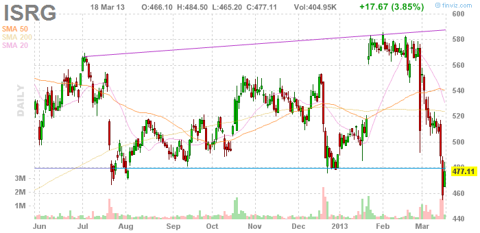 (Click to enlarge)
Last week, more headwinds finally arrived. Intuitive Surgical declined last week after Dr. James T. Breeden, President of the American Congress of OB/GYN ("ACOG") released a statement regarding robotic assisted hysterectomies. Dr. Breeden, whose name appears quite apt for a OB/GYN, noted that:
"Many women today are hearing about the claimed advantages of robotic surgery for hysterectomy, thanks to widespread marketing and advertising. Robotic surgery is not the only or the best minimally invasive approach for hysterectomy. Nor is it the most cost-efficient. It is important to separate the marketing hype from the reality when considering the best surgical approach for hysterectomies."
Dr. Breeden went on to state that:
"Studies have shown that adding this expensive technology for routine surgical care does not improve patient outcomes. Consequently, there is no good data proving that robotic hysterectomy is even as good as-let alone better-than existing, and far less costly, minimally invasive alternatives."
This opinion piece comes about a month after the Journal of the American Medical Association published an article that analyzed data from hysterectomies performed between 2007 and 2010, and concluded that "robotically assisted and laparoscopic hysterectomy had similar morbidity profiles, but the use of robotic technology resulted in substantially more costs." The study found that a robot assisted hysterectomy for benign circumstances cost $2,189 more than without the robot (based on average costs across 441 U.S. hospitals for 264,758 procedures).
One of the largest criticisms of this JAMA study has been that the study did not seem to evaluate recovery times. In particular, supporters of the robots claim that patients who undergo robotic hysterectomies spend less post-operative time in hospitals, which should help counter some of the procedure's greater cost and also provide the patient with a better overall experience (and such potential reduced pain and suffering is difficult to quantify and convert into dollar terms).
Dr. Breeden's statement addresses this hospitalization stay time issue, noting that:
"Robotic hysterectomy generally provides women with a shorter hospitalization, less discomfort, and a faster return to full recovery compared with the traditional total abdominal hysterectomy ("TAH") which requires a large incision. However, both vaginal and laparoscopic approaches also require fewer days of hospitalization and a far shorter recovery than TAH. These two established methods also have proven track records for outstanding patient outcomes and cost efficiencies."
Dr. Breeden noted that "at a price of more than $1.7 million per robot, $125,000 in annual maintenance costs, and up to $2,000 per surgery for the cost of single-use instruments, robotic surgery is the most expensive approach," and that "an estimated $960 million to $1.9 billion will be added to the health care system if robotic surgery is used for all hysterectomies each year."
In addition to this ACOG opinion piece and the JAMA article, the ISRG's robots recently attracted the scrutiny of U.S. regulators, who are now probing the company. The Food and Drug Administration ("FDA") had provided surgeons at numerous hospitals with a survey designed to identify potential issues and complications with the da Vinci machines. While the survey was primarily focused upon delineating problems caused by robot malfunction, the concurrent industry discussion of the value at cost to particularized robotic assisted procedures will likely also become an issue worthy of government scrutiny.
Intuitive Surgical's da Vinci robots and the procedures for their usage are designed with significant redundancies aimed at reducing injurious occurrences, but these redundancies come at a price. While safety is clearly an important matter, a question must also exist as to whether the machines are safe enough to justify the added expenses. Moreover, despite these redundancies, issues do occur, including uterine injury during gynecological surgeries, burns and pieces of the machine breaking and falling into patients.
Dr. Breeden also noted that "studies show there is a learning curve with new surgical technologies, during which there is an increased complication rate," indicating that some newer and therefore less skilled users of the robots may be causing to more than their fair share of adverse incidents. To the extent that this is the case, it may be wise for the government to require a substantial necessary minimum amount of practice hours on the robots before allowing surgeons to perform surgeries. Such a minimum ought to fully encompass the expected learning curve period.
The FDA may also conclude that though the robot is worth using in some situations, that the added expense is not justified in others, and possibly that the machine should be restricted from certain procedures altogether. It is also quite possible that the review might identify that a part of the machine requires re-design or recall and substitution due to it potentially contributing to a significant portion of the incident reports. It is also quite possible that the FDA will conclude there is no real issue with the robot.
The debate over the extent of proper use for the da Vinci robot is far from over, and really just began. While the robot is undoubtedly beneficial for numerous procedures and situations, its scope of use may have been extended beyond that due to the cool-factor that makes both patients and surgeons demand it. Moreover, just because the robots may be overused or inappropriate for one type of surgical procedure does not mean that they should not be used in other procedures. If anything, over time, the use of robotics to assist surgeries should expand. For example, da Vinci robots have not yet received clearance for usage in spine and back surgeries, among other types, but robotics will probably eventually become commonplace in many spinal procedures.
Despite the probable future growth of usage of robots in surgical procedures, the near-term pace at which such now appears likely to slow down due to this ongoing debate regarding the true value added by the robots. Ongoing government scrutiny of the da Vinci robot and more potential statements and articles speaking out against particularized usage may prompt some hospitals to refrain from making further purchases of the reasonably expensive technology until some determinations are made. This would likely reduce ISRG's probable sales in 2013, and therefore it is probable that analysts and the company may soon end up revising 2013 revenue estimates lower. In the meanwhile, IRSG should be considered a volatile and highly speculative investment. Despite this near-term uncertainty, the technology appears poised to inevitably expand into new surgical arenas and grow in usage in most already approved applications. Therefore, any near-term significant decline in share price may provide investors with a strong long-term investment opportunity.
Disclosure: I have no positions in any stocks mentioned, and no plans to initiate any positions within the next 72 hours. I wrote this article myself, and it expresses my own opinions. I am not receiving compensation for it (other than from Seeking Alpha). I have no business relationship with any company whose stock is mentioned in this article.