The global demand for iron ore has not been easy on iron ore miner Cliffs Natural Resources (NYSE:CLF) as of late. In 2012 the company was just bombarded by negative quarterly reports, showing a grim global demand for iron ore. With Cliffs now trading at 52-week lows, it is easy to be bearish on this stock. I think the company has been beaten down but could be worth owning going forward as a speculative play on the recovery of iron ore pricing.
Cliffs reported horrible fourth quarter results on February 12th. Full-year revenues of $5.9 billion decreased $691 million, or 11% from the previous year. THe lower revenues were driven by a 23% decrease in year-over-year seaborne iron ore pricing. For the full year, Cliffs recorded a net loss attributable to Cliffs' common shareholders of $889 million, or $6.32 per diluted share, compared with net income of $1.6 billion, or $11.48 per diluted share, in 2011. To make matters worse for shareholders, Cliffs' Board of directors approved a reduction in Cliffs' quarterly cash dividend from 63 cents to 15 cents per share. Then to top it all off, Cliffs' announced it would be offering nine million shares of common stock, further diluting investors share value.
Earning estimates for Cliffs fell from $3.50 in 2012, to only $1.71 in 2013. Joseph Carrabba the CEO of Cliffs stated that although 2012 had some highlights including record sales volumes in Australia, and an operational turnaround in North American Coal, the iron ore market made operations extremely difficult for the company. The company has made necessary changes now, though, and refinanced for 2013. Now could be the time to buy Cliffs, and speculate that the global demand for iron ore can begin to grow from here.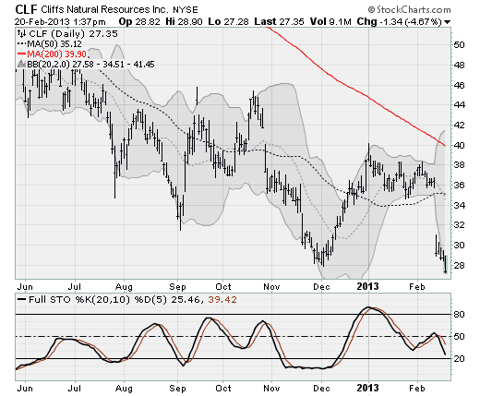 Click to enlarge
(Click to enlarge)
The lack of demand for iron ore with the Chinese and European economies struggling heavily, has reeked havoc on Cliffs. The price of iron ore also sank from $180 per ton to $86.70 per ton, with demand falling. Iron ore prices have since been rebounding this year; reaching a 52-week high of more than $150 per ton recently. Cliffs' expected its iron ore sales to be relatively flat year over year at approximately 40 million tons. However, if iron ore prices continue to trickle up, overall revenue for Cliffs could get a boost despite flat sales.
Cliffs is currently trading around $21 per share, however it has a book value of $32 and a value of $47 per share according to Trefis. Cliffs also announced that the company plans on focusing more on growth opportunities this year, such as its Bloom Lake iron ore mine in eastern Canada. The company plans on investing more than $400 million into that mine to get Phase II striping and tailings done.
Perhaps the increase in iron ore price will be enough to slow this bearish fall for Cliff's stock. Even with the dividend being slashed Cliffs still yields over 2.3% annually at its current price. Cliffs is going to need to see some demand increasing in developing regions to continue to drive business. The Asia-Pacific region and India are two developing regions that could generate a lot of business for Cliffs moving forward. India's economy only grew at a rate of 5% last year though, compared to a target goal of 7.6%. As the global economy continues to struggle so does Cliffs.
Cliffs has existed for a long time, trading as a public company since 1978. This could be a situation similar to that of Ford Motors (NYSE:F) a couple years ago in which investors who bought into the struggling company during its pullback saw massive gains. Cliffs struggles do not appear to be over any time soon and the near future sure seems bleak, however Cliffs' is one of the largest iron ore companies worldwide. I believe the share price has found a steady support and the company can start to grow from here moving forward.
Disclosure: I am long CLF, F. I wrote this article myself, and it expresses my own opinions. I am not receiving compensation for it (other than from Seeking Alpha). I have no business relationship with any company whose stock is mentioned in this article.