All of my readers know my undying love for Molycorp (MCP) and how I am still looking for an attractive entry point for the stock. Meanwhile, I thought it would be a good exercise to find other rare earth miners with great business models or whose stocks have simply been mispriced. Quest Rare Minerals (NYSEMKT:QRM) is a Canadian-based exploration company focused on discovering new rare earth opportunities. The company is currently advancing two important rare earth projects - Strange Lake and Misery Lake in Quebec. According to the company, Strange Lake, its premier rare earth project, is the world's largest heavy rare earth ("HREE") resource with 4.4 million tons of rare earth oxides and 1.58 million are HREE. HREE represents the "rarest" of rare earth oxides. Strange Lake's HREE as a percentage of total rare earth is also one of the industry's highest at 39.76%. The following chart compares Molycorp, Lynas (OTCPK:LYSDY), Avalon Rare Metals (NYSEMKT:AVL), Rare Element Resources (NYSEMKT:REE), Arafura Resources (OTCPK:ARAFF), Great Western Minerals (OTCPK:GWMGF), Montero Mining & Exploration (OTC:MXTRF), Frontier Rare Earths (OTC:FREFF), Tasman Metals (NYSEMKT:TAS), Ucore (OTCQX:UURAF), Hudson Resources (OTCPK:HUDRF), and Matamec Explorations (OTCQB:MHREF) based on their composition of light rare earth elements ("LREE") to HREE.

Of the selected junior miners, Quest ranks second only to Tasman (52.73%) in terms of HREE composition. As LREE operators like Molycorp have experienced 30% price declines quarter over quarter, miners whose LREEs as a percentage of total rare earth oxides ("TREO") is less than 75% - Quest, Tasman, Ucore and Matamec - may be better positioned going forward.
Critical vs. Non-Critical Rare Earths
Though HREEs are more scarce relative to LREEs, some HREEs have a higher commercial appeal and are more "critical" than others. The article 3 Reasons Why Tasman Metals Will Survive Rare Earth Shakeout explained the distinction:
According to the Department of Energy ("DOE"), whether a rare earth element is critical or not is due to its supply risk, and its importance to clean energy. Based upon that criteria, the DOE determined that Neodymium ("Nd"), Europium ("Eu"), Terbium ("Tb"), Dysprosium ("Dy") and Yttrium ("Y") were the five critical rare earth elements ("CREO"). Since the DOE's conclusion, industry experts have deemed the five CREOs to have the most commercial viability and command higher prices vis-a-vis non-CREOs.
Strange Lake's composition of critical rare earths is also impressive. Not only does it contain all five CREOs, according to an August 2011 report by Technology Metals Research, it ranks fourth in CREO as a physical fraction of TREO at 41.7%. It ranks just behind Norra Karr (51.7%), Bokan (44.6%), and Kutessay II (43.5%), and just ahead of Zeus (40.1%). Norra Karr, Bokan, Kutessay II and Zeus are owned by Tasman, Ucore, Stans Energy (OTCPK:HREEF) and Matamec, respectively. In terms of individual CREOs as a percentage of TREO, Strange Lake's composition of Tb (0.55%), Dy (3.60%) and Y (25.34%) ranks it in the top five in the industry for each of those elements.
Historical Financial Performance
The following chart displays Quest's historical financial performance. The company is in the process of exploring and evaluating its mineral properties; it has not yet determined whether these properties contain economically recoverable ore reserves. Quest's ability to operate as a going concern is dependent upon its ability to obtain the necessary financing to develop properties and produce minerals at a profit.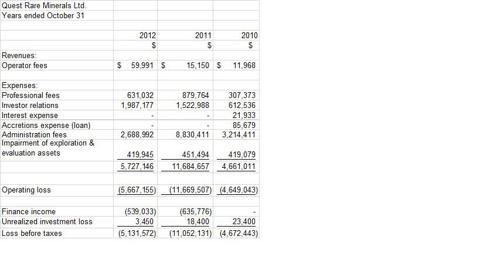 Given that the company is still in the exploration phase, revenues are limited. Revenues increased to $59,991 for fiscal year ended October 31, 2012 ("FY12") from $15,150 for fiscal year ended October 31, 2011 ("FY11"). FY12 revenues consisted of operator fees equal to about 10% of the value of exploration activities on its Alterra-Strange Lake Project.
Expenses declined from $11,684,654 for FY11 to $5,727,146 for FY12. The lion's share of FY12 expenses were related to investor relations (35%) and administrative fees (47%).
Administrative fees consists of salaries, rent, office expenses, and stock-based compensation. The decline year over year was mainly due to a decrease in stock-based compensation from $8,379,369 in FY11 to $1,436,637 in FY12.
The company generated a pretax loss of $11,052,131 and $5,131,572 for FY11 and FY12, respectively. Quest is expected to generate operating losses until it can produce commercially viable rare earths.
Working Capital
Liquidity and capital resources may be more important than revenues during Quest's exploration and development phase. A major component of a junior miner's ability to operate as a going concern is its level of working capital and its ability to access the capital markets to help fund future cash flow needs. Quest's working capital has declined from $52,749,236 in fiscal year 2010 to $30,973,770 in FY12 as the company has experienced operating losses. However, its working capital appears sufficient for the near term.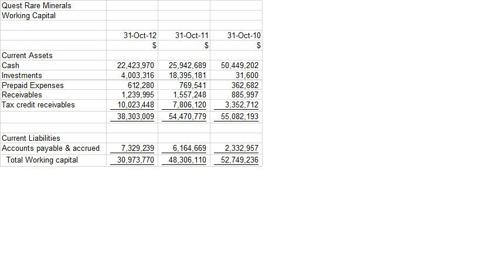 Rare Earth Comparable Company Analysis
Below are the market capitalizations and multiples of earnings and book value for Quest and comparable rare earth companies. Since most of the junior miners are unprofitable, price-to-earnings multiples are all but meaningless. Quest trades at a multiple of 0.6x book value, which is below the median of 1.3x for the industry. The comparable company analysis implies that the market may be placing a premium on those companies - Molycorp, Tasman, Lynas, Rare Element, Ucore, Hudson Resources - that it thinks will survive the coming rare earth shakeout. That said, the market may be overlooking Quest.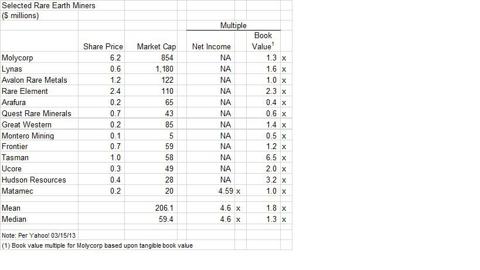 Conclusion
As rare earth prices have deteriorated within certain segments, it may be time to cut the wheat from the chaff. Going forward, junior miners [i] may not have enough capital to continue funding exploration costs or [ii] may not be able to turn a profit once they bring product to market. Quest has the necessary working capital to sustain itself for the near term and rare earth minerals most commercially viable and deemed most "critical" by the DOE. Given that it trades at a discount to comparable companies, Quest appears cheap relative to its potential upside.
Disclosure: I am long Frontier Rare Earths. I wrote this article myself, and it expresses my own opinions. I am not receiving compensation for it (other than from Seeking Alpha). I have no business relationship with any company whose stock is mentioned in this article.