This list is made up of the top three stocks to watch for the week of March 18th, 2013. Each stock mentioned will be announcing their quarterly or fiscal year-end earnings this week, and have certain positive fundamentals that make them appetizing to the value-investor. The usual caveats apply, but these equities have positive analyst estimates, solid earnings and growth initiatives that make them a solid option for investors looking for value and growth.
1. FedEx Corporation (NYSE:FDX)
Earnings Date: March 20, 2013
Company Profile
FedEx Corporation is a Delaware-based corporation founded in January 1998 with the acquisition of Caliber System Inc. by Federal Express. With the purchase of Caliber, FedEx started offering other services besides express shipping. The renowned holding company provides a portfolio of transportation, e-commerce and business services under the FedEx brand. Federal Express Corporation (FedEx Express) is an express transportation company, offering time-certain delivery within one to three business days and serving market. The firm was named by Fortune magazine as one of the top 100 companies to work for in 2013, citing the company's choice to downsize with voluntary buyouts rather than involuntary layoffs. FedEx Express is the world's largest provider of guaranteed express delivery services. It provides same-day, overnight and deferred delivery services for documents, packages and freight, using a network of 52,400 ground vehicles, 660 aircraft, and 58,400 drop-off boxes. In FY 12 (May), FedEx Express accounted for 62% of revenues. About 52% of FedEx Express's revenues in FY 12 were from U.S. services.
The Fundamentals
With a company like FedEx, the marketing efforts for the transportation giant are carried out every single day with the famous logo on the trucks that drive across the nation. Like any company, it's really important to look at some of the numbers that the company is producing and try to determine whether or not there is potential for future growth.
With a quick ratio of 1.8x, debt-to-equity ratio of .14x and current ratio of 1.90x, FedEx ranks in the top 84% of its peers for financial strength in the air courier industry. Company revenue has increased nearly every year, since the recessionary period of 2007-2009, including an 8.5% increase from 2011-2012.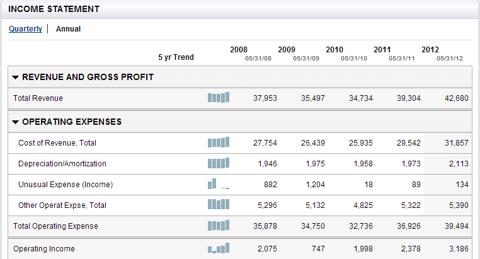 Click to enlarge
(Click to enlarge)
FedEx Ground is likely to benefit from market share gains and increased penetration of its home delivery business. In recent months, FedEx has stresses importance of international growth, as these numbers have not been a strong point in the past. The company also recently announced a 5.9% general rate increase, and is believed to be able to get good traction on these price increases domestically.
Analyst Ratings and Estimates
The rating bureaus are indicating that FedEx is a strong buy, given its current position. This is likely due to the aforementioned fundamentals: strong earnings, positive growth and at the top of its industry in numerous categories. Thomson Reuters, MarketEdge, Standard & Poor's, and Smart Consensus all indicate that FedEx is a good choice to go long on. Furthermore, analyst estimates predict that FedEx will continually increase their EPS in the coming years. Mark Mulholland, manager of the Matthew 25 Fund, favors FedEx , which is expanding into the emerging markets. "It should do well in an economy that's slowly getting better," he says.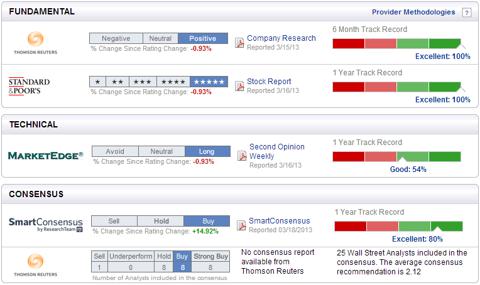 Click to enlarge
(Click to enlarge)

Conclusion
Overall, FedEx shows positive signs of growth, leads various categories in its respective industry, and has positive analyst estimates, making it an appetizing stock to watch. With the next earnings date on Wednesday, March 20th, I would definitely keep my eye on this potential steal.
2. Nike Inc. - (NYSE:NKE)
Earnings Date: March 21, 2013
NIKE, Inc. is headquartered near Beaverton, Oregon, in the Portland metropolitan area, and is one of only two Fortune 500 companies headquartered in Oregon. The infamous retailer is the world's leading supplier of athletic shoes and apparel and a major manufacturer of sports equipment, with revenue in excess of US$24.1 billion in its fiscal year 2012. The company is engaged in the design, development and worldwide marketing and selling of footwear, apparel, equipment, accessories and services. NIKE sells its products to retail accounts through NIKE-owned retail stores and Internet sales, and through a mix of independent distributors and licensees in approximately 190 countries around the world. The Company focuses its product offerings in seven key categories: Running, Basketball, Football (Soccer), Men's Training, Women's Training, NIKE Sportswear (its sports-and inspired products) and Action Sports.
The Fundamentals
Nike will announce earnings Thursday after market close. With hardly any debt - Nike has a debt-to-equity ratio of .03x and debt-to-assets of .02x - the sports retail giant is able to finance more efficiently that 79% of its peers in the footwear industry. Furthermore, with a return on equity of 22.31% and return on assets of 14.90%, Nike ranks in the 88th percentile among its competitors. In Q2 2013, its revenues grew by 7% annually to reach $5.9 billion. However, its gross margin declined by 30 basis points annually in Q2 2013 to 42.5%, mainly on account of increase in labor costs and disparaging currency impact.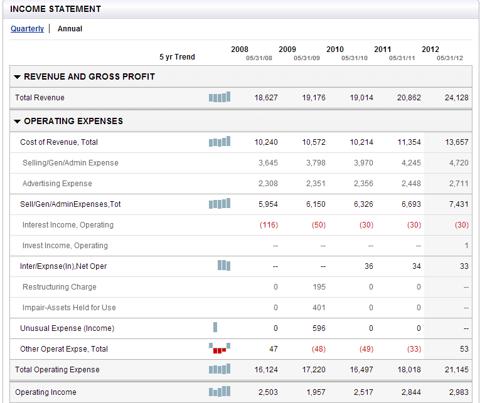 Click to enlarge
(Click to enlarge)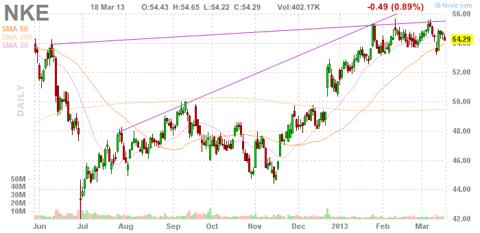 Click to enlarge
(Click to enlarge)
Even during the recessionary set-back, Nike has showed revenue growth every year since 2009- increasing 15.6% alone from 2011-2012. Moreover, Nike has a gross margin of 43.18% and net profit margin of 8.95%, ranking it in the top 67% of its respective industry. The 50 and 200 day moving average are both rising, indicating a bullish trend.
Analyst Ratings and Estimates
Thomson Reuters recommends a long position in Nike whereas MarketEdge, and Smart Consensus indicate a hold signal. The hold ratings are due to analyst uncertainty about the announced plans to divest its Cole Haan and Umbro businesses, which combined, reported revenues of $797 million in FY 12. The company sold Umbro to Iconix Brand Group for $225 million in November 2012, and expects to complete the sale of Cole Haan to Apax Partners for $570 million in the third quarter of FY 13. However, earnings per share have consistently surprised analyst expectations and are set up to do the same in the current quarter.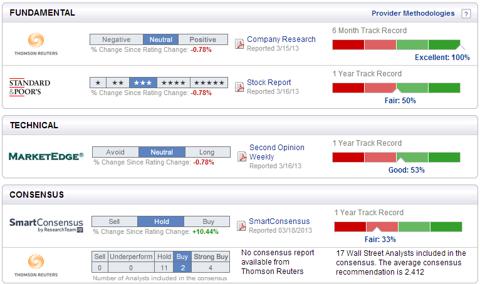 Click to enlarge
(Click to enlarge)

Conclusion
Nike- one of America's most illustrious companies- is driven by growth in North America and emerging markets. China represents a long-term growth driver for Nike as the athletic apparel and footwear market is growing rapidly in the region on account of growing middle class and increasing fitness trend among consumers. With increased globalization, the Nike brand is positioned to capture market share due to its established reputation for quality, innovation and value and will continue to grow for many, many years to come.
3. Tiffany & Co. - (NYSE:TIF)
Earnings Date: March 22, 2013
Company Profile
Tiffany & Co. -known colloquially as Tiffany or Tiffany's - is a luxury American multinational jewelry and silverware corporation, with headquarters in New York City. Tiffany sells jewelry, sterling silver, china, crystal, stationery, fragrances, personal accessories, as well as some leather goods. Many of these goods are sold under the Tiffany name at Tiffany stores and through direct-mail and corporate merchandising. Through Tiffany and other subsidiaries, the Company is engaged in product design, manufacturing and retailing activities. Its segments include Americas, Asia-Pacific, Japan, Europe and Other. The Company's principal product category is jewelry, which represented 91% of the Company's net sales in 2011.
The Fundamentals
Tiffany & Co. has shown consistent revenue growth, despite the recessionary period of 2007-2009. Additionally, the jewelry empire hardly has any debt, with a total debt-to-equity ratio of .40x. The return on equity (17.41%), return on assets (9.94%) and return on invested capital (11.45%) are in the 70th percentile of the specialty retail industry. The company increased revenue by 18%- going from just over 3 billion in 2011 to 3.6 billion in 2012. Margin benefits from lower diamond and precious metal costs and manufacturing efficiencies are expected to decrease expenses and increase Tiffany & Co. margins.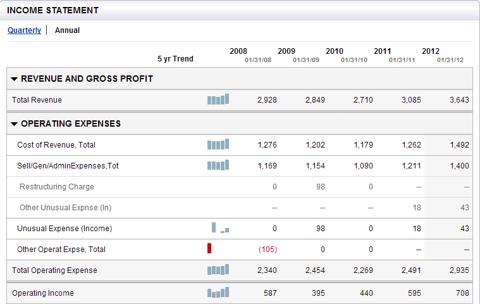 Click to enlarge
(Click to enlarge)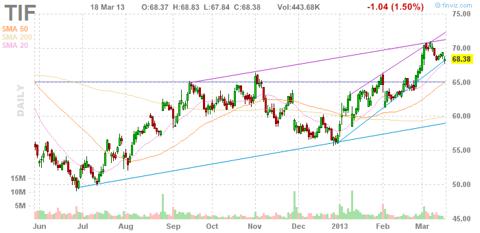 Click to enlarge
(Click to enlarge)
The 50 and 200 day moving averages are rising, indicating a bullish trend. The relative strength index and Moving Average Convergence Divergence (MACD) also point towards a bullish trend for Tiffany & Co.
Analyst Ratings and Estimates
Thomson Reuters, Standard and Poor's, SmartConsensus and MarketEdge all rate Tiffany & Co. a solid buy with current conditions and an expected strong earnings report. Some analyst recently downgraded TIF from a "Strong Buy" to a "Buy," due to the speculation of possible currency impairments in the near future.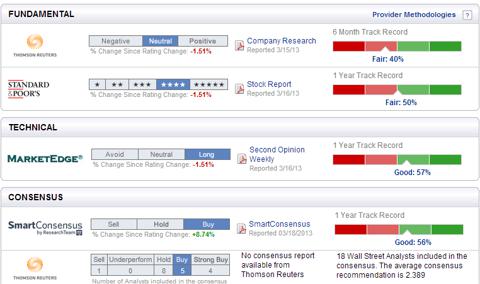 Click to enlarge
(Click to enlarge)
Conclusion
Economic growth remains tepid, but with the return of the luxury shopper in the U.S. and many overseas markets, TIF reported 13% growth in worldwide same-store sales (on a constant-currency basis) in FY 12. Investors should also keep a close watch as TIF faces possible macroeconomic and foreign exchange headwinds in FY 14. Regardless, the outlook for Tiffany & Co. looks to be positive and continues to reflect its leadership in U.S. luxury jewelry retailing. As TIF increases international brand awareness and penetration, I expect the company to realize margin benefits in FY 14 from lower product costs and manufacturing efficiencies, making it stock investors should certainly pay attention to.
Disclosure: I have no positions in any stocks mentioned, and no plans to initiate any positions within the next 72 hours. I wrote this article myself, and it expresses my own opinions. I am not receiving compensation for it (other than from Seeking Alpha). I have no business relationship with any company whose stock is mentioned in this article.