My last article was discussing the latest policies introduced by the Federal Reserve and its possible consequences for the gold market. Did it promote a bullish gold market (NYSEARCA:GLD) or, on the contrary, the commodity's recent decline was a glimpse of what to expect in the near future?
After portraying the U.S. economy and all the challenges surrounding it, I showed the global demand trends influenced by fiscal and monetary policies recently adopted that will keep on easing the fundamentals and promote economic growth and stability. Thus, these policies will continue to support high prices for gold. Finally, I depicted the world reserves of gold and the undiscovered deposits around the globe.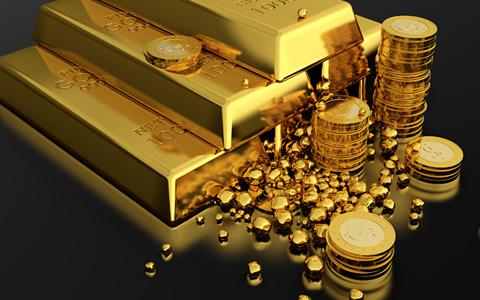 This article is the first of a series that will present the world's top six gold producers on the market. Therefore, I will provide in-depth analysis for each of them as well as top producing mines. Furthermore, a complete coverage of what to expect for each producer such as assets, financial health, production rate and development projects in the future will be thoroughly scrutinized.
Ranking 6th on the world's top six gold producers, the company we are about to see is a Canadian-based producer of gold and developer of various properties in South America. With its focus oriented in this specific region, the goal of the company is to expand its current assets there to maximize the potential and acquire new properties for development purposes. Let's take a look at this interesting company operating in the gold sector.
Yamana Gold (NYSE:AUY)
The portfolio of the company is composed of seven operating assets including one on its way to production, one joint venture operation, two projects under development and a few exploration projects. With a strategic focus on a specific region, it allows the firm to rely on comparable mining and processing methods to operate the mines. Furthermore, access to local labor and expertise as well as established protocols and processes for permitting purposes are also obvious benefits.
(click to enlarge)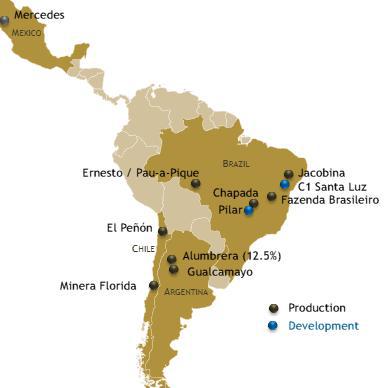 Source: PDAC Toronto Presentation, March 3rd, 2013
Regarding Yamana's production, 2012 was a great year for the company. As a matter of fact, 1,200,821oz of gold has been produced, a 8.9% increase over 2011 compared to 1,102,296 oz and a 14.7% rise over 2010. Considering the projects currently in development, Yamana is expecting to see a growth of 20% in production for 2013 and 33% in 2014. The production is planned to be maintained at a sustainable level of about 1.75Moz (million ounces) of gold by 2015.
Growth In Production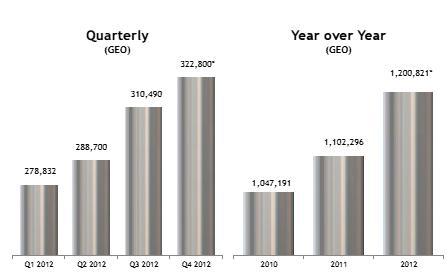 Source: 2012 Q3 Results Presentation
At the end of Q3 2012, reported cash flow was about $747 million compared to the average of $618 million from 2009 to 2011, a 21% increase. Looking at the chart below, Yamana is comparing favorably to its peers.
Cash Flow Growth Compared To Peers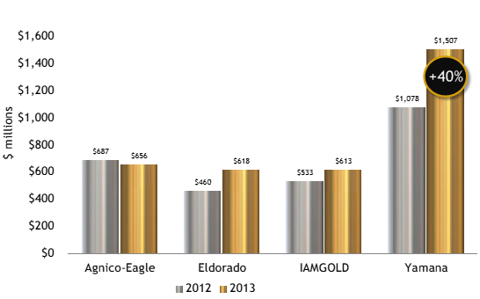 Click to enlarge
Source: 2012 Q3 Results Presentation
The long-term debt increased in 2012 to $765.91 million compared to the trend of the last three years where it was in decline. Thus, the 77% drastic rise over 2011 could be explained by the investments made to finance the projects of the company under development. As a matter of fact, the PEG ratio has been subjected to a great rise around April 2012 to reach a ratio of 2.37. For a better understanding, looking at Yamana's high PE ratio of 29 does say much which corroborates the use of massive financing.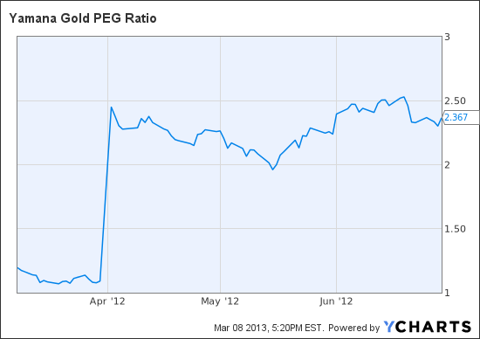 Yamana's Top Producing Mines
El Peñón, Chile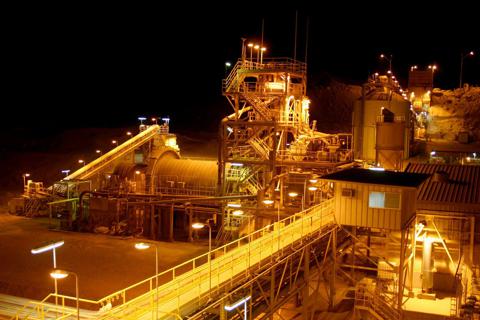 Click to enlarge
Source: Yamana Gold
Located in northern Chile, El Peñón is a high-grade underground gold-silver mine. It ranked 39th out of 50 on the world's top producing mines by grade according to NRH. Commercial production began in 2000 and an expansion of the Merrill-Crowe processing plant to 4,500t per day of production was completed in 2010. Exploration is still going on to extend and upgrade the known deposits.
Producing 462,477oz of gold in 2012, the mine has an estimated mineral resources of 2Mt (million tonnes) at 10.45 g/t containing 673,000oz of gold. The life expectancy of the mine is 8 years.
Chapada, Brazil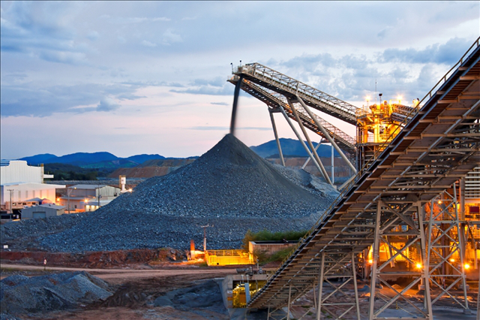 Click to enlarge
Source: Yamana Gold
Located in the Goiás state, Chapada is an open-pit gold-copper mine. Commercial production began in 2007. Annual capacity of the flotation plant was increased to 22Mt in 2010, a 10% increase over 2009 and 38% higher than what the feasibility study was anticipating. In 2011, the mine plant was updated to keep up the increased throughput level for the next 15 years with the integration of outputs from the Suruca gold deposit and Corpo Sul gold/copper deposit. In 2012, the mine produced 128,171oz of gold and 150 million pounds of copper.
Suruca and Corpo Sul are expected to start producing in 2014. Located about 2.5 miles northeast of Chapada, Suruca was discovered in 2009. Uncovered in 2011, Corpo Sul's location is in the southwest end of the Chapada ore body. Estimated mineral resources are at 300.6 Mt at 0.25 g/t containing 2.4 Moz of gold. The life expectancy is 15 years considering the expansions at the mine.
Jacobina, Brazil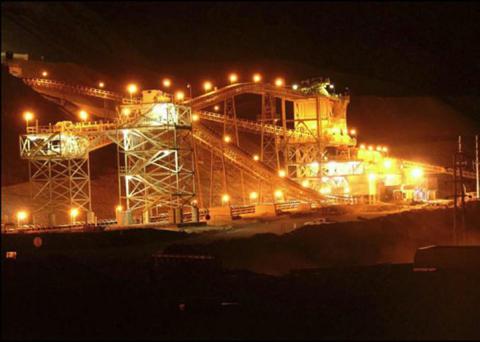 Click to enlarge
Source: Yamana Gold
The Jacobina mine in Bahia state is located in northeastern Brazil. The mine is mainly an underground complex of gold mines and a 6,500t per day of carbon-in-pulp processing plant. The commercial production began in 2005. Since the acquisition of the mine, gold mineral reserves have increased more than 98%, representing a six-year consecutive growth. Discovered in 2009, Lagartixa zone has a higher grade ratio than the main site. In 2010, mineral resources were upgraded at the Morro Do Vento and Canavieiras deposits. Therefore, mineral reserves increased 21% in 2012 with a 10% rise in mineral reserves grade. An increase in production is expected for 2013.
Production in 2012 was at 116,863oz of gold. Estimated at 25Mt with 2.59 g/t, the mineral resources are about 2.1Moz of gold. The life expectancy for the mine is 9 years.
Gualcamayo, Argentina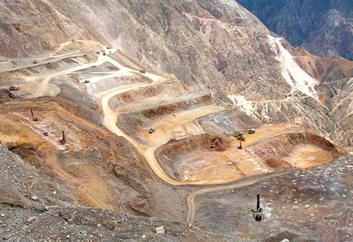 Source: Yamana Gold
The Gualcamayo mine is an open-pit with three substantial zones of mineralized gold. The mine is located in the northern San Juan province of Argentina. Commercial production began in 2009. In 2010, Yamana expanded the mine to develop the underground located below the main open-pit to increase the expected annual production to over 200,000oz of gold per year. Estimated to start in 2014, production should improve significantly.
For 2012, Gualcamayo produced 147,300oz of gold. The mine has 33.2Mt of mineral resources at 1.10 g/t containing 1.2Moz of gold. Life expectancy is estimated at 9 years.
Minera Florida, Chile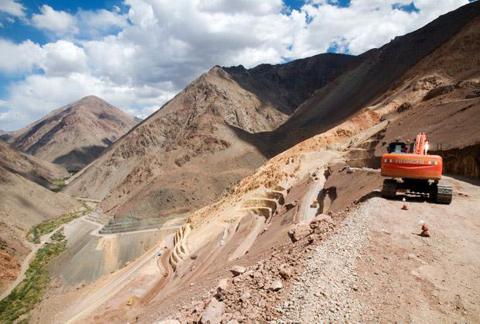 Click to enlarge
Source: Yamana Gold
Located south of Santiago in central Chile, Minera Florida is an underground gold-silver mine which has been in operation for over 20 years. Discovered in 2010, the high-grade Victoria vein structure was adding to previous exploration successes that increased grade and total mineral resources. Production from tailings retreatment is expected to ramp up and increase annual production by approximately 30,000oz per year for the next five years. The plant's incorporated flotation is treating ore at 2,000t/d.
In 2012, the mine produced 105,679oz and has 2.7Mt of mineral resources at 6.64 g/t containing 570,000oz of gold. The mine's life is expected to last 8 years.
Mercedes, Mexico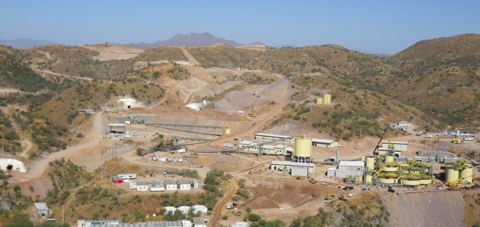 Click to enlarge
Source: Yamana Gold
The Mercedes gold-silver mine is located in northern Sonora state. It started commercial production in February 2012. Gold is extracted by agitated leaching with counter current decantation and Merrill-Crowe processing. Yamana anticipates that continued exploration success will increase the mine's life and annual production.
In 2012, the mine produced 126,010oz of gold and has 2.7Mt of mineral resources at 3.62 g/t containing 309,000oz of gold. The life expectancy of the mine is 10 years.
Projects Under Development
C1 Santa Luz, Brazil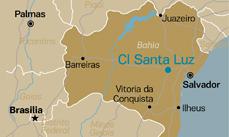 Source: Yamana Gold
The C1 Santa Luz gold project in Bahia state is lying within Yamana's 444,789 acres property in the Rio Itapicuru greenstone belt. The mine is being prepared for production with start-up expected in early 2013. The 2.5Mt per year open-pit operation will treat ore by flotation and carbon-in-leach processing.
The mine has mineral resources of 13.6Mt at 1.55 g/t containing 678,000oz of gold. Estimations are that Yamana could produce 100,000oz of gold per year. The life expectancy is estimated at 10 years.
Pilar, Brazil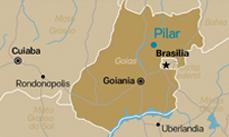 Source: Yamana Gold
Pilar is located about 49 miles south of the Chapada mine. The one million tonnes per year operation will initially involve underground mining, gravity and carbon-in-leach processing that are already being built at capacity levels. Construction is on schedule with start-up expected in mid-2013.
Development of Caiamar, a high-grade satellite deposit located 23 miles west of Pilar, is expected to increase annual production at Pilar to a minimum of 140,000oz according to Yamana. Start-up is scheduled for early 2014.
Mineral Gold Reserves And Exploration Program
The total mineral reserves for the company increased to 19.3Moz, a 4% growth from 2011 with a rise of 3% in grade. For the existing operations and projects in development, the mineral reserves increased to 17.9Moz, a 5% growth from 2011. Finally, Yamana has declared that the total measured and indicated mineral resources rose to 15.6Moz, an increase of 15% with a 14% growth in grade.
Mineral Resources Growth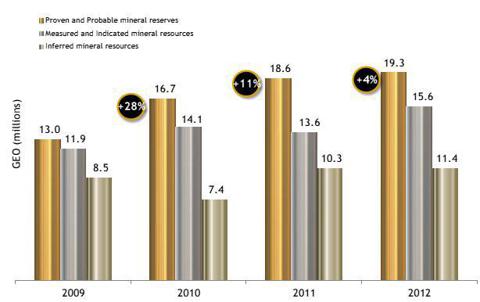 Click to enlarge
Source: 2012 Q3 Results Presentation
Yamana expects to spend between $110 to $115 million on exploration in continuation of the successful 2012 program. According to the company, the 2013 exploration program will keep on to increase mineral reserves and mineral resources with its near-mine and regional exploration programs as well as continuing to explore identified sites and new targets.
Outlook For The Company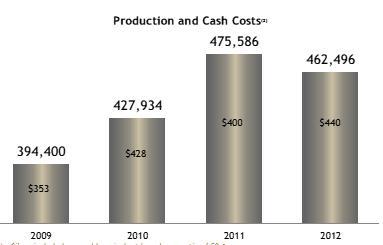 Source: PDAC Toronto Presentation, March 3rd, 2013
With a production cash costs per ounce of $440, Yamana favorably occupies the bottom quartile of industry cost curve, suggesting that its main strategy has brought some success. The strategy plans to expand the current assets and increase production and focus its operations in a specific region to lower the production costs.
Furthermore, the company reported for the Q4 2012 a total of 322,800oz of gold, a record of production for a quarter. As discussed above, 2012 was an annual record as well for the company's production with more than 1.2Moz of gold.
Considering its attributes, Yamana is convinced that massive investments in its expansions and development projects will deliver significant increase in production and will maximize its operating costs. Moreover, rich get richer for Yamana with its mineral resources growing over the last three years. Maintaining low cash costs per ounce will provide the company to increase its profit and ensure a steady growing dividend for years to come.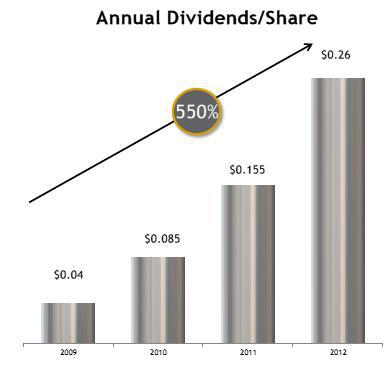 Source: PDAC Toronto Presentation, March 3rd, 2013
Yamana's dividend yield is at 1.82% and it increased considerably by 550% between 2009 and 2012. Still, there is plenty of room for improvement. I believe that the company's strategy will pay off in the near future and new production records will be achieved.
Therefore, investing in Yamana Gold is a good investment for people looking to go long with the stock because of the potential growth of both the dividend and its share value.
Within the next few days, my next article will reveal the gold producer focusing its operations in North and South America, an interesting company which holds the 5th place out of the top six gold producers in the world.
Disclosure: I have no positions in any stocks mentioned, and no plans to initiate any positions within the next 72 hours. I wrote this article myself, and it expresses my own opinions. I am not receiving compensation for it (other than from Seeking Alpha). I have no business relationship with any company whose stock is mentioned in this article.