The purpose of this article is to provide a numerical analysis for BlackBerry (NASDAQ:BBRY) and to see how Revenues and EPS might be affected as more units are shipped. These numbers, such as an increase in advertising expenses and a reduction in older units shipped, reflect some assumptions that were made based on details within the financial statements from the most recent quarter found here.
The forecasting here only looks ahead as far as the earnings report on March 28th, because then the actual numbers will shed light on the true direction of the company.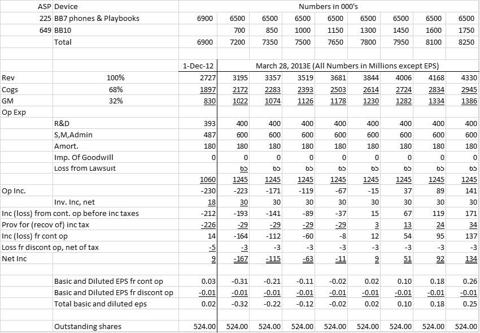 The spreadsheet above is very detailed and you can see how revenues change for every 150K increase in BB10 units sold. Notice that the 65MM settlement charge is included in this analysis. The S,M,Admin expense was also increased by 113MM, just over a 20% increase from last quarter.
The most important numbers from the above chart are below.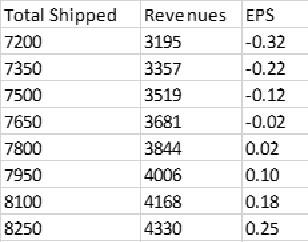 The EPS estimate for BlackBerry's 4Q is -$0.30. Anything less than that would most likely signal BB10 launch as a disaster. The total number shipped includes 6.5MM BB7 and playbook devices with the rest as BB10 devices. Hardware revenues make up 60% of consolidated revenues, which is what is shown in the table to the right.
I've seen many articles stating concerns over the service revenues, but they seem to be over exaggerated. Service revenues were not shut off the moment BB10 was launched, and the new BES especially will become a large stream of revenue in the future as AT&T (NYSE:T) will begin to push the new BES to a large number of existing corporate clients.
Final thoughts on the numbers:
From a number's standpoint, it seems easily feasible for BB to return to profit this year. It may not be this quarter, due to the large expense of launching a new platform including advertising BB as something that is far ahead of their most recent phones before the Z10 and Q10. This expense combined with a one-time 65MM settlement payment to Nokia (NYSE:NOK) will make it tough. The EPS range here is -0.32 to 0.25. But for those of you who are curious, if you reduce S,M,Admin back to pre-launch levels, and remove the 65MM payment, this same analysis would have resulted in a range of -0.05 to 0.51.
From my personal perspective, companies in the US were slow to spend money during the last quarter of 2012. This was beneficial to BB as it cut down on purchases from their competitors as well. Going to interviews and career fairs this semester I have seen BlackBerries at many of the companies and I always make it a point to ask if they'll be upgrading. The answer about 80% of the time is "finally since the Z10 and Q10 are coming."
I have never owned a BlackBerry; however, I'm excited for the Z10 and have my name on the first one that gets delivered to the VZW store where I always buy my phones. As a college student, I find myself after the newest and latest pieces of technology and I can see trends in my peers, and I'm not the only one in any of my classes waiting for the Z10 to arrive in the US. Contrary to the belief that this is solely a corporate person's phone, many consumers in my generation are always looking for the phone that can keep them connected to Facebook, Twitter, Google, multiple email accounts, and anything else that I can possibly find time for.
The Z10 is showing signs that it could very well be that device.
Disclosure: I am long BBRY. I wrote this article myself, and it expresses my own opinions. I am not receiving compensation for it (other than from Seeking Alpha). I have no business relationship with any company whose stock is mentioned in this article.
Additional disclosure: I am long March and April calls.