Are we in the "euphoria" stage of the market right now? This past week, as the S&P 500 ($SPX) nears a record level, financial news pundits were fascinated with the following headline:
Normally, this type of interview would have gathered very little attention, but for some reason the financial news media have made a huge deal of it.
Was last week just a slow news week, or is this "euphoria" another sign of a market top?
In last week's piece, "Who's Selling And Who's Buying As The Dow Trades In Record Territory", I mentioned how the borrowing levels in margin accounts have risen dramatically over the past few months.
This focus on celebrity investors may be an indication that we have left the "thrill" stage and entered "euphoria".
Of course, Mila Kunis is not the first celebrity to get caught up in the euphoria stage of the market:

In 1999, the celebrity headline was that Barbara Streisand had become a day trader.
From People Magazine --
"Barbra Streisand is obsessed with trading stocks on the Internet, reports New York's Daily News. Her daily routine begins at 6:30 a.m., Pacific time, when she sits in front of her computer screen in Malibu as the stock exchanges in New York open for business. She regularly checks the latest Initial Public Offerings and then exchanges stock tips with her equally rich friends on e-mail before placing an order. Not surprisingly, she's in a bad mood when she loses and brims with excitement when she wins."
Magazine Headlines
Celebrities aren't the only ones who get caught up in euphoria.
One of my favorite collections of slides I like to present is the history of magazine covers during economic turning points. Magazine cover stories are typically based on the current social mood of its readers (they want to sell magazines, after all). Ironically, when related to the economy and the stock market, they tend to publish these stories at the peak of the cycle:
1999 - Internet Boom: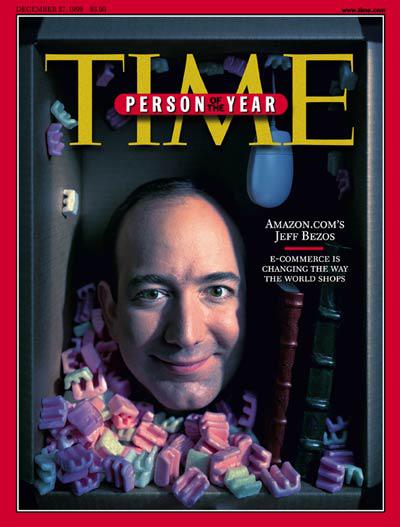 2006 - Housing Bust: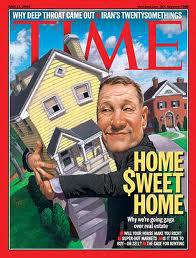 2012 - Warren Buffett, Optimist: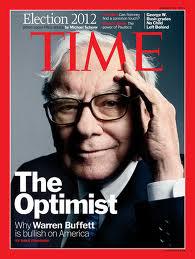 This last cover is quite interesting to me as Warren Buffett, who has been a cheerleader for U.S. stocks for quite some time, is currently selling.
In the latest filing for Buffett's Berkshire Hathaway (NYSE:BRK.A)(NYSE:BRK.B), Buffett has been drastically reducing his exposure to stocks that depend on consumer purchasing habits. Berkshire sold roughly 19 million shares of Johnson & Johnson (NYSE:JNJ), and reduced his overall stake in "consumer product stocks" by 21 percent. Berkshire Hathaway also sold its entire stake in California-based computer parts supplier Intel.
Remember -- the U.S. is a consumer-based economy. If the consumer slows down, so does the U.S. economy.
Those who are interested in social moods and socioeconomics should take a look at some of the recent research pieces published by Robert Prechter (of Elliot Wave Theory fame). Some of the trends he discusses are quite interesting, including the correlation between the economy and the changes in the music we listen to and the movies we watch.
How Long Do We Have?
While magazine covers and social moods make for interesting conversation at cocktail parties, using them as a sole indicator is probably a bit unwise.
As I have mentioned over the past few weeks, the bear case for the market keeps getting stronger and stronger. At some point, the negative data will overcome the euphoria and we will see increased volatility and a shift out of equities.
A great (and simple) tool to determine when this happens is the infamous trend-line.
Markets tend to follow trends: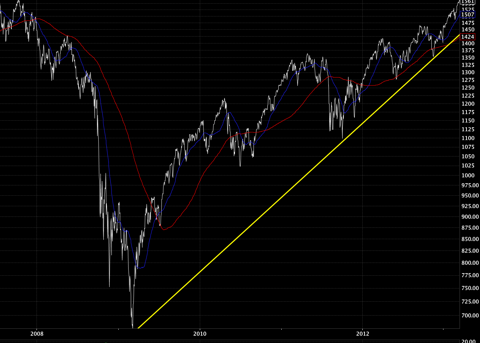 (Click to enlarge)
These trendlines are used as entry and exit points by numerous traders, and even more so now as electronic trading volume increases. (System programmers of institutional traders use trends when creating buy/sell programs.)
Since 2008, the S&P 500 index has been trending upward in a textbook trend. A break in this trend is an indication that buyers have lost faith in the market (and institutional traders have removed their buy programs).
2007 Market Top S&P 500 Index:
2000 Market Top S&P 500 Index: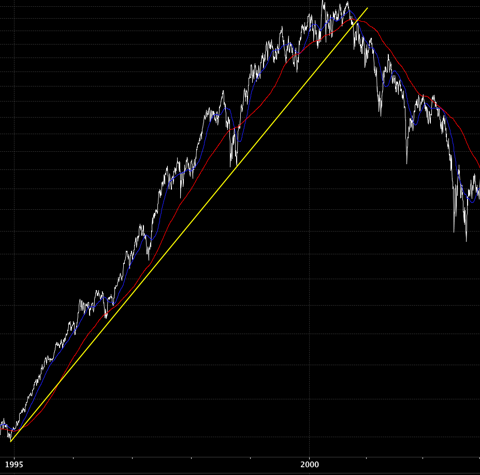 (Click to enlarge)
Investors would be wise to watch the current trend line, as past breaks have been an early indicator of major market declines.
ARTAIS Update
As market watchers are still waiting to see if the S&P can break into record territory, our ARTAIS model is still allocated conservatively. Over the last few weeks the stock market has gyrated sideways without much movement upward.
However, I continue to see major equity outflows from institutional investors, which is a big red flag. Additionally, 30-year interest rates continue their stealth rally, which is a concern for the housing market.
Disclosure: I have no positions in any stocks mentioned, and no plans to initiate any positions within the next 72 hours. I wrote this article myself, and it expresses my own opinions. I am not receiving compensation for it. I have no business relationship with any company whose stock is mentioned in this article.