In the past few years, there have been some tremendous buying opportunities in municipal bonds, and even more so in closed-end funds or "CEF." The recent plunge in this sector appears overdone in recent days and that has created what is (in hindsight) likely to be another great buying opportunity. The fears that seem to have caused some panic selling in this sector include the fact that the stock market has been in rally mode. For example, the S&P 500 Index (NYSEARCA:SPY) is up nearly 10% in just the first months of 2013. The chart below shows how far this index has come and if anything, I would be selling into this strength as it is now overbought. The other chart shows just how oversold one muni bond fund is today and it has moved in the exact opposite direction. News about a potential bailout of Cyprus over the weekend appears to have triggered fresh fears about Europe and that could bring a much needed pause or small correction for the markets, and it may also make investors think twice before dumping bonds at any price.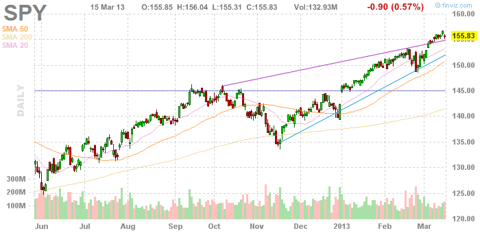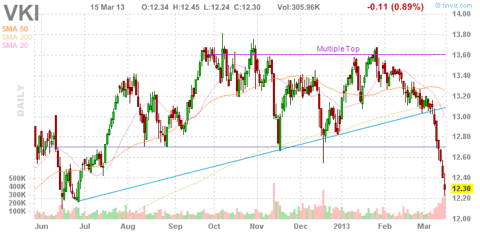 This major rally has fueled recent talk about a "great rotation" out of bonds and into stocks. When investors can achieve gains of around 10% in less than three months this year, who needs bonds??? However, investors who expect the stock market to keep rolling higher after gains of about 15% in 2012, topped off with gains of around 10% this year are likely to be disappointed. Plus, it makes little sense to follow investors who are only now getting into stocks near the historical top.
The other factor that seems to have put pressure on the municipal bond sector is the concern that the U.S. Government might change or eliminate the tax-free status of these bonds. This comes up since politicians are looking for ways to increase tax revenues, but even though it is discussed, it seems far from likely. Analysts at Morgan Stanley (NYSE:MS) only see about a 30% chance for a change in the tax status in muni bonds. Those are odds I will take almost any day, especially with the deals available in muni bond closed-end funds. Changing the tax-free status of these bonds would only add challenges and raise rates for many local and state municipalities and that would increased the burden on the Federal Government. That's why a change seems highly unlikely. While the recent plunge in muni closed-end funds has created many buying opportunities, I am going to discuss just one of my favorites below:
Invesco Van Kampen Advantage Municipal Income Trust (NYSEMKT:VKI) is a closed-end bond fund that focuses on providing high yields for shareholders while investing in a variety of muni bonds.
This fund pays just over 7 cents per share every month and this provides a yield of nearly 7%. When factoring the tax benefits, this is a taxable equivalent yield of roughly 10.6%. The average coupon is 5.67% and the average maturity (as of 1/31/2013) is 16.65 years. While there is some duration risk when buying longer-term bonds, when you are getting paid about 10.6% on a taxable equivalent basis, this risk seems at least partially mitigated. Yields of this level certainly have beaten the returns achieved by the stock market for more than the past decade and that is why the duration risk might be overblown.
Finally, the reason why astute investors can take advantage of the buying opportunities in closed-end funds is because of the lack of liquidity at times of market stress or panic. Because many closed-end funds do not have significant levels of trading volumes, the share prices can see exaggerated moves either up or down. Furthermore, the net asset value can trade well above or below the share price. In the case of the fund mentioned above, the net asset value or "NAV" is currently around $12.81, which means the current share price is about 4% below the NAV. That discount just adds to the strong yield and potential upside this investment provides. Investors who buy at times of market stress or dislocation can buy this fund at a discount, then collect a generous tax-free yield and possibly wait until the fund trades at or above NAV, which it has historically done. When the stock market experiences a pullback, investors could be once again happy to earn taxable equivalent yields of over 10% in muni bond funds.
Disclosure: I am long VKI. I wrote this article myself, and it expresses my own opinions. I am not receiving compensation for it (other than from Seeking Alpha). I have no business relationship with any company whose stock is mentioned in this article.