Similar to Wal-Mart (NYSE:WMT) being the largest retailer in the USA, Tesco Plc (OTCPK:TSCDY) is the largest grocery and general merchandising retail chain in the UK, based on both sales and profit measures.
Tesco together with Asda, Morrisons and Sainsbury's ('Britain's Big 4') have a 75% share of the grocery market in the UK as of November, 2008 (Source: Wikipedia). In the UK, there are 2,184 Tesco stores employing 280,000 workers with a market share of 30.3%. In 2008, Tesco also became the fourth largest retailer in the world. Tesco operates in other countries such as France, Thailand, Turkey, Ireland, Hungary, the USA, etc. In the US, it runs the "Fresh&Easy" stores on the West Coast.
Tesco's ADR trades on the OTC markets. Last year Tesco's total revenue was $72B. The retail sector has one of the lowest profit margins when compared to other industries. However Tesco has a profit margin of 4.44% which is relatively higher than other grocery retailers such as Ahold (AHONY.PK) of the Netherlands (2.35%) and Kroger (NYSE:KR) in the USA, whose margin is just 1.61%.
Tesco's current yield is 2.38% and the annual dividend growth is 12%. Total revenues has also increased consistently since 2004 at a rate of 13% annually. Tesco was one of the picks mentioned in a recent MarketWatch article titled Ten investment ideas that will make you money in 2009.
One of the biggest positive factors favoringTesco is its concentration on international growth, especially in China and other Asian countries. The UK accounts for just 46% of total sales as shown in the chart below:
click to enlarge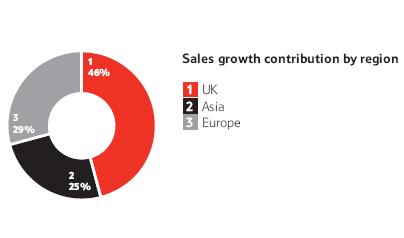 Sales growth in 2008 were as follows:
Asia - 27.2%
Europe - 23.9%
UK - 6.7%
Chart - International Sales and Number of Stores: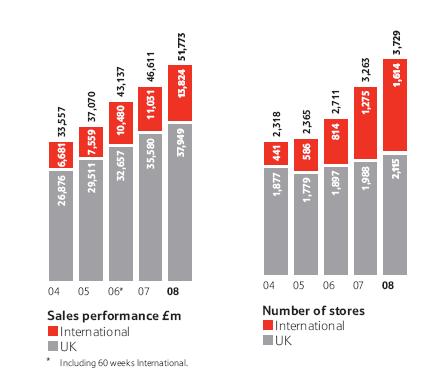 Source: Tesco PLC Annual Report and Financial Statements 2008
As a top company in a defensive sector, Tesco is one of the few attractive companies based largely in the UK economy, which continues to deteriorate. For investors who are looking for a strong multinational company in these recessionary times, Tesco is certainly one option to consider.
It should be noted that Asda, the 2nd largest retailer in the UK, is owned by Wal-Mart.
Disclosure: None