There is a storm brewing in Washington D.C. for the Money Center Banks [MCB]. We focus here on the potential impacts on the most publicized management scrutiny since the collapse of Lehman Brothers. We chose three banks with known management issues to see how their shares have fared and what further affects the storm may have.
Bankersaccuity.com World Ranking # 12.
JPMorgan Chase Bank National Association, New York USA
The Ides of March seem to have brought new clouds to the JPMorgan (NYSE:JPM) "whale trades" saga. On Friday, March 15 2013, Senator Carl Levin held hearings to investigate the banks large $6.2 billion trading loss. Yet the stock price is close to its 52 week high of $51, although it did show weakness during certain parts of the hearing. U.K.'s "The Guardian" did a colorful job covering the ordeal for JPM. Here are a few snippets:
"It was a tour de force for Senator Carl Levin of Michigan. For six hours he grilled bank executives…

$6.2bn in losses on one trading desk with seemingly no internal or external oversight….

it emerged that JPMorgan chief Jamie Dimon had a hands-on role in how trading information was reported to the government and what information was reported….

to keep its losses secret and maintain calm with investors….

Levin made the case for the charges he brought in his opening statement: "A massive derivatives portfolio riddled with risk. A runaway train of derivatives trading blowing through risk limits. Hidden losses. Bank executives downplaying the bad bets. Regulators who failed to act."
We think these snippets give you the gist of what was happening in Senator Levin's forum on Friday. Let's take a look at the 5 day stock chart: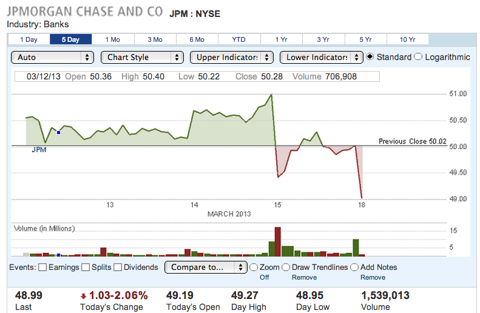 (Click to enlarge)
This chart shows that the Washington movement must not be taken lightly. If the calls for breaking up the Money Center banks and new focus on "Too Big to Fail" [TBTF] gets traction, the stock could undergo pressure as it did in late May-early June 2012 when the "whale" saga was in its prime.
Let's take a look at the short interest charts: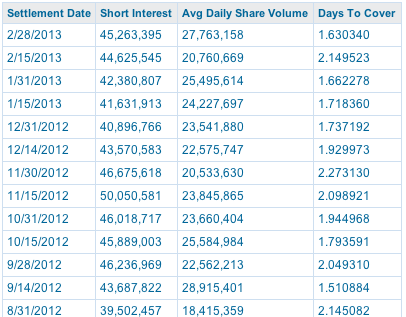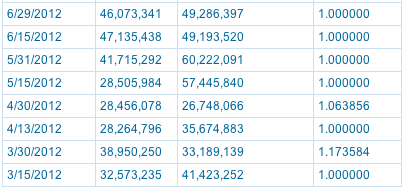 We checked if there was any trouble to borrow JPM from the short desks and it was readily available with no negative rebate.
We believe most of the downward pressure on the stock came from short selling as seen from the above chart. As a percentage of its float of 3.827 billion shares, JPM has a relatively small short interest to shares outstanding ratio. This could change rapidly if CEO Dimon gets into the cross hairs of Congress any further. Wall Street and DC are a fickle bunch. For now, Wall Street loves Jamie.
Bankersaccuity.com World Ranking #21.
HSBC Bank PLC, London U.K.
In December 2012, a money laundering case with the U.S. government resulted in HSBC (HBC) paying a $1.92 billion fine in a deferred prosecution agreement. This record setting fine for banking criminal activity has cast international banking oversight back into the U.S. spotlight. Lets take a look at the 30 day stock chart to incorporate the hearings in Washington described below:
The stock is clearly close to its 52 week high of $57.37. But it does show traders are nervous when Senator Jeff Merkley of Oregon promptly commenced a Congressional grilling of Ben Bernanke on"TBTF" and coined the new "Too Big To Jail" [TBTJ] doctrine. Here is an excerpt of dialogue between Merkley and Fed Chairman Ben Bernanke from February 26th's Semiannual Monetary Policy Report to the Congress:
"Chairman Bernanke:"...Too-Big-to-Fail [TBTF]: we also agree that that's something that really needs to be addressed and that many of the parts of Dodd-Frank are intended to address that and we're pushing those as hard as we can.

Senator Merkley: "Thank you and I think it does certainly say to us we're a long way from getting there [from eliminating TBTF-Bernanke had just ducked Merkley's interrogation regarding large banks' regal status as "Too-Big-to-Go-To-Jail-for-Their-Crimes" -FJS]if we're afraid of any form of shakiness of these large banks. .....There's another aspect too.... It continues to tell folks it's safer to invest in large banks rather than community banks. The community banks would have been shut down or at least investigated thoroughly.... Is this sort of bias counter-productive to the overall health of our economy?

Chairman Bernanke: Absolutely. It means the playing field is not level. It means there's not market discipline so there's too much risk-taking. ...., So, getting rid of Too-Big-to-Fail is, I think, an incredibly important objective and we're working in that direction."
On February 7, 2013 Senator Merkley announced that he had been awarded the chairmanship of a subcommittee of the Senate Banking Committee, the Subcommittee on Economic Policy. What sparked Senator Merkley's disdain with Chairman Bernanke? In December 2012, a money laundering case with the U.S. government resulted in HSBC paying a $1.92 billion fine in a deferred prosecution agreement. This record setting fine for banking criminal activity has cast international banking oversight back into the U.S. spotlight. Here is an excerpt from Reuters about the HSBC saga:
"In a deferred prosecution agreement with the Justice Department,the bank acknowledged it failed to maintain an effective program against money laundering and failed to conduct basic due diligence on some of its account holders."
It seems that the issue of TBTF just won't go away. This informal doctrine has been used in times of economic turmoil to thwart public panic and prevent modern day "runs" on financial institutions. HSBC has come under heavy pressure from Democratic Senator Jeff Merkley of Oregon for leniency beyond it's $1.92 billion fine for money laundering violations. The senator coined the phrase describing the leniency as TBTJ in a letter to Attorney General Eric Holder.
This shows that the stock is reacting to the settlement of the money laundering saga that has plagued HBC for the last year and a half. There were no criminal charges on any individual HSBC employees and that is another positive for the bank in its "let's get on with business" mindset. However, with the renewed TBTF movement in Washington, the stock along with JPM seem to be experiencing some volatility according to the charts above.
As far as HBC short interest, there is no information on the ADRs herein the U.S. From the HSBC website:
"It (NYSE:HSBC) has a dual primary listing in the UK and Hong Kong SAR,and shares may be held on the UK register or the Hong Kong register. The Hong Kong register only includes members who are resident in the Hong Kong SAR, and they may hold shares on the Hong Kong overseas branch register."
The European MCB have their shares actively traded on the LSE, which does not provide short information as openly as we do here in the U.S.
To be consistent, we will show what was available on the Nasdaq site for the HBC ADR shares: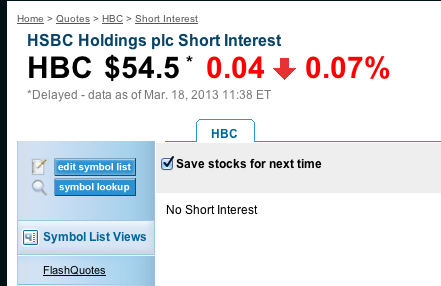 We also checked Bloomberg and they had no further information on HSBC. We encourage investors to check with their brokers to get more information on the short position on HSBC.
We checked if there was any trouble to borrow HBC from the short desks and it was readily available with no negative rebate.
Bankersaccuity.com World Ranking #14.
Banco Santander SA, Boadilla del Monte SPAIN
Last but not least, the bank we think deserves the most attention here is the one we internally call "Spanish Fly". We think you'll see why.
Banco Santander (NYSE:SAN) last week sold a $393 million auto loan portfolio at a 96% discount or $15.72 million amid dropping prices for distressed loans in Spain and Europe. Now, we have heard about banks taking 50,60 and maybe even 70% discounts on distressed assets. But a 96% discount, this may be a first. This is not a small bank, both by asset size and by footprint. With Spain's troubled economy and some saying the worst there may be over, we thought it would be a nice Money Center bank to analyze. The stock chart over the last year looks strong:
Like the other two banks, Santander also has many periods of volatility as shown above. What we assumed at first is the correlation of this volatility to the Spanish economy. However, what has emerged is SAN's exposure to TBTF and TBTJ.
Something known but not well covered here in the US about the CEO of Santander is that in March 2011, the U.K.'s telegraph.co.uk reported:
"Alfredo Saenz, the chief executive of Spain's top lender Santander, has been barred from working as a banker for three months by the country's Supreme Court due to an earlier conviction for making false accusations."

Mr Alfredo Sáenz Abad
Second vice-chairman and chief executive officer
In November 2011, the U.K.'s Financial Times reported:
"Alfredo Sáenz, chief executive of Santander, Spain's biggest bank by assets, was on Friday granted an unusual pardon by the outgoing Spanish government in a 17-year-old criminal case, but will still have to pay a fine of thousands of euros.
Mr Sáenz, Santander's number two under executive chairman Emilio Botín, had requested a pardon in March after being sentenced to jail and banned from banking for three months by the Supreme Court following a long legal battle over a bad loan.…...
The Spanish justice ministry on Friday described the cabinet decision, affecting Mr Sáenz and two other defendants, as a"partial pardon" granted in conformity with the law. The jail sentence and professional ban were scrapped but he must now pay the maximum fine. In March, his fine had been cut to €400."
In October 2012, Euroinvestor.com reported:
"The Criminal Hall of Spain's Supreme Court has ordered that the Bank of Spain to disqualify Santander's current chief executive officer, Alfredo Saenz, from banking, reports El Mundo in its Tuesday Internet edition, citing a court ruling. .... Late last year,Spain's previous administration had granted Saenz a partial pardon, commuting a three-month prison sentence and a temporary ban from working as a banker to a fine instead. But the Supreme Court ruling says that in no case can a pardon erase the Spanish banking regulation that requires bankers to maintain their "honorability," a quality that is lost when there are criminal records, like in Saenz's case, the paper adds.
Here is a March 4th 2013 update which shows the criminal charges are still in place :
"(Reuters) - The Bank of Spain said on Monday that it has formally started proceedings to decide whether the chief executive of Banco Santander (SAN.MC), Alfredo Saenz, will be barred from banking.

Spain's Supreme Court last month partially annulled a 2011pardon of a conviction held by Saenz, reviving a long-running case and creating a headache for the central bank, which now has to decide his fate as CEO of the euro zone's biggest bank.

Although Spanish rules on banking ethics would in most cases bar a person with a criminal record, the Bank of Spain said that it could not prejudge the outcome of the proceedings."
Because there was only a partial pardon, the criminal charges are technically on record for Sáenz. And the partial pardon was partially annulled in February 2013. Today, Sáenz has a criminal record. Why does Santander still qualify for FDIC insurance in the U.S. with him at the helm? Would Santander hire him today with this on his resume? Moreover, does Santander technically qualify for the loans it has outstanding from the Federal Reserve? Did the controversial "too big to fail" doctrine sweep this appalling conduct by a banking executive under the rug here in the U.S.? These are all questions that could have an alarmingly negative affect on Santander if some members of Congress get their way.
A January article in U.K.'s Financial Times highlights this point about Santander:
"Santander is facing a perfect storm. Its domestic market lies in tatters -annual results next week will show the extent of the damage. Questions are increasingly being raised over the bank's financial strength. And the chairman himself is now 13 years beyond normal retirement age with out a clearly communicated succession plan. Trouble is looming, which ever way you look at it, for Botín and for Spain's biggest bank."
Even more alarming is Sáenz's brush with the law is not the first time Santander's leadership has been accused of wrongdoing. Here's a clip from Santander's wikipedia page:
"Because of the large payouts, Mr. Botín was brought to trial on criminal charges of "misappropriation of funds" (using company money the wrong way) and "irresponsible management." In April2005 he was cleared of all charges. The decision said the retirement payments made were legal, "made as compensation for the services provided to the bank."

In 2005, Mr. Botín was accused of insider trading (trading stock based on knowledge the general public did not have). The anti-corruption division of the Spanish public prosecutor's office cleared Mr. Botín of all charges."

Mr Emilio Botín-Sanz de Sautuola y García de los Ríos

Chairman And Executive Director
Short Interest
As with the HBC shares, Santander is a foreign stock traded on the following exchanges and symbols:
Traded as

BMAD: SAN,

LSE: BNC,

NYSE: SAN,

Euronext: SANT,
SAN is traded as an ADR and there is limited information on Nasdaq on the short interest: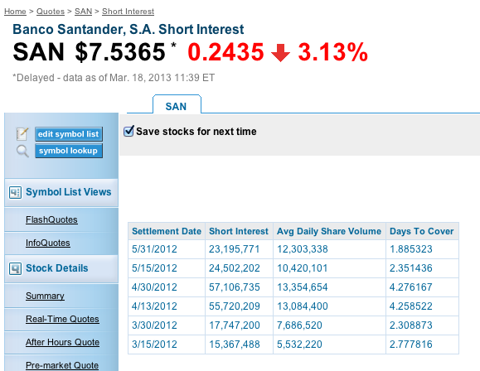 This certainly looks dated. We checked Bloomberg and got the following:
We suggest investors do their own checking on the short interest of Santander.
We checked if there was any trouble to borrow SAN from the short desks and it was readily available with no negative rebate.
OUR CONCLUSION
While Jamie Dimon of JPM and the folks at HSBC seem to have weathered the storm and have many of their gnawing problems at bay, it seems that there may be some major restructuring needed inside Banco Santander and with Cyprus flaring up new issues in the European sector this morning, we think SAN may make a good short at these levels as a hedge against more turmoil in the eurozone and against any long position in JPM and HBC.
Disclosure: I have no positions in any stocks mentioned, and no plans to initiate any positions within the next 72 hours. I wrote this article myself, and it expresses my own opinions. I am not receiving compensation for it. I have no business relationship with any company whose stock is mentioned in this article. May go short SAN.