By: Brendan Gilmartin, VP Content And Research
Overview
Adobe Systems (ADBE) is scheduled to report 1Q 2013 earnings after the close of trading on Tuesday, March 19. The results are typically available between 4:00 and 4:05 p.m. Eastern and will follow with a conference call at 5:00 p.m. Adobe's latest earnings release will garner close scrutiny given the recent appreciation in the share price to the highest level since August 2008. The recent advance comes as the provider of PDF-reader and photo-editing software shifts its strategy toward cloud computing with enhancements to its "Creative Cloud" suite of products and push into Digital Media and Digital Marketing.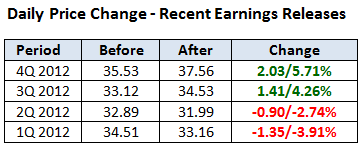 Outliers & Strategy
Key Measures:
Non-GAAP EPS: Adobe is expected to report 1Q 2013 Non-GAAP EPS of $0.31. The current Street estimate is toward the low end of the guidance range of $0.29 to $0.38. The company indicated it expects 1Q earnings in the range of $0.26 to $0.32. (Source: Yahoo! Finance).
Revenues: Adobe is seen posting revenues of $986 mln, down 5.7% from the year ago period, due in part to currency headwinds. The company previously indicated it anticipates revenue in the range of $950 mln to $1.0 bln.
Adjusted EPS Guidance (2Q 2013): Keep a close watch on the outlook for the 2Q period. The current consensus is $0.34.
Revenues Guidance (2Q 2013): The estimate for revenues in the 2Q 2013 period is $1.02 bln.
Based on the April options, the market is pricing in a roughly 6% move in the share price off earnings. Last quarter, Adobe shares rallied nearly 6% after 4Q earnings and record revenue handily topped estimates.
Recent News
03/11: Bank of America/Merrill Lynch downgraded Adobe from Buy to Neutral according to a post on Benzinga.com and cut the price target to $45.00. The firm cited the recent appreciation in the share price relative to its price target and the lack of clarity on earnings for 2014-2015.
03/08: Deutsche Bank raised its price target on Adobe from $45.00 to $47.00 and reiterated a Buy rating on the shares, according to a report on Benzinga.com. The positive view was based on the positive developments at the Adobe Marketing Summit, efforts to streamline products, and projected growth in the Digital Marketing suite.
03/06: Adobe announced a series of key product updates at the Adobe Summit, including the availability of a new Digital Asset Management (DAM) offering within its industry leading Adobe® Experience Manager, part of Adobe Marketing Cloud.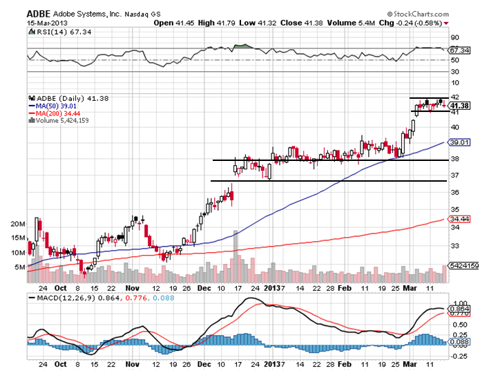 Techincal Review
Adobe shares are at multi-year highs ahead of 1Q 2013 earnings, following a surge of nearly 30% since mid-November. In recent weeks, the shares have meandered in a narrow range between $41.00 and $42.00, with the Relative Strength Index (RSI) sitting on the overbought 70-level - indications the shares may be due for a near-term pullback. Should earnings prove disappointing, look for support near the 50-day SMA close to $39.00, with further downside risk to $38.00. There is no near-term resistance, given the jump in the shares toward multi-year highs. (Chart courtesy of StockCharts.com)
Summary
Adobe shares recently broke out to the highest level in 5 ½ years, as the company successfully transitions from a purely desktop software play into a cloud-based solutions provider with an enhanced subscription model. Adobe is also developing more products and updating existing ones to cater to the mobile market, with Flash and other applications becoming more common in smartphones and tablets. Against this positive backdrop, Adobe is seen posting stellar results and upbeat guidance for 2Q 2013. Anything less would be seen as a disappointment.
Disclaimer: By using this report, you acknowledge that Selerity, Inc. is in no way liable for losses or gains arising out of commentary, analysis, and or data in this report. Your investment decisions and recommendations are made entirely at your discretion. Selerity does not own securities in companies that they write about, is not an investment adviser, and the content contained herein is not an endorsement to buy or sell any securities. No content published as part of this report constitutes a recommendation that any particular investment, security, portfolio of securities, transaction or investment strategy is suitable for any specific person.
Disclosure: I have no positions in any stocks mentioned, and no plans to initiate any positions within the next 72 hours. I wrote this article myself, and it expresses my own opinions. I am not receiving compensation for it (other than from Seeking Alpha). I have no business relationship with any company whose stock is mentioned in this article.