By: Brendan Gilmartin, VP Content And Research
Overview
FedEx (NYSE:FDX) is scheduled to report 3Q 2013 earnings before the bell on Wednesday, March 20. The results are typically disseminated at 7:30 a.m. EST and will follow with a conference call at 8:30 a.m. Profits from FedEx are widely seen as a proxy for economic growth and tend to heavily influence the broader market gauges, including the equity index futures. While the company has already telegraphed its outlook for the 2Q period, the guidance for the balance of the full year could impact both the underlying shares and the broader market.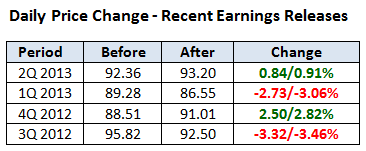 Outliers And Strategy
Earnings Per Share: FedEx announced back in December that earnings for the 3Q period are expected to be in the range of $1.25 to $1.45 per share. The Street estimate is toward the high end of that range at $1.39. (Source: Yahoo Finance).
Adjusted/Earnings Per Share Guidance (4Q 2013): Note that FedEx tends to offer fairly conservative guidance. The current estimate is $2.12 for 4Q 2013.
Adjusted/Earnings Per Share Guidance (FY 2013): Keep a close eye on earnings guidance for 2013. Back in December, FedEx said it projects earnings to be $6.20 to $6.60 per share for fiscal 2013. The current estimate is $6.35.
Recent News
03/06: Oppenheimer initiated coverage on FedEx with an Outperform rating and a $124 price target, according to Benzinga.com. The firm cited several catalysts for the positive outlook, including revenue growth, margin expansion, an improving global economic backdrop, and the benefits of an extensive structuring effort.
02/15: FedEx said it offered voluntary cash buyouts to eligible U.S.-based employees. The company expects the pretax cost of the program to range from approximately $550 million to $650 million in pretax cash expenditures.
02/08: According to a post on Benzinga.com, Dahlman Rose raised its price target on FedEx from $98.00 to $117.00, based on strong earnings growth and restructuring at the Express division. The firm also expects FedEx to return higher returns to shareholders and reiterated a Buy rating on the stock.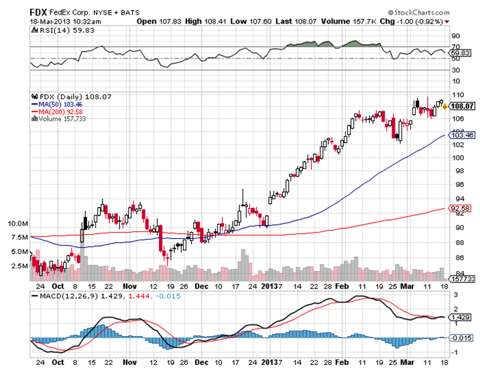 Technical Review
FedEx shares recently touched a 52-week high of $109.66 (March 11, 2013) and is up more than 25% since mid-November. In recent weeks, however, the shares have meandered in a narrow range - an indication that the recent advance may be somewhat exhausted. Should results fail to meet the Street's lofty expectations, look for initial support at $106.00, with potential downside risk to $102.00 if results fall shy of forecasts. Conversely, the aforementioned high of $109.66 could offer soft resistance. (Chart courtesy of StockCharts.com)
Summary
FedEx shares recently hit the highest level since 2007 amid evidence of an improving economic backdrop in North America and signs global markets are strengthening. The market is also betting that the restructuring efforts announced last October remains on track and FedEx could ramp up efforts to return money to shareholders over the course of the year. At 13.8x forward earnings, FedEx is also trading at a steep discount to rival United Parcel Service (NYSE:UPS) at 21.2x, while recent price hikes are seen bolstering margins heading into 2013. As usual, much of the focus will center on the outlook for the 3Q period and balance of fiscal 2013.
DISCLAIMER: By using this report, you acknowledge that Selerity, Inc. is in no way liable for losses or gains arising out of commentary, analysis and or data in this report. Your investment decisions and recommendations are made entirely at your discretion. Selerity does not own securities in companies that they write about, is not an investment adviser, and the content contained herein is not an endorsement to buy or sell any securities. No content published as part of this report constitutes a recommendation that any particular investment, security, portfolio of securities, transaction or investment strategy is suitable for any specific person.
Disclosure: I have no positions in any stocks mentioned, and no plans to initiate any positions within the next 72 hours. I wrote this article myself, and it expresses my own opinions. I am not receiving compensation for it (other than from Seeking Alpha). I have no business relationship with any company whose stock is mentioned in this article.