By John Spence & Tom Lydon
The iShares FTSE China 25 (NYSEARCA:FXI) is down 12% from its 2013 high even as the Dow Jones Industrial Average sets new records, illustrating the divergence between emerging and developed markets do far this year.
Now, JP Morgan (NYSE:JPM) has downgraded China to underweight and recommended bearish bets against the country's largest banks.
"Growth momentum is now slowing with policy response constrained; a nasty combination," Adrian Mowat, JP Morgan's chief Asia and emerging-market strategist, wrote in a note Monday, Bloomberg News reports.
FXI, the Chinese ETF, has dropped below its 200-day exponential moving average.
Earlier this month, the government unveiled new measures designed to cool property prices.
Guggenheim China Real Estate (NYSEARCA:TAO) is off about 13% from its 52-week high recorded in January.
"Investors are concerned about the possibility of slowing growth and monetary tightening," Wu Kan, a fund manager at Dazhong Insurance Co., told Bloomberg.
iShares China FTSE China 25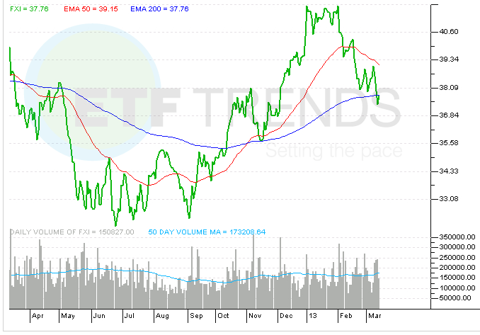 Disclosure: I have no positions in any stocks mentioned, and no plans to initiate any positions within the next 72 hours. I wrote this article myself, and it expresses my own opinions. I am not receiving compensation for it. I have no business relationship with any company whose stock is mentioned in this article.