Summary: Closed end funds (CEF) further advanced the week ending 3/27/09. A pattern of price movement played out that emphasized investors' willingness to assume greater risk in beaten down CEF fund types. Average price appreciation of 13 CEF fund types was 5.8% while the unweighted average for all 647 CEFs was 4.9%. (CEFs in the aggregate are up 4.1% YTD; Distribution Yield is 11.2%; Discount to NAV narrowed to 9.3%). Convertible Bond and Preferred fund types led last week: up 10.2% and 9.0%, respectively. YTD, CEF investors' demonstrated confidence in the CEF market segment as average prices exceeded NAV by 4.6%.
click to enlarge image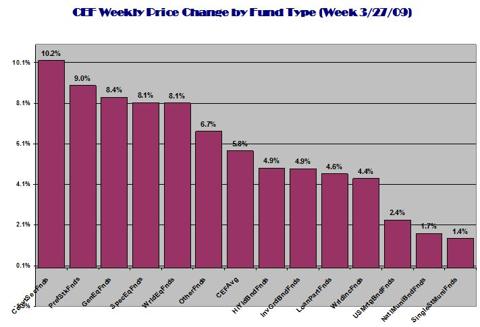 For sake of weekly comparison, SPDR S&P 500 (SPY) was up 6.4%. Vanguard Total Bond (BND) and iShares National Muni ETF (MUB)—for the third week in a row—was essentially flat, up 0.04% and down 0.3%, respectively. Gold (GLD) stepped down an additional 3.1%, while oil, as measure by the US Oil ETF (USO), remained unchanged. Commercial real estate, as measured by Vanguard REIT ETF (VNQ), was up 4.4%.
RFR F.I.R.E Fund (RFR), a former penny stock, was one of the biggest CEF gainers for the week, up 28.8%. One of this week's bigger losers was Nuveen Virginia Div Adv Muni (NGB), down 7.8%. The Chile Fund (CH), previously mentioned, should be a beneficiary of rising commodity prices (copper) in an economic recovery; it was up 6.2%. This compared with Material Select Sector SPDR (XLB) up 8.3% for the week.