United States Steel Corp. (NYSE:X) is one of the world's largest makers of steel sheets and tubular products. It is based in Pittsburgh, Penn., but also has operations in the United States, Canada and Europe, which gives it a total annual raw steel making capability of 29.3 million net tons. Before the 2008 financial crisis, this stock was trading near the $200 per share level. Right now the stock trades for about a tenth of that level and it appears to be a solid short- and longer-term buying opportunity.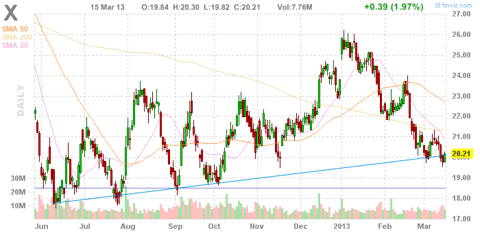 Click to enlarge
As the chart above shows, this stock was going for about $26 per share earlier this year, but now is trading at the lower end of the recent trading range. This stock bottomed out near $17 per share in June of last year, but as the light blue trend line shows, it is still in an uptrend. For the past few months, it has paid to be a buyer of this stock when it has declined to around the key support level shown by the light blue trendline and that is why I consider this stock to be in the "buy zone" now.
A recent article states that U.S. Steel has been raising prices by about $50 per ton. It appears that steel prices bottomed out late last year and the uptrend could have room to continue. Signs of a rebound in the U.S. economy and the housing market are building and that should lead to increased demand for steel. Furthermore, the shale drilling revolution is making the United States abundant in oil and natural gas. This could fuel a manufacturing boom in the next few years as cheap energy can make U. S. industry more competitive in the future. Plus, U.S. Steel will directly benefit from lower energy costs in the steel manufacturing process.
U.S. Steel has a solid balance sheet, with about $570 million in cash and around $3.9 billion in debt. Plus, the stock appears undervalued as it now trades well below book value of $24.10 per share. Analysts expect the company to earn 95 cents in 2013, but see earnings more than doubling to $2.25 per share in 2014. This company posted much higher earnings before 2008, and in a strong economic environment, earnings could be much higher. Investors who patiently wait for the next global economic boom might ride this stock much higher. Analysts at Argus have a buy rating and set a $31 price target. This would give investors a gain of roughly 50% from current levels. Standpoint Research has a buy rating and a $34 price target. With these shares at just $20, and at a key support level, it appears that the downside is limited and the upside of 50% warrants buying the stock now.
Here are some key points for X:
Current share price: $20.21
The 52-week range is $17.67 to $32.05
Earnings estimates for 2013: 95 cents per share
Earnings estimates for 2014: $2.25 per share
Annual dividend: 20 cents per share, which yields 1%
Data sourced from Yahoo Finance. No guarantees or representations are made.
Disclosure: I have no positions in any stocks mentioned, and no plans to initiate any positions within the next 72 hours. I wrote this article myself, and it expresses my own opinions. I am not receiving compensation for it (other than from Seeking Alpha). I have no business relationship with any company whose stock is mentioned in this article.
Disclosure: Hawkinvest is not a registered investment advisor and does not provide specific investment advice. The information is for informational purposes only. You should always consult a financial advisor.