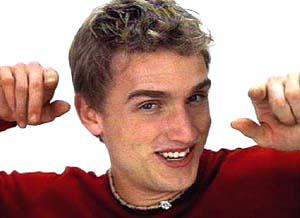 (At Least Not At These Prices)
Despite differences in scale and profile, two recently announced deals, Dell Inc. (NASDAQ:DELL) and AutoInfo, Inc. (OTC:AUTO), have something in common; they are both bold attempts to transfer value from current shareholders to management-led buyout groups. These are not takeunders in the traditional sense, in that they are not priced at a discount to the market price; however, they are priced well below the target's standalone intrinsic value. Both offers require significant bumps in price in order to avoid massive, voluntary wealth transfers away from current shareholders.
The leveraged buyout of DELL was priced at $13.65, which is substantially less than what DELL is worth. Potential bidders such as Blackstone Group LP (NYSE:BX), Hewlett-Packard Co. (NYSE:HPQ) and Lenovo Group Ltd. were not given an opportunity to bid on DELL at the same time as the buyout group. Concerns of shareholders such as Southeastern Asset Management Inc., T. Rowe Price Group Inc., and Carl Icahn were ignored. The buyout group believes that they can make a multiple of their money by simply leveraging up DELL's balance sheet. But of course DELL could do that on behalf of their own shareholders. They do not need to transfer the equity in order to enrich the equity holders.
As Pzenza Investment Management's CIO Richard Pzenza said,
"We might think about supporting an LBO at $20, but at $15, we think an LBO would amount to insiders trying to steal the company because of current market conditions…There's no logic for this deal other than greed. If Michael Dell wants a bigger ownership stake, let Dell make a tender offer for the stock. Why does he have to force out everyone else?"
Carl Icahn favors a $9 special dividend. He estimates the remaining equity worth about $13.81 for a total value to shareholders of $22.81. It stands to reason that if this cash is available for the go-private buyout, it is also available for current shareholders.
Southeastern Asset Management took a different approach to valuing DELL. They added up $3.64 of net cash per share, $1.72 of book value for Dell Financial Services, and another $7.58 of value per share in recent acquisitions. These three items are worth just under $13 before turning to other businesses within DELL. The server business is worth approximately another $4.44. Support and deployment activity is worth another $3.89 per share. The PC business is worth about $2.78. Software and peripherals are worth about $1.67. Capitalized expenses reduce the value by about $1 and subtracting the value embedded in the segments from DFS reduces the value by another $1. The total value per share equals around $23.72. The PC business get a lot of grief, but even if you ascribed $0 of value to that controversial business (which I consider to be incorrect), there is still about $21 of value.
If you take the plan developed by Greenlight Capital Re, Ltd.'s (NASDAQ:GLRE) David Einhorn for issuing "iPrefs" for Apple Inc. (NASDAQ:AAPL) and apply it to DELL, approximately $12 of value would be released, bringing DELL's price per share to somewhere around $26.77. In fact, the opportunistic use of preferreds would add more value to DELL than it would to AAPL.
At the end of the day, the logical buyer would include Michael Dell. So if he is ultimately going to be the buyer, what price could get a deal done? A price above $20 would reflect DELL's intrinsic value and it would be easy for the buyout group to fund such an offer. At $13.65, the current deal is worth only about 5x EV/EBITDA which is beneath the low end of the range for comparable transactions.
Reasonable people can - of course - disagree regarding the precise value of DELL; however, the current offer is beneath DELL's standalone value as a going concern. What would be acceptable? The buyout group will have to bump to at least $15 to get a deal done. My assessment is that holders are probably best served by opposing a deal at $15 and supporting one at $20. In between those prices, it will depend upon facts and circumstances related to the specific offer.
Management supported buyouts, especially for low prices, are inherently awkward, conflicted topics. People who owed fiduciary duties to minority shareholders are instead exploiting them for profit. We agree with Mr. Dell that DELL is undervalued, but disagree in the assertion that he should capture much of that profit personally. Where else is this happening? Not only one of the largest buyouts - DELL - but also one of the smallest - AUTO.OB.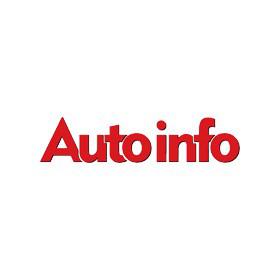 AutoInfo, Inc., through its Sunteck subsidiary, is a supply chain logistics broker. Like DELL, the company's board and management are supporting a buyout at a very low price, in this case valued at roughly half of its competitors based on the last year's price-to-earnings ratio.
By way of background, AUTO.OB is a small participant in the non-asset based supply chain logistics business. This business segment is currently fragmented with a number of small and midsized operators. It is ripe for larger competitors to roll up the smaller companies. The current market capitalization of AUTO.OB is $36M. This is too small to efficiently operate as a public company. However, to management's credit, over the last five years, they have operated the company on a profitable basis. Management has roughly doubled revenue, net income, book value, and cash flow over the last five years. Despite this performance, the stock price has been stuck in the sub $1.00 per share range for a company worth greater than $2.00 per share. We believe this is a function of size, scale, and the market's misperception of the business's margins.
In an effort to enhance shareholder value, the board of directors agreed to sell the company to a private equity buyer, Comvest, for $1.05 per share. This price falls at the low end of their own value assessment and is far below what we believe this business is worth. Whether valuing the business based on its actual fundamental cash generation (assuming no additional growth), comparable competitors, or almost any other financial metric, this company is worth more than $2.00 per share.
The non-asset based supply chain logistics business is characterized by low net asset investment, moderate operating margins, and therefore high return on net assets. For AUTO.OB's successful competitors, this results in high earnings, free cash flow, and book value multiples. The chart below shows these parameters for Auto as well as several of its closest competitors.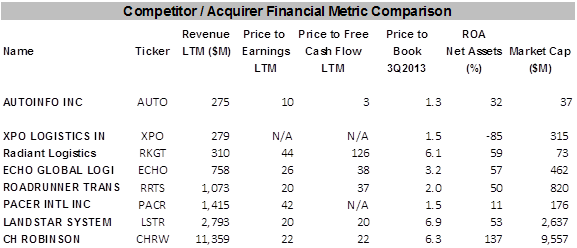 The takeaway from this chart is that AUTO.OB is seriously undervalued in every dimension at the current deal price of $1.05 per share. AUTO.OB would be clearly accretive immediately to any of its competitors at a price in excess of $2.00 per share giving no value to the likely synergies that would be available to a strategic buyer. SG&A is currently running at $1.32 per share.
What information does the proxy statement reveal about this deal and why the company is selling for a 50% discount? Not as much as we would have expected. At first glance, there appears to have been a fairly standard process for shopping the business. But we find a private equity buyer to be a less ideal owner than a number of competitors with the size, scale and ability to increase operating margins by taking out essentially all of AUTO.OB's corporate expenses. AUTO.OB is a healthy, growing company that could be an attractive acquisition for C.H. Robinson Worldwide, Inc. (NASDAQ:CHRW), Landstar System, Inc. (NASDAQ:LSTR), or Echo Global Logistics, Inc. (NASDAQ:ECHO).
In the deal negotiations, offers started at $1.30 and eventually were reduced through the buyer's due diligence to end up at $1.05, with one buyer walking away entirely after making an initial bid at $1.30. There could very well be something that Comvest found in their due diligence that we do not yet know about which caused them to reduce the price they were willing to pay. The more likely case, however, is that the viability of this business is very closely tied to the senior management team. If they were to leave or start a competing business after the deal closed, it would greatly reduce its value. After further scrutiny of this particular deal and the incentives offered to management, it became clear that this situation is quite similar to DELL. As part of this deal, management of AUTO.OB receives i) cash payment of $1.05 per share for their equity, similar to outside shareholders, and ii) equity ownership in the new entity in which outside shareholders will not participate. These terms make this deal look far more like a management led buyout of AUTO.OB, financed by a private equity firm than it does an acquisition in the best interest of shareholder value creation.
If AUTO.OB's situation is as similar to DELL's as it appears, what would be acceptable? There is little chance that AUTO.OB shareholders would or should support a deal at $1.05. At this price, this is a transfer of value from outside shareholders to insiders and management, where the buyout firm and management take the upside. Everyone agrees that AUTO.OB should not remain a publicly traded company; the only question is over who gets to profit and who gets control.
Disclosure: The author is long AUTO. The author wrote this article themselves, and it expresses their own opinions. The author is not receiving compensation for it (other than from Seeking Alpha). The author has no business relationship with any company whose stock is mentioned in this article.
Additional disclosure: Chris DeMuth Jr. is a portfolio manager at Rangeley Capital. Rangeley invests with a margin of safety by buying securities at deep discounts to their intrinsic value and unlocking that value through corporate events. In order to maximize total returns for our investors, we reserve the right to make investment decisions regarding any security without further notification except where such notification is required by law.