This week, Darden Restaurants (NYSE:DRI) will announce its fiscal Q3 earnings. For those unfamiliar with DRI's business, Darden owns and operates 1,936 restaurant locations throughout North America, including chains like Olive Garden, LongHorn Steakhouse, and Red Lobster. The company has recently gotten a lot of flak for management comments about healthcare and little growth, and is heavily shorted. However, the stock is a classic value pick - a beaten down stock with a strong yield and a safe, diversified brand portfolio.
Past
Over the last 6 quarters, DRI has not seen great earnings growth, but has generally managed street expectations very well:
| Period | Estimate | Actual | Variance | Previous Year |
| --- | --- | --- | --- | --- |
| Q2 2013 | $ 0.26 | $ 0.26 | 0 | $ 0.41 |
| Q1 2013 | $ 0.84 | $ 0.86 | 0.02 | $ 0.78 |
| Q4 2012 | $ 1.15 | $ 1.15 | 0 | $ 1.00 |
| Q3 2012 | $ 1.24 | $ 1.25 | 0.01 | $ 1.08 |
| Q2 2012 | $ 0.41 | $ 0.41 | 0 | $ 0.54 |
| Q1 2012 | $ 0.78 | $ 0.78 | 0 | $ 0.80 |
This rock solid visibility into future earnings gives me a lot of confidence in Darden's management. Equally important, it removes almost any catalyst for the many short positions, excluding a macro shock.
Present
The company's valuation makes it especially attractive: the company trades at barely a 14x PE: making it cheap not only for a consumer discretionary stock, but for anything in the S&P 500. Given the nature of DRI's business, I think this makes it a huge bargain: even a weak consumer goes out to the Olive Garden with some frequency.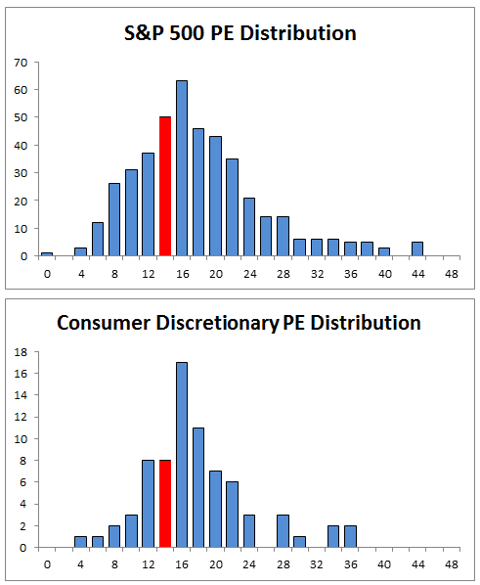 Click to enlarge
Compared with its closest competitor, DIN, the company looks very strong. DRI is about 4x the size of DIN by market cap and has grown trailing 12-month revenues despite a tough environment and a bad quarter reported in December (data from yahoo finance).
Most importantly, to me, the company has clearly been pro-shareholder focused. With a strong dividend yield that returns more than half of earnings to shareholders, I am hoping that management can fight the lack of growth and force the shorts to cover.
Future
There is some risk for DRI. Shorts are betting the macro forces like the weak economy and changes in taste will drive sales down. It is true that more health conscious Americans may cut down on their breadstick consumption.
But I'm hoping that DRI brands catch an updraft from consumers leaving McDonald's (NYSE:MCD) and other fast food restaurants. And with the millennials starting families, there is a whole new group of consumers looking for affordable family meals.
I think there's a great chance of a bump in DRI if Darden can beat estimates by a few cents, spooking the shorts.
Disclosure: I have no positions in any stocks mentioned, and no plans to initiate any positions within the next 72 hours. I wrote this article myself, and it expresses my own opinions. I am not receiving compensation for it (other than from Seeking Alpha). I have no business relationship with any company whose stock is mentioned in this article.