By: Brendan Gilmartin, VP Content and Research
Overview
Oracle (NASDAQ:ORCL) is scheduled to report 3Q 2013 earnings after the close of trading on Wednesday, March 20. The software giant is expected to report its earnings right at the closing bell and host a conference call at 5:00 p.m. EST. Look for a possible reaction in the index futures and broad market ETFs when results are disclosed.

Outliers And Strategy
Non-GAAP Earnings Per Share: Back in December, Oracle stated in its 2Q 2013 earnings conference call that Non-GAAP EPS for the current 3Q period is forecast to range between $0.64 to $0.68, up from $0.62 last year. The current Street estimate is at the high end of the range at $0.66 (Source: Yahoo Finance).
Revenues: Oracle indicated it expects 3Q 2013 total revenue growth on a GAAP and non-GAAP basis to range from 2% to 6% in constant currency. That would equate to $9.282 billion to $9.646 billion. The consensus is toward the mid-point of that range at $9.38 billion.
Even with the shares near a 52-week high, Oracle trades at just 12.3x forward earnings, well below historical averages with a FWD PEG ratio of just 1.12, implying the shares are trading in-line with the estimated earnings growth rate.
Recent News
03/18: Oppenheimer raised its price target on Oracle from $37.00 to $40.00, according to a post on Benzinga.com ahead of the seasonally strong 4Q period. The firm also cited Oracle's solid growth trajectory, recent acquisitions, product strategy, and larger-sized deals as catalysts to lift the shares higher.
03/13: Canaccord Genuity upgraded Oracle from a Hold to a Buy rating and increased the price target from $35.00 to $42.00, according to a post on StreetInsider.com. The firm expects 9% - 11% earnings growth this year, while shares could increase 20%.
02/04: Citigroup reiterated a Buy rating on Oracle with a price target of $38.00, following the announced acquisition of Acme Packet, according to Benzinga.com. The firm does not expect any material financial impact from the acquisition.
02/04: Oracle announced an agreement to acquire Acme Packet for $29.25 per share, or $2.1 billion.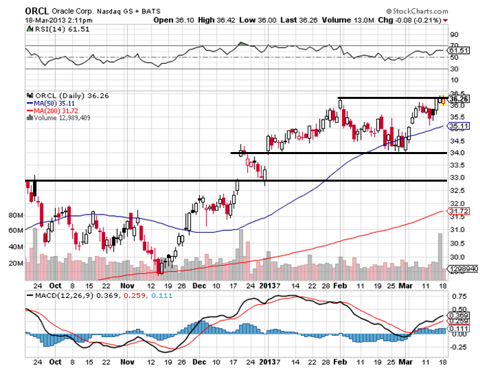 Technical Review
Oracle shares are just off the 52-week high of $36.42 established March 15 and up more than 25% from the mid-November nadir. Following the recent up-tick, however, Oracle has formed a bearish "Double-Top" formation, using the February 1 high just above $36.00. Should earnings disappoint, the shares are therefore vulnerable to meaningful downside risk, with support at the 50-Day SMA near $35.00, followed by $34.00 and $33.00. Conversely, there is little near-term resistance above the aforementioned peak of $34.42. (Chart courtesy of StockCharts.com)
Summary
Oracle shares are at levels not seen in over a decade in advance of the 3Q 2013 earnings release on March 20, thanks in part to an improving macroeconomic backdrop. Oracle also boasts a broad product mix and diverse customer base, which serve to insulate the company from the broader fears over the state of the economy. A spate of recent acquisitions, including Acme Packet, enterprise growth, valuation, and anticipation of the seasonally strong fourth quarter are also contributing to the recent spike in Oracle shares. With that said, the company is vulnerable to any missteps, including softer license revenues or unfavorable currency impact. The technical scenario is also conducive for a steep sell-off, with the shares having formed a bearish "Double-Top" formation. Finally, Oracle shares are vulnerable to a potential reversal, pending the forward guidance that is disclosed on the conference call following the earnings release.
DISCLAIMER: By using this report, you acknowledge that Selerity, Inc. is in no way liable for losses or gains arising out of commentary, analysis, and or data in this report. Your investment decisions and recommendations are made entirely at your discretion. Selerity does not own securities in companies that they write about, is not an investment adviser, and the content contained herein is not an endorsement to buy or sell any securities. No content published as part of this report constitutes a recommendation that any particular investment, security, portfolio of securities, transaction or investment strategy is suitable for any specific person.
Disclosure: I have no positions in any stocks mentioned, and no plans to initiate any positions within the next 72 hours. I wrote this article myself, and it expresses my own opinions. I am not receiving compensation for it (other than from Seeking Alpha). I have no business relationship with any company whose stock is mentioned in this article.