Retail sales reports for the past month have surprised analysts as data came in higher than expected. Sales rose 1.1%, higher than the 0.5% that was expected due to stronger employment reports and solid domestic data.
"Morningstar director of economic analysis Robert Johnson forecasts GDP growth, consumption, inflation, and employment all growing by about 2% in 2013, and he anticipates consumer spending that is stable to modestly higher in 2013, fueled by slow but steady employment growth, stable inflation, rising financial assets, and a nicely improving real estate market," Robert Goldsborough wrote for Morningstar.
The SPDR S&P Retail ETF (NYSEARCA:XRT) gained 1.33% over the past week, and has returned 15.5% over the past 12 months. Rising consumer spending and confidence since the holiday season in 2012 has fueled retail stocks and ETFs and has suggested that the retail sector is back on an uptrend, reports Zacks.
Retail sales are still in danger of taking hits as gasoline prices have ticked up and the recent payroll tax rise could hit consumer harder in the coming months. As long as inflationary pressure remains under 4%, Johnson suggests the retail sector will remain steady as the U.S. avoids another recession.
XRT is a cyclical retail sales play that is correlated with consumer spending. The S&P Retail Select Industry Index is made up entirely of retail stocks (including apparel stores, specialty retailers, department stores, grocers, and discount retailers) that have a minimum market cap of $500 million and meet certain liquidity criteria. It equal-weights each holding and rebalances quarterly. The fund costs 0.35%.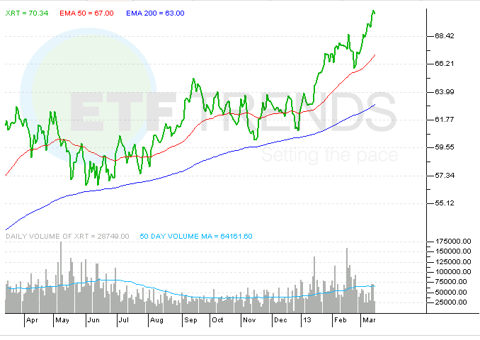 Tisha Guerrero contributed to this article.
Disclosure: I have no positions in any stocks mentioned, and no plans to initiate any positions within the next 72 hours. I wrote this article myself, and it expresses my own opinions. I am not receiving compensation for it. I have no business relationship with any company whose stock is mentioned in this article.