In order to develop a basis to invest in any company, it is important to attempt to understand the industry and market that the company's business model addresses. TripAdvisor Inc. (NASDAQ:TRIP) is the world's largest online travel company (based on user-generated content), empowering users to plan for their travel needs. TripAdvisor's travel research platform aggregates reviews and opinions from its community regarding destinations, accommodations (including hotels, resorts, motels, bed and breakfasts, or B&Bs, specialty lodging, and vacation rentals), restaurants and activities throughout the world.
Since TripAdvisor was spun-off by Expedia Inc. (NASDAQ:EXPE) in December 2011, the stock price has more than doubled. The current environment for the stock market is highly bullish at the moment, so TripAdvisor's stock price growth is not atypical. This analysis will attempt to provide transparency as to what extent TripAdvisor is or can be a leader in the online advertising market within the travel industry. Preliminary assumed factors to consider moving forward include the global macroeconomic environment and the impact on the travel industry, technological advancements, including mobile application development, TripAdvisor's valuation relative to its peers and historical trends, and competitive threats to TripAdvisor's sales growth.
This article will address the following components to provide transparency regarding the future prospects for TripAdvisor:
An overview of the travel industry online advertising market
The competitive landscape for the online advertising market within the travel industry
Fundamental analysis of peer competitors and conclusion
Travel Industry - Online Advertising
According to PhoCusWright, gross bookings in the global travel industry are expected to be greater than $1.1 trillion in 2013, with an increasing share booked through online channels each year. In 2012, approximately 59% of U.S. leisure, unmanaged and corporate travel expenditures occurred online, compared with approximately 44% of European travel. Online penetration in the emerging markets, such as Asia Pacific and Latin American regions, are estimated to be approximately 20%. Additionally, PhoCusWright estimates that U.S. mobile leisure/unmanaged business travel bookings will more than triple from 2012 to 2014, reaching $25.8 billion.
Expedia is the largest online travel company in the world (based on gross bookings). Expedia states that gross bookings which totaled just less than $34 billion in 2012 (16% yoy increase), represent only about 3% of total worldwide travel spending. For 2012, Priceline.com Incorporated (NASDAQ:PCLN) was not far behind with $28.5 billion in gross bookings (31% yoy increase), while Orbitz Worldwide, Inc. (NYSE:OWW) was the laggard with just over $11.2 billion in gross bookings (1% yoy decrease). Travelocity, owned by Sabre Holdings Corporation, was taken private in 2007 and claims to have annual gross bookings of more than $10 billion. Combined, these four companies represent roughly 8% of total worldwide travel spending.
In 2012, Southwest Airlines Co. (NYSE:LUV), through its primary website property Southwest.com, accounted for approximately 85% of all Southwest bookings, and 84% of Southwest's passenger revenues or roughly $13.5 billion (9% yoy increase). Marriott International, Inc. (NYSE:MAR) through the Marriott.com web property, claims to have nearly 34 million online visitors each month and property-level gross revenues for 2012 were $8.1 billion (16% yoy increase). Wyndham Worldwide Corporation (NYSE:WYN) states that the most significant and fastest growing reservation source are online channels, and that since 2007, bookings made directly by customers on their brand web and mobile sites have increased at a five year compound annual growth rate - CAGR of approximately 9%, and increased to over 10 million room nights in 2012. Additionally, bookings made through online travel agencies and other third-party internet booking sources increased at a five year CAGR of approximately 19% to over 13 million room nights in 2012.
The research and examples above make it strikingly clear that direct travel suppliers and online travel agencies are experiencing robust growth for web and mobile booking purchases, which are expected to grow in the near-term. The primary benefits for travel industry companies are two-fold; first, establishing stronger relationships with customers is gained through effective booking mechanisms and loyalty programs and second, company operations are maximized by reducing distribution costs.
There is a direct relationship with growth in online and mobile bookings leading to higher demand for online advertising expenditures to promote travel products and services. In 2012, Priceline spent over $1.2 billion on online advertising, which represents a CAGR of 55% since 2003. Comparatively, offline advertising expenses have grown at a CAGR of 8% over this same period. Expedia does not break out advertising expense from selling and marketing, yet they spent $1.7 billion in 2012, and attributed most of the year-over-year or yoy increase to online marketing and mobile download spend. Comparatively, Orbitz spent just over $250 million for marketing in 2012, with online marketing spending being significantly greater than offline marketing spending. Direct travel suppliers also contribute a significant amount of advertising expenditures.
TripAdvisor derives a majority of revenue from online travel-related advertising and stands to benefit from the demand for online and mobile travel expenditures. While this article will focus on the competitive factors of online travel-related advertising, it is understood that traditional offline advertising remains a competitive threat to TripAdvisor.
Competitive Landscape
In order to compare companies which compete with TripAdvisor it is beneficial to categorize them into groups. There is such a wide variety of online advertising revenue-generating companies for the travel industry, and as a result, these groupings will attempt to include primary competitive threats. These groups will include online travel agencies - Expedia, Priceline, Orbitz, and Ctrip.com International Ltd. (NASDAQ:CTRP); major search and display advertising - Google Inc. (NASDAQ:GOOG), Yahoo! Inc. (NASDAQ:YHOO), Microsoft Corporation (NASDAQ:MSFT), and Baidu, Inc. (NASDAQ:BIDU); direct online advertising - Yelp, Inc. (NYSE:YELP) and Travelzoo Inc. (NASDAQ:TZOO); and other - Facebook, Inc. (NASDAQ:FB), OpenTable (NASDAQ:OPEN), and HomeAway, Inc. (NASDAQ:AWAY).
TripAdvisor
TripAdvisor derives revenue from three segments which include Click-Based Advertising, Display-Based Advertising, and Subscription-Based, Transaction, and Other. Click-based advertising is usually priced on a cost-per click, or CPC basis, with payments from advertisers based on the number of users who click on each type of link - this segment represents TripAdvisor's largest source of revenue and includes online travel agencies and direct suppliers in the hotel, airline, and cruise product categories. Display-based advertising is typically sold on a cost per thousand impressions, or CPM basis; this segment includes predominantly direct suppliers in the hotel, airline, and cruise categories and online travel agencies and also includes marketing organizations, casinos, resorts, and attractions, and advertisers from non-travel categories. Subscription-based, transaction, and other revenue mainly includes advertising via a subscription model sold for a flat fee per time period and vacation rental fees to list properties on website properties.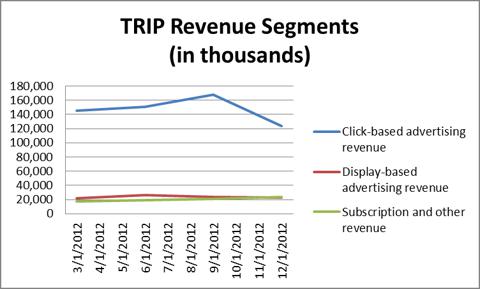 TripAdvisor's business similar to all online travel agencies is seasonal with the fourth quarter being the lowest revenue generating quarter. For the year, TripAdvisor generated roughly $763 million (20% yoy increase) in revenue with 77% derived from click-based advertising, 12% display-based advertising, and 11% subscription and other. The underlying operating metric driving TripAdvisor's advertising value is the travel-related content generated by users through travel review contributions; to date the company just achieved a significant milestone reaching 100 million reviews and opinions and is currently growing at 15% compound quarterly growth rate - CQGR. TripAdvisor's travel content includes 670,000 hotels and accommodations, 1 million restaurants, 250,000 attractions, and 120,000 destinations, globally, as well as 44 million Facebook users, and 45 million mobile device unique monthly visitors.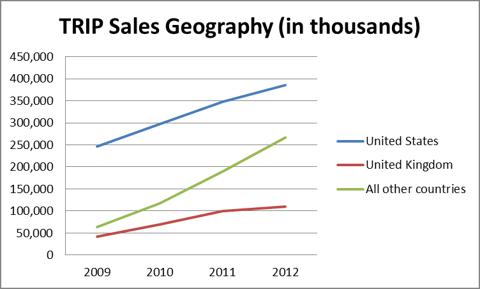 As of 2012, 51% of TripAdvisor's revenue comes from the U.S. and has grown at a CAGR of 16% since 2009. All other countries revenue at 35% has grown at a CAGR of 61%, and U.K. revenue at 14% has grown at a CAGR of 38% during the same period.
Online Travel Agencies
Expedia, Priceline, and Orbitz primarily generate revenue through gross booking transactions. However, both Expedia and Priceline are growing travel-related review content similar to TripAdvisor. Additionally, both Expedia and Priceline have acquired metasearch businesses Trivago, and Kayak.com respectively. These steps pose a threat to TripAdvisor's business model in attracting users from both web and mobile platforms.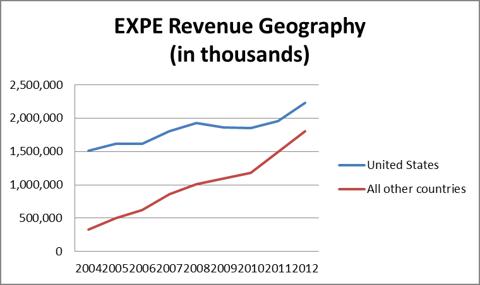 As of 2012, 55% of Expedia's revenue comes from the U.S. and has grown at a CAGR of 5% since 2004. All other countries revenue at 45% has grown at a CAGR of 24% during this same period.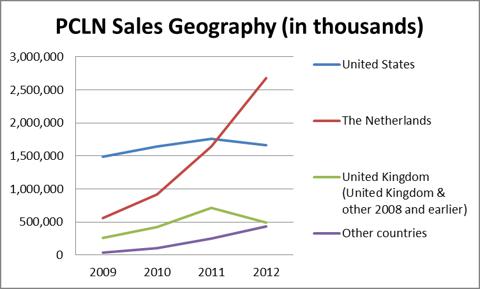 As of 2012 for Priceline, the Netherlands represented 51% of revenue and has grown at a CAGR of 69% since 2009. U.S. revenue at 32% has grown at a CAGR of 4%, while U.K. revenue at 9% has grown at a CAGR of 24%, and other countries revenue at 8% has grown at a CAGR of 124% during the same period. Additionally, 82% of Priceline's gross bookings come from international countries; this segment has grown at a CQGR of 6.5% since March 2011. Expedia does not break gross bookings out by geographies; total gross bookings have grown less than 0.5% since March 2011.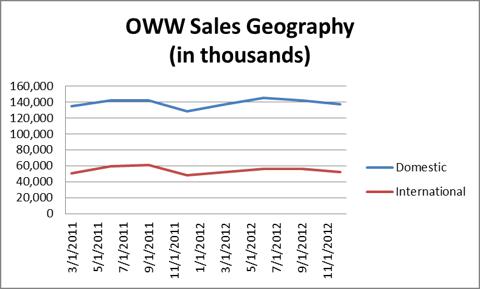 As of 2012, 72% of Orbitz's revenue comes from the U.S. and has grown at a CQGR of less than 0.5% since March 2011. International revenue at 28% has grown at a CQGR of 0.5% over the same period.
Ctrip.com provides similar booking service products as Expedia, Priceline, and Orbitz including hotel reservations, air-ticketing, packaged tours, and corporate travel. Ctrip.com's other products and services includes the sale of Property Management System or PMS, and related maintenance service; advertising services representing the sale of banners or sponsorship on websites. It is not discernible as to the portion of advertising revenues that are reflected in this category, therefore no estimates of other product revenues were used.
When comparing these three companies' advertising and media and marketing revenues to TripAdvisor, Expedia generated $131 million (16% yoy increase), Orbitz generated $58 million (6% you increase), and Priceline generated just over $13 million (12% yoy increase). While TripAdvisor has a significant scale advantage at the moment (TripAdvisor's 2012 revenue was 3.8 times all three companies combined), it will be important to continue to track the developments of travel content review and opinion generation and advertising and media and marketing growth for these three companies. Additionally, in 2012, approximately $204 million or 27% of TripAdvisor's revenue was derived from Expedia businesses, and another 21% was derived from another customer totaling 48% of total revenue.
Major Search and Display Advertising
Comparing travel-related online advertising revenues against Google, Yahoo, Microsoft, and Baidu is challenging to say the least. These companies primarily derive advertising revenues from search-related user queries, as well as from other owned web and mobile properties. While there is no way to directly gauge travel-related revenue line items from these companies, we can gain some insight related to global online advertising trends related to these businesses as well as their travel-related products and services.
Google
Google has integrated travel products through both acquisitions and internal development efforts. Google purchased ITA Software in 2010, which develops software widely used by domestic and international airlines, online and traditional travel agents, corporate and government-managed booking tools, global distribution systems - GDS, metasearch services, leisure packaging systems, and technology providers. Companies using ITA Software include Air Canada, AirFrance, Alaska Airlines, American Airlines, Bing, CheapTickets, Fly.com, Hawaiian Airlines, Hotwire, Kayak, MileWise, nuTravel, Orbitz, Southwest Airlines, Star Alliance, United, US Airways, Vegas.com, and Virgin Atlantic among others.
Google also acquired Zagat in 2011 and Frommer's in 2012. Zagat is integrated into Google Maps and provides reviews and opinions or crowd-based content similar to both Yelp and TripAdvisor. The purchase of Frommer's has added potential value in increasing advertising revenues through integration with other Google travel products.
Internal travel-related products developed by Google include Google Maps, Google Hotel Finder, Google Flight Search, and Google + Local and Google Travel. Hotel Finder provides a similar structure as TripAdvisor with hotel search parameters and reviews and opinions. Included in the review section are links to reviews and opinions from Expedia, Priceline, and TripAdvisor; these third-party reviews are not always identically matched with multiple searches. For Flight Search, Google links flight bookings to direct travel suppliers. Google Travel and Local both provide Google + members the ability to engage socially in travel-related activities. Local specifically provides reviews and opinions in a social environment for friends, groups, and families to gain better insight on making local trip-based decisions whether for restaurant ideas, attractions, etc. Google Travel provides updated travel information and is structured more like Twitter where Google + users can follow travel information. Google + also serves as a general indicator of interest for travel web and mobile properties through "g+1" designations.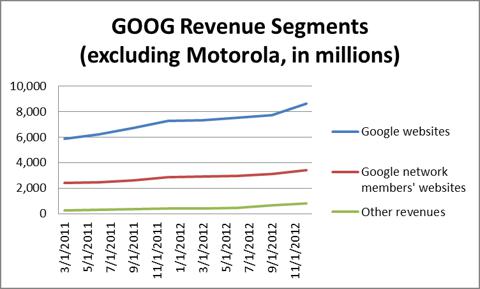 As a very general proxy to travel-related advertising Google's website advertising revenue represented 61% of total revenue (19% yoy increase) and has grown at a CQGR of less than 6% since March 2011.
Yahoo
Yahoo Travel provides a full menu of travel products and services including travel ideas (travel articles, travel blogs, beach, family, golf, romantic, national parks, shopping, summer, weekend, and winter), travel guides (travel guides and explore trip plans), book a trip (deals, flights, hotels, car rental, vacations, cruises, specials, and vacation rentals), and my travel (my profile, my trips, create a trip, and timetraveler). All Yahoo bookings are powered by Travelocity.
Other travel-related products include Yahoo Maps and Yahoo Local. Yahoo Maps provides search parameters for locations and businesses including directions. The site does not provide reviews and opinions of locations, however. Yahoo Local provides a comprehensive city guide, a "my local" tab to organize your local city preferences and activities, a city directory, and a city "neighbors" tab where locals within a city can discuss a wide variety of topics. Yahoo provides these services via mobile applications as well.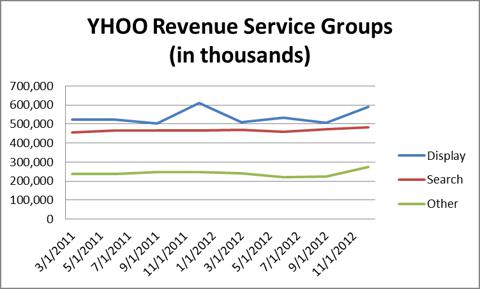 Similar to Google, we must assume a general proxy of travel-related advertising revenues. Both Yahoo Maps and Travel generate display and search advertising revenue. As of 2012, Yahoo's display advertising revenue represented 43% of total revenue (less than 1% yoy decrease) and has grown at a CQGR of less than 2% since March 2011. Yahoo's search advertising revenue represented 38% of total revenue (less than 2% yoy increase) and has grown at a CQGR of less than 1% over the same period.
Microsoft
Microsoft utilizes two primary web properties, MSN.com and Bing.com for travel-related services and products. MSN through its Local Edition provides a suite of travel resources including flights, hotels, articles, video, blog, destination guides, and an escape and inspire theme. MSN and Bing are interchangeable as MSN flight and hotel selections are directed to Bing.com and all bookings are redirected to direct travel suppliers or online travel agencies. Bing also includes hotel reviews and opinions by third-parties including TripAdvisor. Bing Maps provide similar travel information for locations, businesses, etc. Reviews and opinions are included by third-parties including OpenTable, TripAdvisor, Urbanspoon, and Citysearch, among others. Microsoft provides these services via mobile applications as well.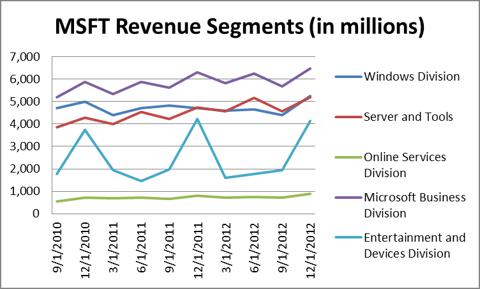 Bing and MSN generate revenue through the sale of search and display advertising, accounting for nearly all of Microsoft's Online Services Division - OSD segment. As of 2012, OSD revenue represented less than 4% of total revenue (26% yoy increase) and has grown at a less than 6% CQGR since September 2010. While the OSD segment is the second fastest growing segment to the Entertainment and Devices Division, over this same period, the OSD segment has lost a total of $11.4 billion after operating expenses.
Baidu
Baidu derives advertising revenue from similar web and mobile products as mentioned with Google, Yahoo and Microsoft. Baidu utilizes primary products including web and mobile search, mobile application search, map search, Shenbian (sharing platform allowing users to find restaurants based on locational preferences), and Qunar (real-time searches on flights, hotels and packages, group-buying deals, visa and other travel-related information to consumers, and Internet and mobile technology solutions to travel industry players) among others. According to iResearch, Qunar ranked No. 1 among travel websites in China and had 74.6 million monthly visits in December 2011; search scope covers over 700 data sources, 150,000 hotels, and 10,000 domestic and international flight routes.
For 2012, Online Marketing Services increased 53% yoy to $3.6 billion.
Summary
In order to add a little more information to the major search and display advertising group, the following article by eMarketer provides more details. Google Maps ranks as the top travel website among U.S. Internet users (market share of visits, December 2012). Google Maps also ranks as the top travel-related mobile website visited by U.S. smartphone owners (unique visitors, June 2012) and ranks as the top net U.S. search ad revenue generator, no surprise there. TripAdvisor ranks 5th and 2nd respectively for travel website and travel-related mobile website. When considering the data provided from PhoCusWright and eMarketer, travel-related advertising revenue generated from Google, Yahoo, and Microsoft, while not easily discernible, most is significantly more relevant than with Expedia, Priceline, and Orbitz.
Direct Online Advertising
Both Travelzoo and Yelp derive most if not all of their revenue from online advertising. Additionally, each company provides detailed revenue line item segments.
Travelzoo
Travelzoo states that revenues are advertising revenues consisting of listing fees paid by travel, entertainment, and local businesses to advertise offers on Travelzoo's media properties. Listing fees are based on audience reach, placement, number of listings, number of impressions, number of clicks, number of referrals, or percentage of the face value of vouchers sold, including mobile applications.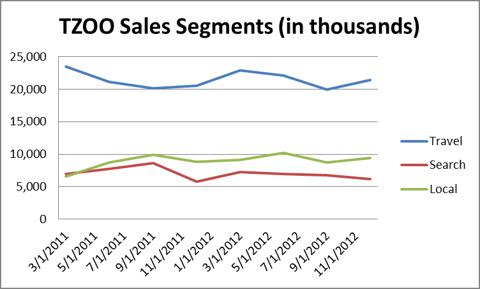 The travel revenue category includes the publishing revenue for negotiated high-quality deals from travel companies, such as hotels, airlines, cruises, or car rentals and includes products such as Top 20, Website, Newsflash, Travelzoo Network as well as Getaway vouchers. The sales category of revenue includes comparison shopping tools for consumers to compare airfares, hotel and car rental prices, and includes SuperSearch and Fly.com products. The Local revenue category includes publishing revenue for negotiated deals from local businesses, such as restaurants, spas, shows, etc. and includes local deals vouchers and entertainment offers (vouchers and direct bookings); these deals are similar to Groupon and Livingsocial.
As of 2012, Travel revenue represented 57% of total revenue (1.5% yoy increase) and has declined by just over 1% CQGR since March 2011. Travelzoo's Search revenue represented 18% of total revenue (6% yoy decrease) and has declined by 1.5%, while Local revenue represented 25% of total revenue (10% yoy increase) and has grown at a 5% CQGR since the same time period.
Yelp
Yelp generates revenue from local advertising, brand advertising, and other services, including Yelp Deals, Gift Certificates, and partner arrangements.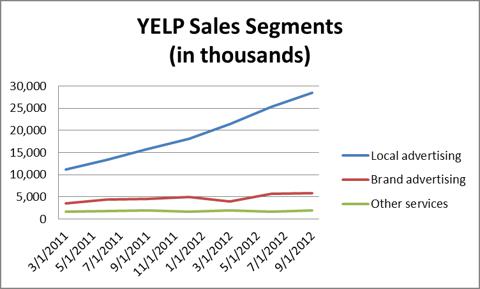 Local advertising programs include enhanced profile pages and performance and impression-based advertising in search results and elsewhere on Yelp's website and mobile application. Brand advertising is generated through the sale of display advertisements (both graphic and text) on their website, including advertisements from leading national brands in the automobile, financial services, logistics, consumer goods, and health and fitness industries. Other services include the sale of Yelp Deals and Gift Certificates, monetization of remnant advertising inventory through third-party ad networks and various partner arrangements related to reservations.
As of 2012, local advertising revenue represented 79% of total revenue (87% yoy increase) and has grown by a 17% CQGR since March 2011. Yelp's Brand advertising revenue represented 15% of total revenue (16% yoy increase) and has grown at a roughly 9% CQGR, while Other Services revenue represented 6% (10% yoy increase) and has grown at a 3% CQGR since the same time period.
Summary
Combined, Expedia, Priceline, Orbitz, Travelzoo, and Yelp generated just over $491 million in online advertising revenue, or 64% of TripAdvisor's revenue in 2012. In addition, Yelp is the first company to provide a direct comparison with TripAdvisor for display-based advertising in which TripAdvisor generated 4.6 times more revenue during 2012. Display-based advertising for Yelp included a much broader industry client base focus; comparing and tracking quarterly growth rates between these two company line items will be of interest over time. Additionally, Yelp has generated a net of just over 33 million reviews after considering removed reviews from the Yelp platform.
Other
The remaining other companies include Facebook, Homeaway, and OpenTable. These companies all provide services which compete with TripAdvisor less directly, yet have potential to impact TripAdvisor's business over time.
Facebook
Facebook generates advertising revenue by displaying ad products on the Facebook website or mobile application and third-party affiliated websites or mobile applications. Facebook typically utilizes click-based and impression-based advertisements. Facebook also has data regarding consumer "likes" for a wide variety of products and services, including many within the travel industry.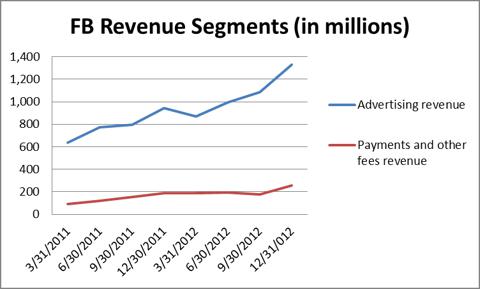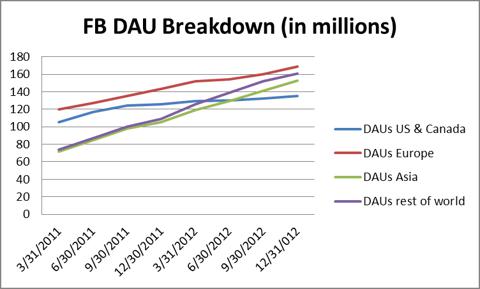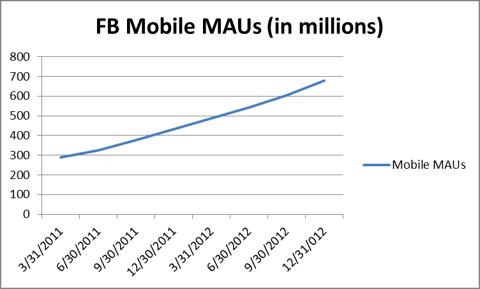 As of 2012, advertising revenue represented 93% of total revenue (36% yoy increase) and has grown at a 11% CQGR since March 2011. Despite slowing user trends in the U.S., worldwide monthly active users - MAUs have grown at a 6.5% CQGR, daily active users - DAUs have grown at a 7.5% CQGR, and mobile MAUs have grown at a 13% CQGR over the same period.
Homeaway
Homeaway has amassed multiple web and mobile properties for apartment rentals including Homeaway.com (U.S., U.K., Germany, Spain, and Australia), VRBO.com, Vacationrentals.com, Ownersdirect.co.uk, Abritel.fr, Homelidays.com, Toprural.com, and Aluguetemporada.com. These properties directly compete with TripAdvisor's Flipkey.com and Holidaylettings.co.uk. On the revenue side, Homeaway competes with TripAdvisor on two fronts, Paid Listings, and display-based advertising within their Other revenue category.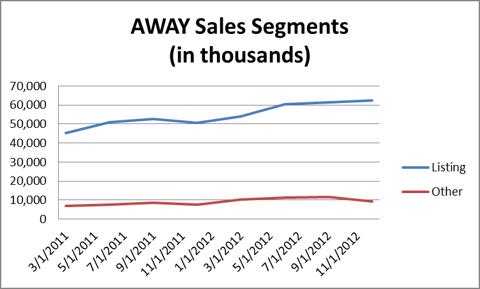 Paid Listings customers generally pay for their listings through term periods and pay-for-performance listings are offered to professional managers. Methods to generate listings include sales, search engines such as Google, word-of-mouth referrals, etc. Other revenue includes the sale of display-based advertising, property management software licenses and related maintenance, gift cards and commissions for online registrations, and other property manager services.
As of 2012, Paid Listing revenue represented 85% of total revenue (19% yoy increase) and has grown at a less than 5% CQGR since March 2011. Homeaway's Other revenue represented 15% of total revenue (38% yoy increase) and has grown at a roughly 4% CQGR over the same period.
During 2012, Homeaway generated $238 million in Paid Listing revenue. TripAdvisor during the same period generated $81 million in Subscription and Other revenue. It is not clear as to the proportion of revenue generated from Flipkey.com and Holidaylettings.co.uk, however, Homeaway claims to have a 710,000 global marketplace paid listings of vacation rentals and TripAdvisor claims to have more than 300,000 properties up more than 50% yoy; TripAdvisor attributes growth in subscription based products to Business Listings and Vacation Rentals. These line item segments should closely be watched moving forward.
OpenTable
OpenTable's business model is fairly straight forward when compared to many of the previously reviewed companies. Revenue line items include Reservations, Subscription, and Other.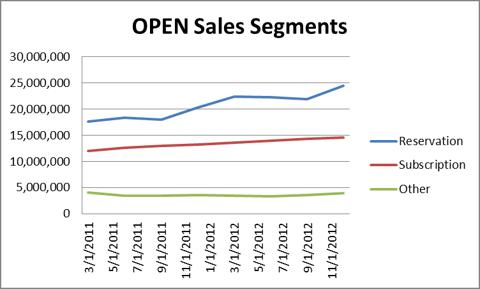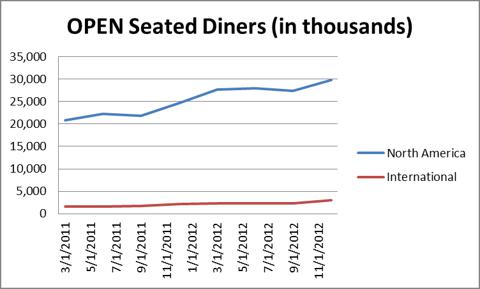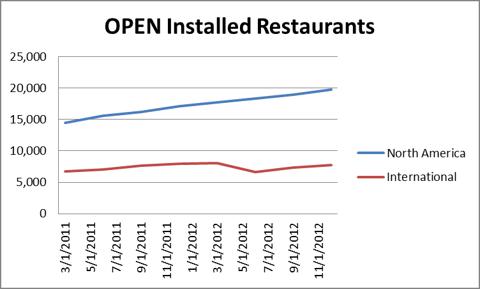 Reservation revenues include a fee for each restaurant guest seated through online reservations, and the increase is dependent upon seated diner trends. Subscription revenues include monthly subscription fees (including installation fees for electronic reservation book - ERB hardware including training), and the increase is dependent upon the number of installed ERB systems in restaurants. Other revenues include advertising sales, featured private dining listings, and gift card sales.
As of 2012, Reservation revenues represented 56% of total revenue (23% yoy increase) and has grown at a less than 5% CQGR since March 2011. OpenTable's Subscription revenues represented 35% of total revenue (11% yoy increase) and has grown at a less than 3% CQGR, while Other revenues represented 9% of total revenue (1% yoy decrease) and has declined by a less than 0.5% CQGR over the same period. International seated diners have outpaced North America seated diners by over 400 basis points since March 2011 and total seated diners have grown at a 5.5% CQGR. North America installed restaurants have outpaced International installed restaurants by over 200 basis points and total installed restaurants has grown at a less than 4% CQGR over the same period.
OpenTable provides a similar comparative revenue line item as Yelp for display-based advertising. Additionally, OpenTable directly competes with TripAdvisor's review and opinion contributions for restaurants. As of 2012, OpenTable diners had submitted more than 15 million restaurant reviews.
Summary
After considering Facebook, Homeaway, and OpenTable, TripAdvisor still commands a significant lead over the most transparent online advertising segment businesses. Additionally, we can gather that Yelp and OpenTable have generated roughly 48 million reviews compared to TripAdvisor's 100 million. It will be important to continue to monitor the increasing amounts of reviews and opinions from Expedia, Priceline, Zagat, Yelp, OpenTable and other contribution web and mobile platforms.
Peer Fundamental Analysis
The following table provides key financial metrics comparing the previous groups of companies. Based on a lack of analysis data, both Ctrip.com and Baidu were not included in the table. All information within the table is as of March 15, 2013.
| | | | | | | | | | | |
| --- | --- | --- | --- | --- | --- | --- | --- | --- | --- | --- |
| Ticker | Stock Price | TTM P/E | Market Cap | Price/ Cash | A/R to CL | Debt/Equity | EV/Sales | P/B | Price/FCF | Sales/FCF |
| TRIP | 52.40 | 38.06 | $7.5 B | 15.22 | 0.64 | 56.7% | 9.61 | 10.19 | 35.30 | 3.64 |
| EXPE | 66.22 | 33.04 | $9.0 B | 4.78 | 0.25 | 52.3% | 2.13 | 3.88 | 10.64 | 4.63 |
| PCLN | 713.50 | 26.91 | $35.6 B | 7.07 | 0.64 | 27.2% | 6.25 | 9.40 | 21.16 | 3.04 |
| OWW | 5.71 | -2.00 | $600 M | 4.63 | 0.19 | 148.0% | 1.17 | -4.23 | 10.04 | 12.97 |
| GOOG | 814.30 | 25.20 | $269 B | 5.63 | 0.79 | 7.7% | 4.44 | 3.77 | 97.41 | 18.49 |
| YHOO | 22.07 | 6.72 | $24.3 B | 6.35 | 1.02 | 0.8% | 4.51 | 1.82 | 31.10 | 65.84 |
| MSFT | 28.04 | 15.35 | $235 B | 3.57 | 0.88 | 17.4% | 2.52 | 3.46 | 11.53 | 3.53 |
| TZOO | 22.35 | 19.53 | $343 M | 5.81 | 0.33 | 0.0% | 1.95 | 8.20 | 10.68 | 4.54 |
| YELP | 25.10 | -71.11 | $1.6 B | 14.29 | 0.63 | 0.0% | 9.19 | 8.20 | -128.79 | -13.04 |
| FB | 26.65 | 1803.87 | $63.5 B | 6.00 | 0.70 | 20.0% | 9.91 | 4.91 | 153.11 | 13.50 |
| AWAY | 30.33 | 172.20 | $2.5 B | 9.26 | 0.32 | 0.0% | 8.23 | 4.83 | 33.08 | 3.76 |
| OPEN | 61.15 | 59.31 | $1.4 B | 13.74 | 0.47 | 0.0% | 8.16 | 8.47 | 29.72 | 3.38 |
All items within the table incorporate diluted share calculations and the table term definitions include:
Trailing twelve-month price to earnings ratio - TTM P/E
Stock price to cash and short-term marketable securities ratio - Price/Cash
Accounts receivable to current liabilities ratio - A/R to CL
Debt to equity - Debt/Equity
Enterprise value to trailing twelve-month sales ratio - EV/Sales
Stock price to book value per share ratio - P/B
Stock price to free cash flow per share ratio - Price/FCF
Trailing twelve-month sales to free cash flow ratio - Sales/FCF
Conclusion
There is a very complicated amount of information to consider with respect to online advertising within the travel industry, specifically as it relates to TripAdvisor. Key components to think about moving forward include continued monitoring of appropriate peer revenue line item segments, monitoring of review and opinion contributions primarily with Expedia, Priceline, Google, Yelp, and OpenTable, and further research information trends from PhoCusWright and eMarketer. Any negative shock to the global macro environment would significantly impact the travel industry.
Based on the peer revenue analysis I would tend to consider an order of travel-related online advertising ranking as follows:
Google
Yahoo, Microsoft, Baidu, Facebook
TripAdvisor
Homeaway
Yelp
Expedia
Orbitz
OpenTable
Priceline
Google has a very well integrated web and mobile platform to continue to grow travel-related advertising revenues and I would think that they will be a significant competitor for the long-term. I do not see Yahoo, Microsoft, and Facebook being as focused or as successful as Google based on their products and existing platforms; also they have other major products to focus on. Homeaway competes with TripAdvisor on a couple fronts and Yelp is the closest company generating reviews and opinions. Expedia will be the most relevant online travel agency, and OpenTable will continue to focus on restaurant reviews and opinions and compete within this fragmented group.
From a fundamental perspective, TripAdvisor does not get as high of a ranking. TripAdvisor falls into the bottom tier in five out of the eight categories. Without getting into a ranked list, I would say that TripAdvisor is currently a little ahead of itself from a stock price and valuation standpoint.
Overall, TripAdvisor has established a significant focus with user generated review and opinion contributions which have led to strong growth in online advertising revenues. Mobile application growth and integration with Facebook, vacation rental business and business listings are all great developments to get excited about. At current levels, a word of caution should be heeded. As investors, we need to be aware of the size of the pond, who the bigger fish are, and what if any other organisms are morphing into a new unrealized threat.
Disclosure: I am long TRIP. I wrote this article myself, and it expresses my own opinions. I am not receiving compensation for it (other than from Seeking Alpha). I have no business relationship with any company whose stock is mentioned in this article.