By G.C. Mays
Corn (NYSEARCA:CORN) prices continue to fall as estimates of global production were only lowered slightly in the USDA's most recent WASDE report. This surprised many market participants as they seemingly expected a larger reduction in global production due to hot and dry weather in Argentina. The last 10 months have been turbulent, to say the least. In August 2012, corn prices in the US swelled to all-time highs in the face of severe drought and heat that nearly torched the US crop. Following this was a return of corn prices from the stratosphere by the promise of near perfect weather in South America and a record corn crop in Argentina. The even more volatile price of soybeans moved in a similar pattern over the same period.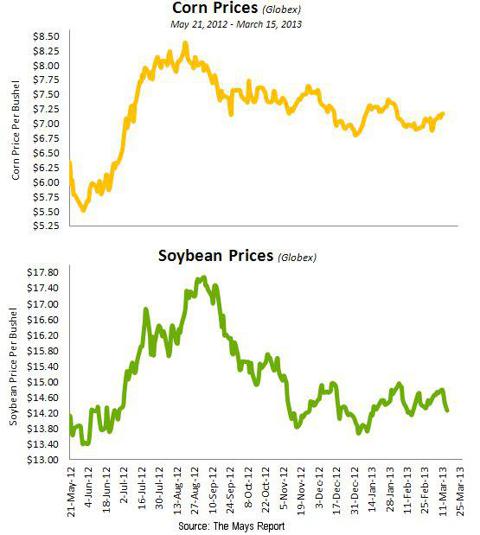 The wild price swings have had an antipodal effect on stock prices of fertilizer companies like Potash Corp. (NYSE:POT), CF Industries (NYSE:CF) and its 75 percent interest in Terra Nitrogen Company, L.P (NYSE:TNH) versus companies like food producer Tyson Foods, Inc. (NYSE:TSN) and Archer Daniels Midland (NYSE:ADM), a food processor of agricultural commodities like corn and soybeans (NYSEARCA:SOYB). Both Tyson Foods and Archer Daniels Midland are sensitive to the market price of these key inputs and tend to move in the opposite direction of these prices, while the stock prices of fertilizer companies tend to correlate with crop prices during periods of price volatility. At other times, fertilizer stocks tend to trade with major market indexes when there are no material events within its industry, such as increasing volatility in fertilizer pricing.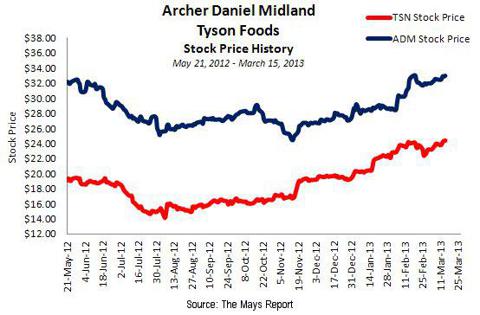 The stock prices of Tyson Foods and ADM seemingly adjust quickly to rapidly changing and volatile corn and soybean prices. The companies are not always able to pass higher costs downstream to consumers and finished goods manufacturers. During Tyson Foods Q1 conference call on February 1, CEO Donnie Smith said that his company sees grains trading in the $7 to $7.50 per bushel range, presumably into early spring. The company said that it tends to add to its inventory at the low-end of that range.
Archer Daniels Midland is roughly three times the size of Tyson Foods and likely enjoys larger economies of scale. That said, it still has exposure to corn and soybean prices as well as the ethanol business. During the ADM Q2 conference call on February 5, the company expressed the belief that supply/demand and capacity utilization issues have more to do with ethanol margins than corn prices. Nevertheless, falling corn and soybean prices have played a role in lifting ADM stock to near its 52-week high of $33.98.
Fertilizer companies enjoyed the ride in 2012 as summer drought provided a much-needed boost to their stock prices after plunging to multi-year lows at the end of May 2012 after sustained dealer reluctance to take on inventory risk began to affect potash pricing and tons sold. The companies with nitrogen businesses fared best during the critical pollination period due to the record number of corn acres planted and fears of lost corn production.

Source: Google Finance

South American Production
The USDA lowered corn production estimates in Argentina by 0.50 metric tons to 26.5 million, still a record high. Planting season saw better than average rainfall but an unexpected dry period during December and January hit the heart of the Argentine corn-growing area in the Northern Buenos Aires Province, Southern Cordoba and Santa Fé.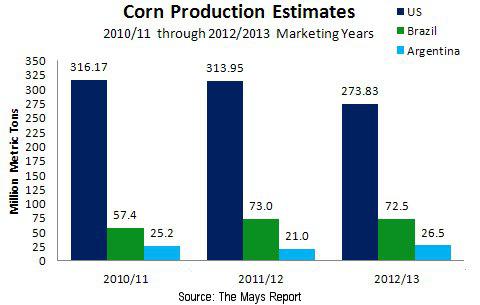 While the US remains the world's largest corn producer, if current estimates hold, Brazil will surpass the US as the world's number one soybean producer for the 2012/13 marketing year. The US will likely reclaim the number one spot in the 2013/14 marketing year when soybean production returns to higher levels.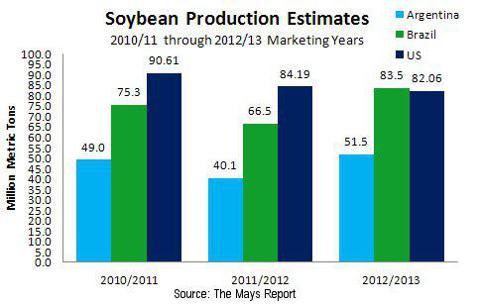 Corn production estimates in Brazil is 72.5 million metric tons, unchanged from the previous month. The country also adjusted its beginning stocks lower due to higher exports in 2011/12 marketing year. The USDA raised global corn production estimates in both the 2010/11 and 2011/12 marketing years.
What's Next?
Corn and soybean prices have found a trading range. However, over the next couple of months, the bias is to the downside, in my opinion. The downward trend should continue to give lift to the earnings of both Tyson Foods and Archer Daniels Midland. Corn and soybean prices are still high enough to not change a producer's fertilizer purchases. Companies with significant nitrogen fertilizer operations such as CF Industries, Terra Nitrogen, and Agrium should report solid, if not spectacular earnings in the first half of the year. Potash Corp may underperform because of its significant exposure to potash fertilizer, which is still finding a bottom, in my opinion. However, its nitrogen business should soften the blow. If the US has anything close to ideal growing conditions in 2013, corn prices could fall convincingly, which would likely cause ammonia, urea, and UAN prices to tumble as well.
Ultimately, the weather will have the last say on the price direction of corn and soybeans, as well as the food processors and livestock producers. However, since weather can change on a dime, investors with a shorter time horizon should prepare to do so as well.
Disclosure: I am short SOYB. I wrote this article myself, and it expresses my own opinions. I am not receiving compensation for it (other than from Seeking Alpha). I have no business relationship with any company whose stock is mentioned in this article.
Additional disclosure: I have a bear credit spread in Soybeans. I may initiate a bear credit spread in corn 5 trading days after publication of this article, ceteris paribus.