Most bond types of domestic US investment grade bonds are in up trends according to their 200-day simple moving averages. Munis are flat, but above their 200-day average. Investment grade corporates and inflation protected Treasuries are in mild 200-day down trends.
Bonds of all sorts (investment grade and junk, plus sovereign non-US developed and emerging market debt) are in short-term rally mode.
The rally may be in response to the US Treasury toxic asset purchase plan, and in hopes for the outcome of the G-20 meeting.
Higher interest rates lie ahead eventually as economic conditions improve, risk aversion decreases, and money supply expansion related inflation develops. That will be damaging to bonds. We aren't there yet, however.
click images to enlarge
Vanguard Total Bond Market: BND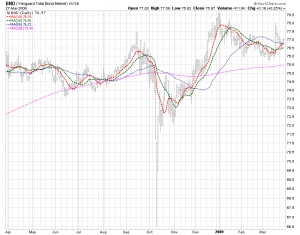 7-10 Year US Treasuries: IEF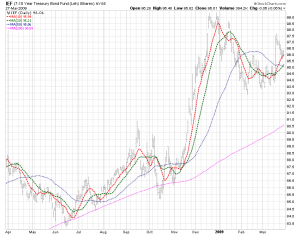 10-20 Year US Treasuries: TLH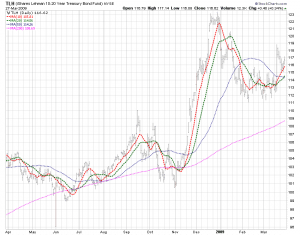 Inflation Protected US Treasuries: TIP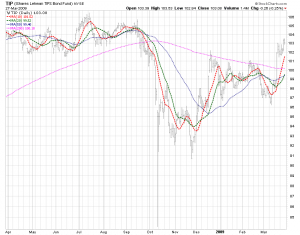 US Agency Backed Mortgage Bonds: MBB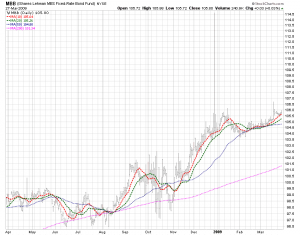 National Municipal Bonds: MUB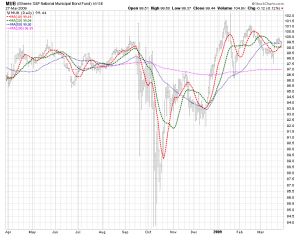 Investment Grade Corporate Bonds: LQD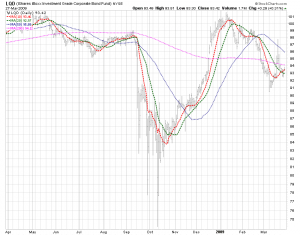 Below Investment Grade (junk) Bonds: HYG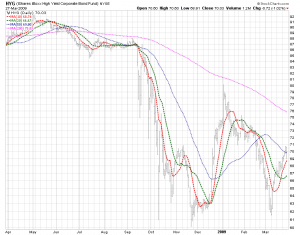 Non-US Developed Country Sovereign Debt: BWX
(local currency)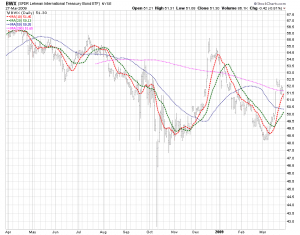 Emerging Country Sovereign Debt: EMB
(US Dollar Denominated)